Cristine C. Mansinares now heads DOT-VI as the newly-appointed regional director.
The appointment of Mansinares was officially announced by Dept. of Tourism (DOT-VI) on its Facebook Page which read: "Congratulations on your appointment RD Tin" dated August 10, 2021.
Congratulatory message rained on the FB post coming from various stakeholders, friends, and colleagues both in the private and public sector from the across the country and elsewhere in the world.
Provincial and city tourism offices in Western Visayas likewise expressed best wishes to the newly-appointed regional director, including from ATOP Association of Tourism Officers of the Philippines, calling her "Tin," a the nickname endeared among friends and colleagues in the tourism industry.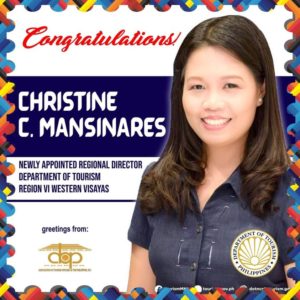 Mansinares took her oath of office as administered by Tourism Secretary Bernadette Romulo Puyat, who also appointed her to the regional post.
The appointment of Mansinares ended her four month tenure as OIC Regional Director.
The rise of Tin Mansinares
Cristine C. Mansinares is considered as the most competent and qualified for the position with over 15 years of experience in the tourism industry.
She rose from the ranks in Negros Occidental starting from the municipal LGU serving as tourism officer of Sipalay City from 2005 to 2011 and then as provincial tourism officer of Negros Province from 2011 to 2020.
Mansinares served as Chief Tourism Operations Officer from February 2020 to April 2021 under former regional director Atty. Helen J. Catalbas, a move perceived as a transition post to prepare the Negrense to handle the regional office.
Read previous news: DOT-VI welcomes Cristine Mansinares as OIC-RD
In April 17, 2021, Mansinares assumed OIC Regional Director of DOT-VI in what Atty. Catalbas described as "in the exigency of service" because of her retirement.
Four months after, Mansinares secured the official appointment as regional director.
A big shoes to fill; agenda outline
The turn-over between former regional director Helen J. Catalbas and Cristine C. Mansinares is considered peaceful and orderly.
Mansinares, however, expressed that she has a "big shoes to fill" considering that she was entering the regional offices following 44 years of service by Atty. Catalbas and within the most difficult time for the tourism sector because of the pandemic.
Yet the tourism industry welcomed her young and dynamic leadership.
She vowed to continue the flagship campaign developed by Atty. Catalbas for DOT-VI – "Experience Western Visayas First" which evolved into "Safely Experience Western Visayas First" as a result of the pandemic.
Among priority programs that Mansinares have discussed are the following:
Sustainable tourism primarily preservation of biodiversity and environmental protection advocacy;
Farm and Agri-tourism focusing on areas of farming and organic agriculture through programs development for small scale farmers, cooperatives and micro, small, medium enterprises (MSMEs);
Slow Food Travel in the region by strengthening linkage between food producers and tourist destination;
Cultural Heritage preservation and promotion;
Local Gastronomy programs and projects; and
Strengthening Collaboration between DOT-VI and LGUs, stakeholders, and the private sector; and
Pandemic Recovery effort with tourism recovery plan, rehabilitation, and resiliency programs, among others.
Mansinares is academically grounded
Insiders in the regional tourism sector believes that Mansinares is competent for the top post and that she posses the experience and skills needed to run the regional agency.
Mansinares is an alumna of Colegio San Agustin-Bacolod where she earned her bachelor's degree in tourism. She graduated magna cum laude in 2005.
She likewise earned a Masters degree in Business Administration from the University of San Agustin-Iloilo in 2008 back-to-back with a completion of Tourism Promotion and Marketing course at the Tokyo International Center from a grant by the Japan International Cooperation Agency (JICA).
Mansinares also holds a Bachelor of Laws degree in 2015 from the University of Negros Occidental-Recoletos in Bacolod City.
Crisis-proofing Tourism Development Plans
Mansinares led the Negros Occidental Provincial Tourism Office in the crafting of its 3-year Tourism Development Plan (TDP) in collaboration with the DOT-VI in 2019.
Upon her assumption as regional director, Mansinares initiated a Tourism Crisis Management Planning for LGUs in the region comprised of six provinces and two highly-urbanized cities so that a crisis management component can be integrated in their respective TDPs in light of the unprecedented impacts delivered by the Covid-19 pandemic to the tourism sector.
Read more here: DOT-VI crisis-proofing of LGU tourism plans completed
The DOT-VI completed the virtual Tourism Crisis Management Planning-Workshop in August 9-10, 2021 and the plan is due for integration September this year.