DOT-VI welcomes Cristine Mansinares as OIC-RD. She will officially assume the function starting April 17, 2021 and her appointment will intersect the May 2022 national elections.
The OIC comes in to assume the responsibility of running the operations of DOT-VI as Atty. Helen J. Catalbas is due for retirement this month.
A public advisory dated April 15, 2021 was issued and signed by outgoing regional director Catalbas to inform stakeholders and the public that Ms. Cristine C. Mansinares will assume as OIC-Regional Director underscoring the exigency of service and in view of the retirement of the current regional director.
Mansinares has served as Negros Province's supervising tourism operations officer before joining the DOT Region VI in February 2020. She was appointed as chief of the Tourism Development Department of the region by Tourism Secretary Bernadette Romulo-Puyat.
Moreover, it was Sec. Romulo-Puyat who appointed her as the OIC-RD.
OIC-RD Mansinares was a tourism officer of Sipalay City from 2005 to 2011 before she transferred in Negros Provincial Government as Provincial Tourism Officer, a post she served until 2020. She possess 15 years of experience in serving the regional tourism sector.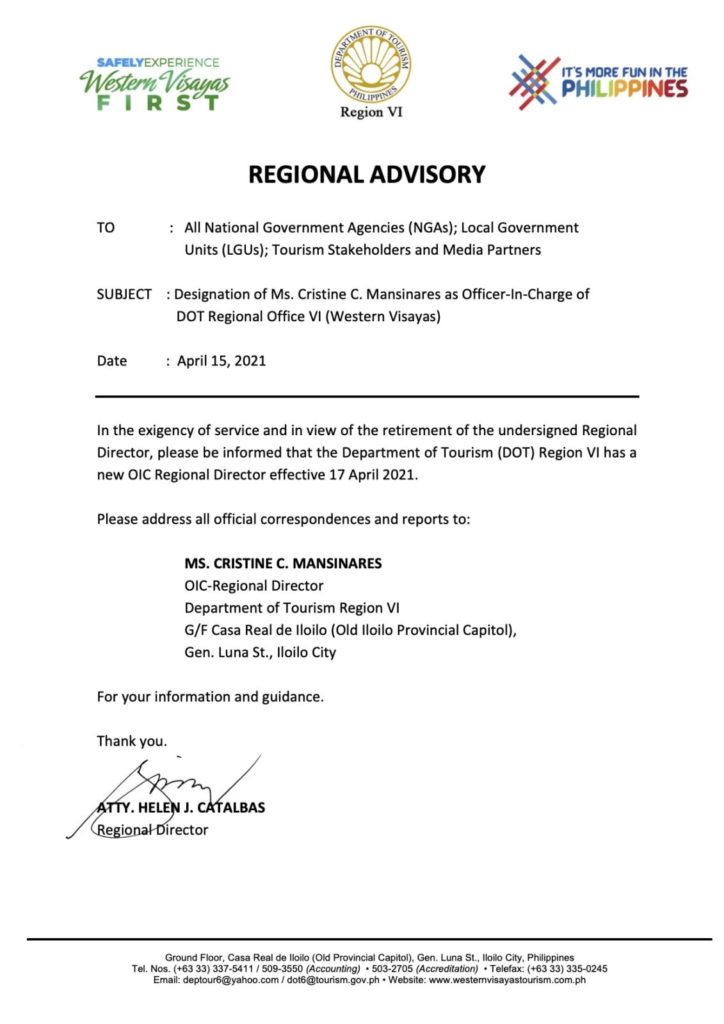 On the other hand, Atty. Helen J. Catalbas is already up for retirement after serving a maximum of two extension as regional director. Her appointment was extended twice or from January to October 2020 and again from October 17, 2020 to April 16, 2021.
Atty. Helen J. Catalbas' exits the regional office with almost 45 years of service in the agency recognized as the main economic driver of the regional economy before the pandemic.
She started as a senior tourist receptionist in 1976 and climbed up the ladder by serving as tourism promotions officer 1, public relations assistant, tourism promotions officer 2, senior tourism specialist and supervising tourism operations officer.
Also read: Atty. Helen J. Catalbas | "I carry my personal values to my work"
Catalbas was appointed as acting regional director in 2012 by former President Benigno C. Aquino III and eventually appointed as full-pledged regional director by President Rodrigo R. Duterte in 2016.