ILOMOCA 5 art collection can calm pandemic pains with nature-inspired hues in the works of Hablo, Laporga, Drilon, Liao, and Salarda – Ilonggo abstract artists.
The ongoing group show 5 at the Iloilo Museum of Contemporary Art (ILOMOCA) is a breather. It offered a necessary interlude after a year of living claustrophobically because of the Coronavirus disease.
The nature-inspired hues that characterized the masterpieces by five of Iloilo's best abstract artists is soothing to the nerves and it calmed pandemic pains – a self-agony experienced by many yet were disregarded as merely normal jitters, day-to-day anxiety, and an anguish and grief that were imagined to disappear naturally. It lingered on, however, and this affliction highlighted by a lockdown, which will mark its first year this March and with a new variant called B.1.1.7, suggests that the crisis will continue to hover on above our heads like a Damocles Sword.
All of those feelings concealed beneath was temporarily shut off upon entry at the Hulot Gallery of ILOMOCA with a face mask, a face or eye shield, temperature check, QR code contract tracing app, disinfection, and at 20 persons by batches inside the lighted room.
The hyperactive Iloilo art scene stopped when a lockdown was imposed and some artists readily directed art presentation and sale online and on social media pages. But a physical opening gives a spirit to art because of the laughter that echoes within the room, mumbles, and conversations.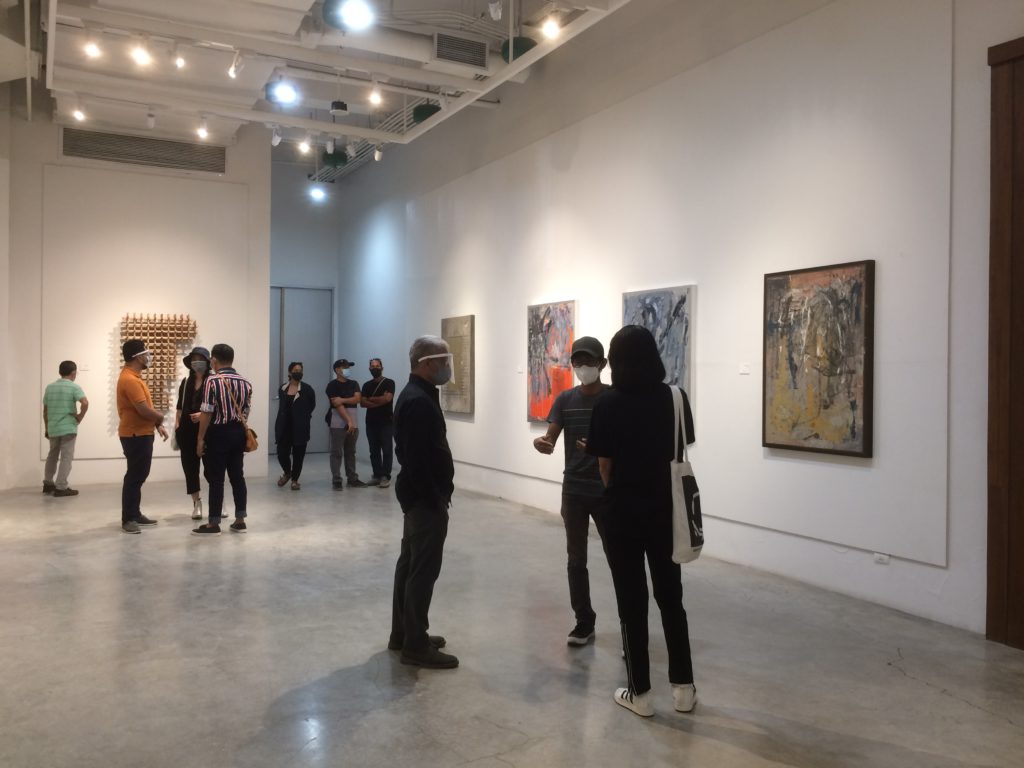 Social interaction matters to art, to artists, and to the audience, and ILOMOCA 5 art collection delivered that realization – that this is art in real world; a face-to-face break from a fictional state that has depict virtual life as we know it caused by isolation, movement restrictions, quarantine, or a generally self-consuming paranoia of a virus loitering around, even on a canvas enriched by oil or acrylic, in spite an absence of touch.
Read: ILOMOCA: The Connected World of Contemporary Art
Viewing the works of ILOMOCA 5 can start with a left foot moving leftwards upon entry at the ground floor gallery. You can take a long breathe-in as you move clockwise at every piece on the wall starting with the work of Allain Hablo, then Jeline Laporga, then Rock Drilon, a pregnant pause at Bryan Liao's, and a relaxing breathe-out after you completed the pieces of James Salarda.
The masterpieces vary in subject, especially when viewed through its titles. But since there were a lot of untitled pieces, a closer inquiry is needed and it must be coupled with an understanding of the art creator's background so as to dismiss the tendency of containing or connecting interpretations within the pandemic context.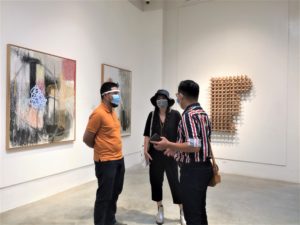 As a writer who usually interact with art makers during exhibit openings, I allowed the art pieces of ILOMOCA 5 to make a muted stand if only to preserve the genuine to subliminal message that it intends to convey to every person who viewed during the opening or who will view it in the coming days. Leaving it as it is might intensify interaction and infer a deepened search for meaning.
The pandemic highlighted our natural interaction with art, a truly personal affair. The collection in ILOMOCA 5 can help one move inwards to find a meaning, not only about the art piece and its artmaker, but about self and one's existence as shaped by occasional or enduring crisis, similar perhaps to an overreaching NCoV.
The ILOMOCA 5 art collection
The featured works offered a swatch of abstract art that can be found in Panay Island with a composition that presents a dynamic gestural interplay of lines, colors, and shapes that are reduced to art's purest elements, shared ILOMOCA's exhibit briefer.
One – Allain Hablo
In this collection, Allain Hablo shows four of his 2020 masterpieces under the theme Gilded. He shares a mixed media on canvas series entitled: The Gift of Appropriate Guilt 2, 3 and 4, and an imposing 80×20 inches, mixed media, he entitled Kintsugi at the entrance of Hulot Gallery.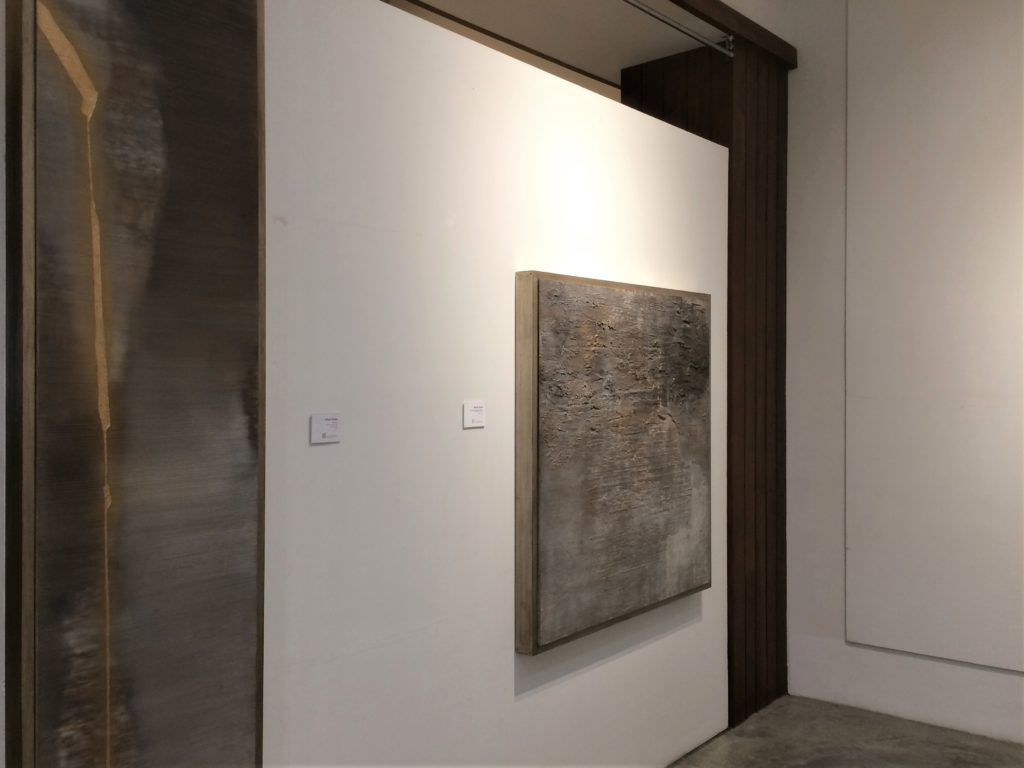 A canvas by Hablo is said to be stripped of realistic figures yet with a focus on the purest elements of art. His work is depicted by strokes of gold following a fragile texture on canvas highlighted by a two-toned color to indicate a disconnection of one solid piece using the gold as a demarcation break that aimlessly points on a direction ominous of demolition, but only to diminish.
This composition is prominent in Kintsugi – a Japanese method of repairing broken pieces of pottery using lacquer and powdered gold. An Allain Hablo work suggests how fragility can be overturned by applying a method of putting together broken pieces to regain its solid state.
Hablo's art development and practice is described as a quintessential tale from hyperrealism to abstraction. Despite the pandemic, Hablo was able to show works in five groups shows and two solos last year.
Two – Jeline Laporga
The works of Jeline Laporga offers visual reflections of how he views painting, and as an expression of his thoughts and feelings. A Laporga pieces often evokes different shapes and lines and incorporated by written words to highlight a message through a layering of vibrant and monochromatic colors.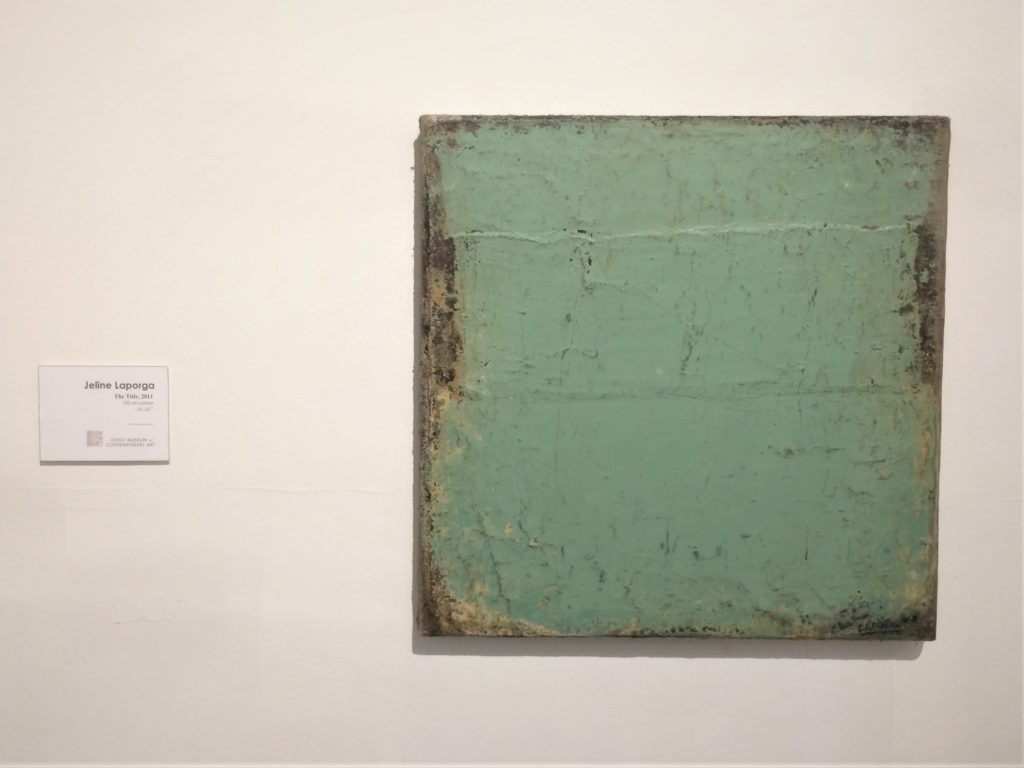 This method is protuberant in a 10-year old piece The Title (Oil on canvas, 16×16") which he re-offered for the collection. Words are also conspicuous in the pieces More (Oil on canvas, 48×36") which cries more, more, more; a diminishing letters in the work Untitled from the Start (Oil on canvas, 48×36") and numbers playing a prominent role in Five Digit Pleasure (Acrylic on canvas, 48×36")
An awardee of numerous national art competition, Laporga's works are often thought provoking among pieces on group shows.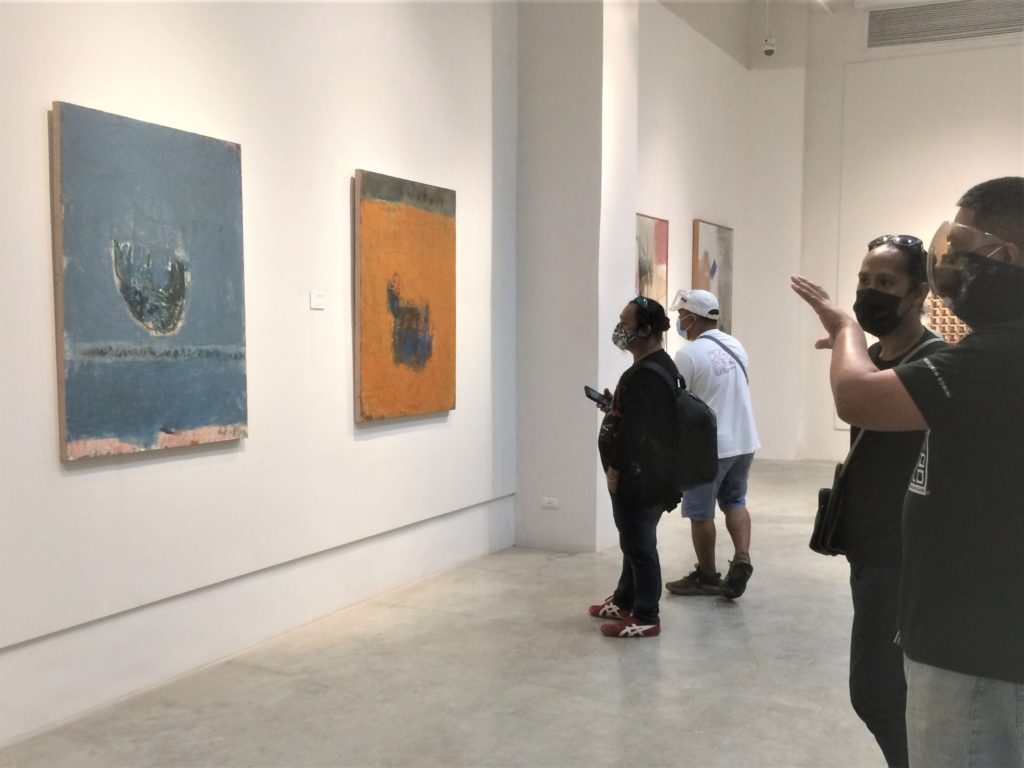 Three – Rock Drilon
Two of Rock Drilon's work are showed in the collection: Yellow Line (Acrylic on canvas, 61×46") and Golden Cross (Acrylic on canvas, 60×48").
This is the first group show for this year which features the works of Rock Drilon. He has presented works in a solo show "Iloilo Period" in 2015 and then "Untitled" in 2016. As a biking advocate, he devoted a collection about bike and biking in a "Bicycle Series" in 2018.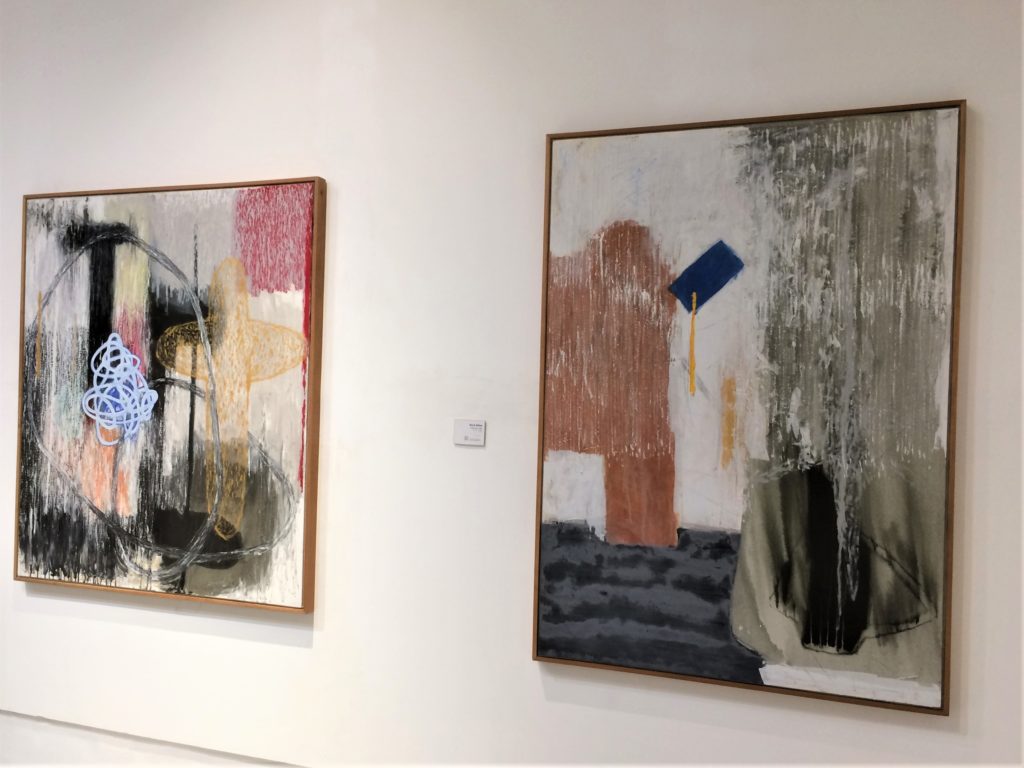 Scholars and art critics describes the work of Drilon as "automatism" – a technique derived from the subconscious or an art that stems from the artist's subconscious mind. An art portrayed through automatism is described as an art piece which unleashed the deep inner personality of an artist. It breaks free from the intellectual, cultural, social, and historical barriers.
The works of Rock Drilon is often rooted in the environment where he revolves and these characteristics are glaring in two of his pieces. Also read: Rock Drilon's art that painted itself
Four – Bryan Liao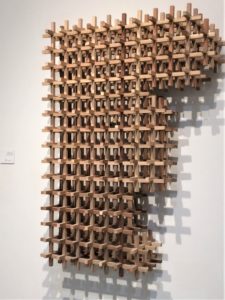 Bryan Liao is known for his woodwork art pieces and abstract assemblages.
His works usually combine wood blocks, concrete, metal, and even plastic, as revealed by a centerpiece entitled Unknown Ground, a 2020 wood and plastic figure on show. It is an eye-catching and interesting assembly of an artist.
Another of Liao's work that is being showed is Abri, a 48×36 inches, acrylic on canvas.
The art of Bryan Liao is described as pieces that explore the aesthetic of light and shadows on wood surfaces. It is also noted that his works somehow blurs the distinction between a painting and the notions of sculpture.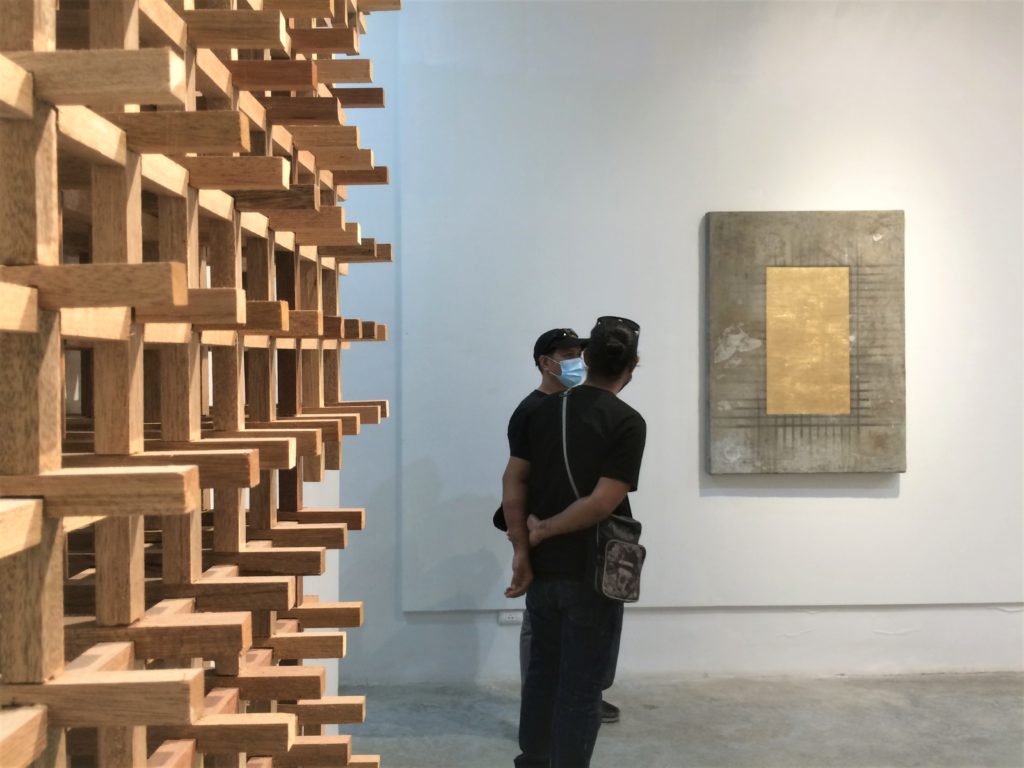 Bryan Liao is based in the Province of Antique and he is a member of the Rahmag Visual Arts Group. Antique will host the 2022 Visayas Visual Arts Exhibition and Conference (ViVA Excon).
Five – James Salarda
James Salarda's art presents the dimension of his a career as an electrical engineer and as an artist. Hence, art pieces by Salarda are appropriated by boards, wires, and circuitry – familiar everyday items that occupy his time.
Essentially, he brings artworks that evoke a combined presentation using industrial and electrical themes and laid down on canvas through strong lines and robust colors. These are dominant features in his 4×3 ft. Untitled series.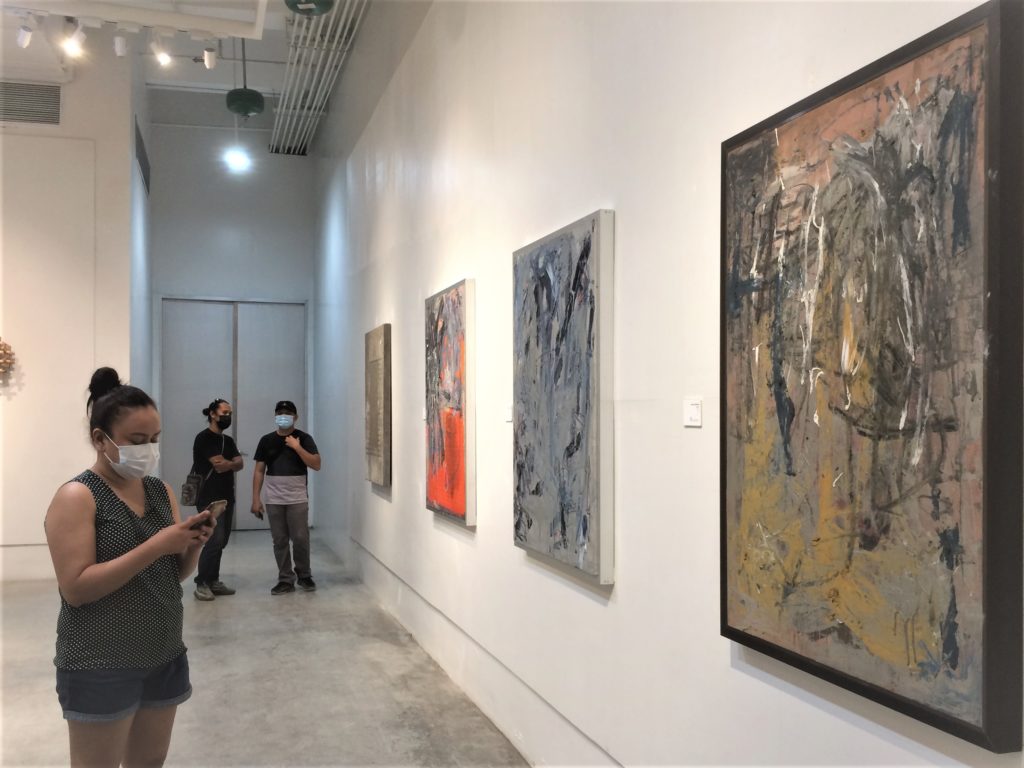 See the works of ILOMOCA 5
The works 5 was opened February 5, 2020. For weekend tours, ILOMOCA is requesting that a booking be made in advance through its Facebook page for proper organizing.
The Iloilo Museum of Contemporary Art (ILOMOCA) is located at the Casa Emperador at the Festive Walk Parade of Megaworld's Iloilo Business Park in Mandurriao district, Iloilo City.
Learn more about ILOMOCA by visiting https://www.facebook.com/ILOMOCA