It has to be ILOILO in the Philippines is out. It offers a tourism bucket list for those who plan to go the Iloilo Province.
It has to be ILOILO will walk you through a wide selection of destinations forming a travel menu of where to go for new visitors and what more to explore for those who have experienced visiting one or two sites.
The book is a bucket list of tourism attractions that is distinct in a province of 42 municipalities and one component city.
It is a second book published by the Iloilo Provincial Government, a project of the Office of Culture, Arts, History, and Tourism of Iloilo Province headed by Gilbert Golez Marin, much known as Bombette.
The provincial tourism officer is responsible of putting together all relevant information, data, and photos.
Welcome to Iloilo
The book It has to be Iloilo starts off with a geographical walk of its location being at the center of the Philippine archipelago strategically measured 283 statute miles from Manila, the country's mega-city capital.
The province of Iloilo stretches 4,663 square kilometers and it serves as a gateway to the flourishing Western Visayas region with its five congressional districts that offers a diverse cultural character and natural beauty with 60 islands proffering a beach to run to from mountainous and landlocked towns.
Iloilo also serves as the intellectual, cultural, and commercial center of the region and accessible by air transport from other cities in the country and in Asia through the Iloilo International Airport in Cabatuan town – 18 kilometers from Iloilo City. The adventure can begin from the airport gates for Iloilo boosts convenience in land transport with its well-developed road network and availability of transport services from vans, buses, jeepney, and taxi.
The uniqueness of Iloilo can be appreciated upon seeing its congressional districts packaged in tourism circuits.
Heritage hub. The First District comprised of the towns of Oton, Tigbauan, Guimbal, Tubungan, Igbaras, Miag-ao, and San Joaquin has a distinctive character of stunning mountains, cascading hills and rice terraces, rock formations, and hidden caves.
It is described as an irreplaceable outdoor museum of the province. It is a Heritage Destination held by a ribbon of Marine Protected Areas and its beaches and snorkeling sites embroidered its coastline. It is abundant with a fresh everyday catch from the sea.
The 7 towns provides a beautiful backdrop of coastal scenery blending with its historical and religious landmarks nested on its hills and with agricultural farms and mountains hugging the other end while a traveler moves inward. Its upland communities and people are great a subject for photographs.
Eco-Cultural playground. The Second District comprised of the towns of Alimodian, Leganes, Leon, New Lucena, Pavia, San Miguel, Sta. Barbara, and Zarraga is an adventurer's haven.
The 8-town circuit likewise offers a dramatic landscape with mist-covered mountain ranges connecting neighboring towns and interlinking panorama of rural life with sprawling trees alternating with farms. The area is a favorite weekend destination by serious and professional mountain bikers and hikers.
The municipalities in this part of the province is treasure-trove for festival hunters, scholars, and researchers of community traditions and culture.
Farm and nature's delight. The Third District is a farm tourism sanctuary formed by the towns of Cabatuan, Maasin, Janiuay, Badiangan, Lambunao, Calinog, Bingawan, Mina, and Pototan.
The 9-town circuit offers a cordial appeal with its people displaying unique story-telling talent in the form of dance or in needlework as revealed by their colorful traditional costumes.
Its landscape features endangered flora and fauna and with a combined milieu of novel historical structures. It is an area that will allow you to enjoy fresh farm-to-table food and to learn organic and sustainable farming practices.
Adventure powered locations. The Fourth District is composed of the towns of Dumangas, Dingle, Duenas, Passi City, San Enrique, Barorac Nuevo, Anilao, and Banate is Iloilo's Historical, Adventure and Sports Destination.
It offers an abundance of sports, outdoor adventure, and historical spots waiting to be rediscovered. The towns has a combined scenery of coastlines and mountainous areas with farms and resorts.
The 8-town circuit presents a variety of attractions from a National Park, caves, and a spectacle of underwater treasure like corals and with a faith-based ambiance considering its churches and other religious icons.
Loaded with island paradise. The Fifth District will bring you to the towns of Barotac Viejo, San Rafael, Lemery, Ajuy, Concepcion, Sara, San Dionesio, Batad, Balasan, Estancia, and Carles.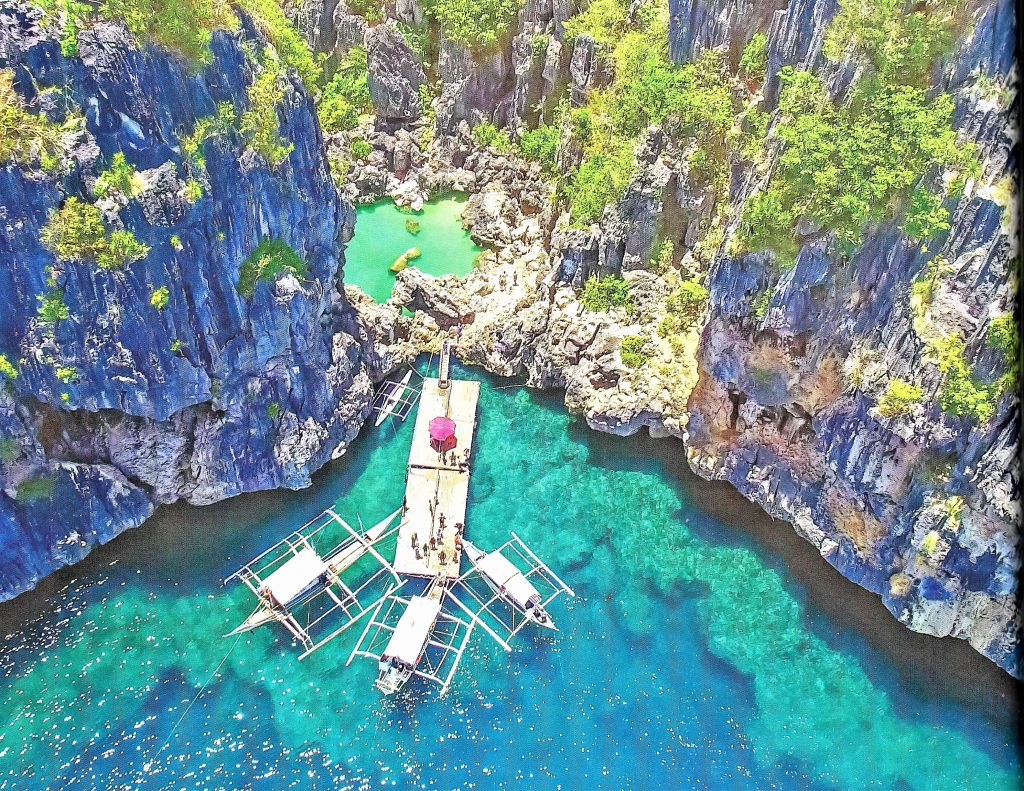 This is the island-hopping destination of Iloilo Province featuring the clear blue waters gently splashing on a string of pebbled and white sand beaches. Some areas requires a long land trip and sea travel, yet its raw unspoiled natural beauty is a sight to behold and its majestic sunsets and an equally splendid sunrise will for sure relieve the travel challenge.
The thousands of travelers who visits the 11-town circuit annually marveled on the simplicity of its attractions and on the freshest seafood that are delivered on its shorelines daily. It is also for the budget-conscious hunters and the unadulterated island way of cooking the fresh catch makes the taste lingers on the palate.
It has to be ILOILO!
The 250-page book is an inventory of Iloilo's tourist destinations. It is visually enhanced from Book One and it evokes the ever expanding attractions brought about by sustained tourism development in the province.
The book is useful for both domestic and foreign travelers for its pages serves as a virtual guide of tourism venues, exhibiting a carefully selected photographs by Ilonggo hobbyists and pros.
"So, if you are looking for a perfect vacation destination, a weekend getaway, or just a place to kick back and relax, Iloilo is the ideal place to visit. No matter what you choose to explore, IT HAS TO BE ILOILO!"
____________________________
*Selected text and paragraphs were lifted from the pages of the book. All the photos were likewise from the book. No attribution label to individual photographs that can be cited back to its photographers.