Before Merham Hassan started his technical vocational training at the Immaculate Conception Archdiocesan School (ICAS) in Zamboanga City, his main concern was whether he could afford to spend that much time in training, instead of working to help his family.
Merhan is 24 years old, and the second of six children. While he finished high school, his family – whose main livelihood is farming — could not afford to send him to college. So he joined the informal economy as a construction worker.
"Noong narining namin sa aming Sangguniang Kabataan (SK) leaders na may scholarship ang U.S. government, Philippine Business for Education (PBEd) at Technical Education and Skills Development Authority (TESDA), gusto ko talagang mag-apply. Pero hindi ako nakapunta agad kasi mahirap talaga ang buhay. Wala kaming pera papunta," Merham said in Filipino language Tagalog.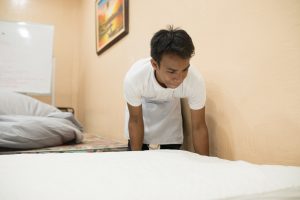 (When we heard from our Sangguniang Kabataan (SK) leaders that there was a scholarship from the U.S. government, PBEd, and TESDA, I really wanted to apply. However, I wasn't able to go immediately. We live a hard life and money is always a problem.)
Merham lived in Muti, a rural town in neighboring Zamboanga del Sur, which is two hours away from Zamboanga City. A one-way trip via public transportation would cost around P130. Thankfully, their local SK officials organized free transportation for youth applying to the program. Otherwise, Merham would never have been able to go.
Hindrances to tech-voc education
In a study on youth NEET job preferences commissioned by the United States Agency for International Development (USAID) and Philippine Business for Education (PBEd) through its joint undertaking, YouthWorks PH, many youth weigh getting a tech-voc (technical-vocational) education against their other options or commitments, and the costs of training versus the anticipated benefits.
NEET stands for "Not in Education, Employment, or Training" or persons who are unemployed and who are also not in school or in any vocational training program.
Many youth included in the study would rather get a job should the opportunity come up because they need to provide immediate support to their families. A big percentage identified the cost of time as a barrier to participating in training.
"The study highlights the barriers that youth NEET encounter even before applying for a tech-voc course. They then have to manage their expenses for the training period. Through our partnership with USAID, we are making it easier for youth NEET to pursue tech-voc careers," Love Basillote, YouthWorks PH chief of party and PBEd Executive Director, said.
Basillote added: "We hope this study informs our policy makers in the education sector, as well as other tech-voc institutions in creating the necessary programs that would help youth NEET overcome the challenges identified. From the data, we can also see how to properly reach out to and engage with our target stakeholders. It provides solid evidence that will help us in further refining the project."
YouthWorks PH is a P1.7-billion project that recruits youth NEET aged 18-30 and provides them with work-based skills training through partner schools and companies. The project's goal is to get 4,100 trainees employed in various companies. In Zamboanga City, YouthWorks PH had 25 food and beverage services and 16 housekeeping scholars in 2019.
ICAS experience
The study also notes that training expenses, the commute to the training venue, and household and family duties are also big considerations for the youth NEET in pursuing tech-voc training.
According to April Joy Gregorio, TESDA coordinator at ICAS Zamboanga, these considerations were apparent in her November 2019 batch of YouthWorks PH scholars which included Merham.

"I had 25 students in that batch but only half of them are able to attend the classes daily. It's not that they are not serious about the course. It's that a lot of them live far, and they are not able to afford to come here every day," Gregorio said.
Gregorio, who teaches the housekeeping services, food and beverages services, and bartending services, noted that it's up to the instructors to adjust their teaching. "I try to catch everyone up when they're here so that they still get the knowledge and skills needed. Only 14 regularly attend. Most come only on weekends," she added.
As a partner of the project, Gregorio also helps to provide transportation and food for her students.
"My main goal is really to help them with their livelihood," Gregorio said.
As for Merham, he hopes more youth will benefit from YouthWorks PH. "I hope they are able to support more students without jobs. You have an advantage if you have an education," he said.
For more information about YouthWorks PH, log on to www.pbed.ph/YouthWorksPH or follow them on Facebook at www.fb.com/YouthWorksPH.
_________________
About USAID:
USAID is the lead U.S. government agency for international development and disaster assistance. In the Philippines, USAID partners with the national government to build a more stable, prosperous, and well-governed nation. For more information, visit http://www.usaid.gov/philippines or email infoph@usaid.gov.
About PBEd:
A non-profit organization founded in 2006 by top CEOs in the country, PBEd is the business community's response to the need for greater alignment between education and the economy. Its advocacies include workforce development and improving teacher quality.
About YouthWorks PH:
Launched in 2018, YouthWorks PH PH is PBEd's five-year, P1.7-billion workforce development project in partnership with the United States Agency for International Development. It aims to make education and training more responsive to the needs of the economy by working with the government, industry, and academia to provide opportunities to out-of-school and unemployed youth.