"It was my kindergarten teacher who was the first to recognize that I have a talent for art making when she praised the drawings I did at the blackboard," shared Ilonggo artist Alex Ordoyo.
The same teacher declared that Ordoyo will become an artist someday and that early realization was bound to be carved on stone. Its words endured in the memory of Ordoyo until today.
Last year, Alex Ordoyo was entered in the growing roster of prestigious Filipino artists after being selected as one of the grand awardee of the Metrobank Art Design and Excellence Award (MADE) for his work Destroyed which he submitted for Water Media on Paper Category.
Getting an award was not new to the artist. He has received numerous recognition for his work, but MADE was special among others for he started joining the annual competition as a college student. He has earned five semi-finalist award out of his nine attempts on the annual competition. A grand award, however, was elusive not until last year.
"It was an answered prayer," said Ordoyo, "for I have prayed hard and I have complemented my prayers with hard work. I conditioned myself for another attempt this time with determination to win before I reach 35 years old."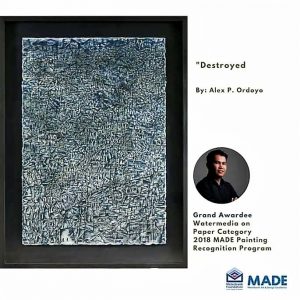 Art competitions like the one being organized by Metrobank is considered as significant especially by young and developing artists. It is a dream for most promising artist to earn a MADE award for apart from the cash prize and trophy, they are entered as an alumni and become part of the circle of winners who are supporting each other's growth and development.
A product of a public school system
Like most artists, Alex Ordoyo's rise to maturity is long and tedious. He had his share of struggles together with his mother and four siblings, especially when the pillar of their family passed away. Ordoyo was only four years old when his father joined the Creator.
The untimely death of his father proved challenging for the Ordoyo family. Yet he was able to complete schooling in his hometown of Santa Barbara in Iloilo.
"I am a proud product of a public school system," Ordoyo quipped having completed elementary education at Santa Barbara Central Elementary School and secondary at the Santa Barbara Comprehensive National High School.
"I could have enrolled at the Iloilo National High School – School for the Arts Program, but our financial standing at that time prevented it. It was likewise my dream to enroll as a Fine Arts student at the University of the Philippines Diliman, yet our family was not financially stable at that time to support the kind of education that I aimed for," Ordoyo explained in a contented tone.
All of these challenges, however, did not restrain Ordoyo to excel as a Bachelor of Science in Industrial Technology student. In 2006, he graduated cum laude at the Iloilo Science and Technology University with a major in Architectural Drafting.
The following year, Ordoyo added another feather on his educational achievements by finishing a Diploma in Teaching. This one kicked-off what now has become a nine year stint in teaching art among budding young scholars at the School for the Arts of the Iloilo National High School.
A master's medium
Watercolor is a medium that Ordoyo is most comfortable for his art making. "Watercolor is a master's medium," he shared, "and it is one of the most difficult – water is an uncontrollable element especially when applied on paper. But it is quick for me to work with."
Ordoyo is also comfortable using pencil, charcoal, oil and acrylic. He has produced mixed media works, three dimensional sculpture pieces, and installation art. His development as an artist started at a young age and by joining local art groups and competitions in his hometown.
"We have CATMON Artists Group and I was privileged to have mentors who possess the skills and technical competence being architects and professionals with a fine arts background. They were the ones who helped honed my skills and sharpened my talent," intoned Ordoyo.
His colleagues and mentors were also the ones who encouraged Ordoyo to participate in art workshops and local art competitions in order to gain exposure, gather insights, and increase his self-confidence. "I'm proud to say that I am a consistent winner in editorial cartoon and poster making contest from high school all the way to college," he laughingly declared.
Joining competitions as a young student proved useful, not only for its prize money, but more importantly, it helps an artist understand the art environment and which Ordoyo found as an essential element for an artist's personal development.
A socially aware artist
"My inspiration for art comes randomly. It strikes anytime," he said, "but when the moment comes then I begin to pray and the process of its conceptualization flows in. Then I start to do the layering and detailing," shared Ordoyo regarding his art making process.
Ordoyo conceptualizes his art by studying various subjects ranging from a personal experience, the family, everyday life events, and social issues happening in society. He has studied and draw out inspiration from the works of Luna, Amorsolo, Cerda, Cusi, Picasso, and Japanese artist Aida Makoto.
His winning piece entitled Destroyed for MADE 2018 depicted one of the most controversial issue under the Duterte administration – the war in Marawi. It illustrated a localized image of an international security issue as a result of terrorism projects by extremists groups like ISIS.
"As a visual artist I feel that I have an obligation to record and interpret the events that are happening in our surroundings – events that affect our country and citizens," he underscored, and as an emotional being, we cannot help but become vigilant regarding these events."
A closer look at the piece Destroyed will allow the viewer to see the devastation brought about by the war and the ugly reality of its aftermath.
Destroyed demonstrated Ordoyo's mastery in drafting. He approached the multi-dimensional issue of war and terrorism by using architectural abstraction as a style to heighten public awareness of the impact of war to people and society. The messaging in Destroyed also signified warning and it raised the demand for rehabilitation so that the affected people would regain back normalcy in their lives.
"Destroyed offered some fulfillment to Ordoyo for it enabled him to effectively convey a message through art and by imparting lessons that war extinguishes communities and kills innocent lives, especially women and children; hence, the need to avert the onset of such events.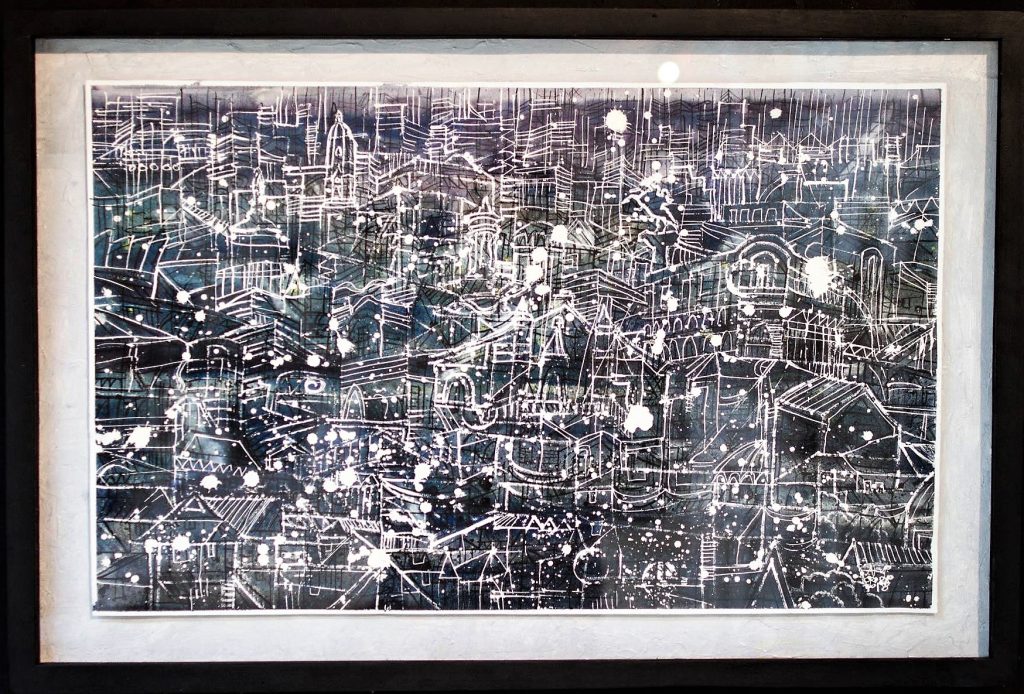 The year 2018 brought Alex Ordoyo a notch higher in his career as an artist with all the collaborative shows that he participated and the recognition which he has earned. Certainly, followers of Ordoyo will see more of him this year with large works at the pipeline and with more partnership shows.
"It is my fervent wish that I can become a full-time artist soon in order to have more time and provide focus in creating my art. It is by far a humbling journey for me as I continue to learn and improve my craft. I believe that dreams do come true especially if you work hard to make it a reality," underscored Ordoyo.
*Photos used for this feature article were grabbed from ATMOS.PH and Alfredo Esquillo's Facebook post on Alex Ordoyo. The article appeared in the Dinagyang 2019 issue of the Iloilo Metropolitan Times in January 22, 2019.