The SM Biker's Manual has arrived in Iloilo and you can get a copy for free.
I'd like to think that the newly-released Biker's Manual by SM Cares have pedaled all the way from SM Mall of Asia through a roll-on-roll-off route to SM City Iloilo so that the Ilonggo bikers can have a copy of it.
Imaginably, it took a little while to get to Iloilo because of some border check points for quarantine pass examination and RT-PCR results evaluation.
In reality, however, the sought after Biker's Manual made a shortcut using the digital route. It is available online, but the Ilonggo bikers are generally patient and they waited for peoplesdomain.net, who is a slow biker in the internet, to bring it here.
Anyway, you can download it from your bike tambayan.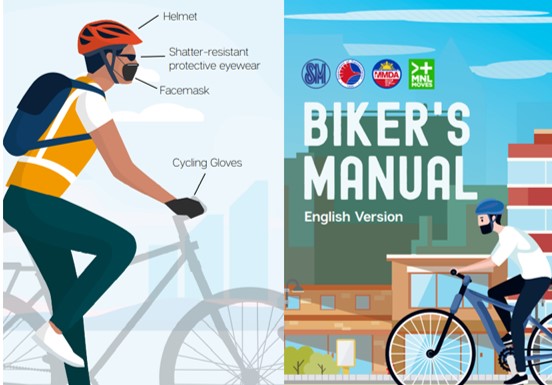 About the Biker's Manual
The Biker's Manual serves a good purpose. It is passport size, straight to point instructional material; simple to understand with technical information effectively illustrated using relevant graphics.
The 10 colorful page pocket manual is handy for both newbies and seasoned bikers on the road. It offers safety measures before and during a ride; tips on personal protection; and a guide on road signs and protocols.
While a hardcopy is important, the soft PDF version is shareable once downloaded. Saving a copy on your mobile phone will make the manual useful at any given time.
Read: Iloilo Bike Festival to level up Iloilo as PHs bike capital
The manual was realized in partnership with the Dept. of Transportation (DOTr), Metropolitan Manila Development Authority (MMDA), several European Embassies whose countries are known biking champions, and various cycling advocacy groups like Manila Moves. It conforms with Active Transport Guideline of the DOTr and it is produced in English and Tagalog language.
Most importantly, it is for free to the public.
SM Cares Bike-Friendly SM Program
SM Cares has embarked on a mission of supporting the bike-riding public through the Bike-Friendly SM Program.
Long known for its health and environmental benefits, biking has emerged as a way of safe and cost-free transportation during the pandemic. With bicycles becoming more widely used, SM has created bike-friendly infrastructures and facilities to give the growing number of bike commuters a safe, convenient, and enjoyable biking experience.
Also about biking: Iloilo to Oton bikeway to enhance #IloiloBikeCapitalPH
SM began putting a total of 18 kilometers of shared and dedicated bikes lanes at the SM Mall of Asia, along with hundreds of bike racks, vending machines, and service repair stations which turned out to be very helpful for the bike riders at the MOA complex.
Some highlights of the program includes SM Seaside Cebu's 1.6km of shared and dedicated bike lanes; a 2.1-hectare bike trail at SM Center Pulilan; and SM City Marikina's bike lanes and free vehicle parking for customers with bikes.
SM City Iloilo is an established bike-friendly partner
SM City Iloilo has also advanced its bike-friendly program in active partnership with the Local Government, private sector, and mobility stakeholders to help promote the culture of cycling and to support various bike promotions campaign.
SM City Iloilo is a regular venue for weekend bike fun ride events before the uptake of biking culture in the city who is being consider as the country's Bike Capital.
Last year, SM City Iloilo established a designated bike parking with bike repair and maintenance tools at the Southpoint and beside the motorcycle bay.
The facility was well-received by bikers who frequented the mall considering that a portion of Iloilo City's protected bike passes in front across the mall.
The mall is a major supporter of Iloilo City Government initiatives about biking as part of its Bike-Friendly City campaign.
SM City Iloilo collaborated with various groups to convert the long concrete wall of its warehouse into a prominent bicycle-themed mural.
The public art space is now among Iloilo City's most Instagrammable sites.
There are now more than 500 bike racks and more than 80 repair across all SM Supermalls nationwide. SM Cares, a division of SM Foundation, has produced various IEC materials that help educate the public about the benefits of biking and of creating bike-friendly communities.