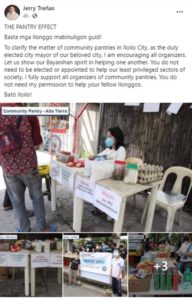 RIGHT TURN FOR ILOILO: Community pantry to flourish in this part of the country and it displayed the good nature of the Ilonggo people as they anticipate COVID-19 to extend indefinitely.
The Ilonggos stood up against the unjust move of the Quezon City police authorities on the initiative of Ana Patricia Non to help fellow Filipinos in distress and without food through the community pantry.
Non announced that the community pantry that she organized with volunteers in Maginhawa Teachers Village will be temporarily discontinued for "safety reasons" after she was red-tagged by the QC Police District and the National Task Force to End Local Communist Armed Conflict (NTF-ELCAC).
No to red-tagging, community pantry to flourish in Iloilo City
Many Ilonggos were in disbelief on the fate of community pantry in Maginhawa as they too were already halfway preparing their effort for various communities.
Iloilo City Mayor Jerry P. Treñas has declared: "I fully support all organizers of community pantries. You do not need my permission to help your fellow Ilonggos."
The declaration of the city's chief executive was posted on his Facebook timeline April 20, 2021 and his message interpreted as deplete of politicking earned a combined 2.3k reactions of love, care, and likes.
The message of Mayor Treñas got a signal of popular approval, especially among Ilonggos for it took an opposite turn from the unpopular action of QCPD and NTF-ELCAC.

The allegation was denied by Ana Patricia Non in a virtual press conference held April 20.

Iloilo City = City of Love

In Iloilo City, however, community pantry was encouraged by the chief executive and the Ilonggos have found a voice to stand on.

"To clarify the matter of community pantries in Iloilo City, as the duly elected city mayor of our beloved city, I am encouraging all organizers. Let us show our Bayanihan spirit in helping one another," the chief executive declared, dispelling fears and anxiety among those who initially organized community pantry earlier this week to help fellow Ilonggos who are in distress because of the ongoing pandemic.

"Basta mga Ilonggo mabinuligon guid," introed by Mayor Treñas in his Facebook post which he entitled: "The Pantry Effect".
A positive comment by a female netizen over Facebook said, "Iloilo City = City of Love" – a mantra engraved in the hearts and minds of Ilonggos who are scattered in different places across the archipelago and abroad.
Some commended the Mayor by saying, "you're correct Mayor, why a permit is needed to help others?"
"Amo ina dapat ang mga Mayors. Mag support sang mga initiative sang mga pululuyo indi kay I redtag ang naga bulig. If all Mayor's come out in the open and show their support and permission more people will be encouraged to help," a comment by restauranteur Grace Blair, mixed in Hiligaynon and English.
There were some who professed that they do not normally make a comment regarding popular issues, yet they took an exception to commend the mayor for making a clear stand on the matter for they support community pantry.
By far, the post have gathered 53 positive comments and 503 shares at 9:00 P.M.
Community pantry is participative democracy at work
The Department of Interior and Local Government (DILG) encouraged community pantry organizers to minimize politicizing the effort by focusing on its real intention and that is to help fellow Filipinos.
The agency stressed, however, that community pantry is democracy at work. "Whatever they say during those community pantries are part of protected speech. We are a democratic society and people can say whatever they want,'' said DILG Undersecretary and spokesperson Jonathan Malaya.
The Senate minority bloc led by Ilonggo Senator Franklin Drilon also issued a joint statement . "The harassment and intimidation of those involved in these relief efforts exacerbate the hunger and hardships of our citizens," it said.
"We will always protect and uphold our fundamental rights, especially those toward a functioning and participative democracy," the statement added.
Several senators both from the administration and opposition side likewise echoed the sentiments of the minority bloc stressing to government officials to "leave organizers of community pantry alone."
Sharing is simply second nature among Ilonggos
Earlier this week, two youth leaders in Iloilo City first posted the Buligay Community Pantry effort in Brgy. Mansaya, Lapuz.
Carmela Francesca Adelantar and Allen Dave Evidente got an inspirational cue from the Maginhawa Community Pantry of Ana Patricia Non who went viral over social media. They organized a similar effort over the weekend by tapping the support of family, friends, and youth organizations for food and health items.
What was a random and spontaneous noble gesture by the two youth leaders surprised the residents of Barangay Mansaya after they set-up the community pantry together with Sangguniang Kabataan and Barangay Officials.

Read: 2 youth leaders started Iloilo Buligay Community Pantry
"What Ana Patricia Non initiated must be replicated by fellow Filipinos for a community pantry effort renews the value of giving despite the differing status of people in society. It also rejuvenates trust and it gives our people a sense of hope," they said.

Surprisingly, the appeal had already been embraced by many Ilonggos who did not initially post on social media their respective community pantry effort only to see posts that it has started to catch fever and were now ongoing in various communities across the city.
About the same time Monday morning, journalist Tara Yap shared a photo of a well-meaning Ilonggo named Florencio Yap who set-up a community pantry in Alta Tierra Village in Jaro, in front of the National Food Authority, to mark his 68th birthday.
These acts of kindness are natural for Florencio Yap for he has extended help in more ways than one to uplift the lives of fellow Ilonggos who are in need, especially during periods of crisis.

"He is used to the bayanihan culture," he said in an interview by Aksyon Radyo Iloilo.

Yap's Alta Tierra community pantry credited inspiration from Maginhawa Community Pantry in Quezon City.

What followed were photos of a community pantry in La Paz district, initially in Rizal street and another one in La Paz Plaza.
Within the day, donations from Ilonggos flowed in to various community pantry venues.
Ilonggo chef and popular restauranteur Mary Pauline Gorriceta-Banusing shared photos of ongoing community pantry in La Paz Plaza with volunteers composed of young professionals and with children assisting distribution of items.
Unlike Quezon City, local uniformed police personnel where seen assisting fellow Ilonggos set-up the distribution of food items as showed by the photos. In fact, the community pantry in La Paz was organized at the waiting shed across the police station.
"I am not a communist but rather, I am for the community," underscored Banusing in her Facebook timeline as she expressed thanks to those who supported the community pantry in La Paz by sending goods through her for the venue.
Buligay is a right turn for Iloilo; it's a recipe behind Ilonggo resiliency
Kindness was brought to the spotlight by the Ilonggo people at the height of the pandemic lockdown in 2020.
The Filipino trait of bayanihan comes in the form of buligay (mutual help and support) among Ilonggos despite belonging to different classes in society.
The act of kindness by Ilonggos has allowed the local government to roll out 240 community kitchens and which has provided around 1.9 million meals to families who were on lockdown.
From March 21 to June 15, 2020, the Uswag Community Kitchens fed an estimated 30,000 families per day.
Ilonggo owned bakeries and milling firms produced an estimated of 1.7 million of Ilonggo Pandesal and which were delivered daily to 180 barangays from April to May 2020.
In addition, it also launched 5 kitchens to provide food for frontliners. Around 92, 729 lunch and dinner meals were produced during those difficult periods.

Ilonggo artists shared their artworks to raise additional funds for health equipment and facilities while Ilonggo seamstress and tailors produced some 300,000 facemasks to augment shortage of supply at the earlier stage of the lockdown.
These efforts were undertaken with strong private sector partnership and community collaboration.
Kindness or ang pagbuligay is the recipe behind the Ilonggo resiliency. Indeed, "Basta mga Ilonggo mabinuligon guid," expressed Ilonggo netizens.
The peoplesdomain.net supports the community pantry and the Ilonggos behind it.