Buligay Community Pantry was introduced by 2 youth leaders in Iloilo City.
The news about a community pantry in Maginhawa in Teachers Village in Quezon City went viral on Facebook yet before we could get a tight grip on what the viral initiative was all about, 2 youth leaders in Iloilo City introduced it to the Ilonggos.
Carmela Francesca Adelantar and Allen Dave Evidente initiated "Buligay Iloilo Community Pantry" in Brgy. Mansaya, Lapuz and they posted the event on their respective social media timeline Monday morning – April 19, 2021.
Carmela Francesca Adelantar is from Janiuay town. She is a second year BA Political Science student at the University of the Philippines Visayas and involved in youth related work at the National Youth Volunteers Coalition and Youth Strike for Climate Philippines.
On the other hand, Allen Dave Evidente is Iloilo City-based and second year student taking up Political Economy at the University of Asia and the Pacific. He was active with the Philippine Red Cross as a volunteer for 6 years.
Adelantar and Evidente were Senior High schoolmates at West Visayas State University.
Buligay Community Pantry was random "Aha! Moment"
Last weekend, Adelantar and Evidente were chatting about the noble effort initiated by Ana Patricia Non in Maginhawa, Teachers Village and it was an "aha! moment".
The two youth leaders have thought why not in Iloilo City? We also have communities who confront similar context and challenges under the pandemic with that of AP Non's community.
"It was really random and spontaneous. Then we decided to pursue it despite not knowing where to get resources," shared Evidente.
"We also saw that community pantries gained a lot of traction," Adelantar pointed out, and so "we decided to have it replicated here in Iloilo."
The two youth leaders have found themselves inviting youth friends, family, and youth organizations to donate some items for the community pantry and it was well received.
"We invited them to donate food and hygiene supplies. We received canned goods, noodles, rice, bread, and vegetables for food while soap, shampoo, and face shields were also donated for hygiene supplies," shared by the two youth leaders.
They choose "buligay" or "buliganay," a Hiligaynon term which means mutual help or to have mutual support. It describes a similar concept with bayanihan.
Buligay Iloilo Community Pantry was set-up in Brgy. Mansaya
Adelantar and Evidente coordinated with their friends who are Sanguniang Kabataan leaders and Barangay Officials in Brgy. Mansaya, Lapuz to set-up the Buligay Iloilo Community Pantry.
Barangay Mansaya was selected by the two for they have extended relief efforts for the barangay residents who were affected by the oil spill last year.
It can be recalled that Brgy. Mansaya was among coastal communities that were heavily impacted by an oil spill in July last year after a portion of Power Barge 102 operated by the Ayala-owned AC Energy Corporation.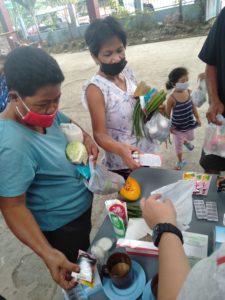 The explosion tore a one-foot wide hole in the hull of Power Barge 102 Starboard Side resulting in an estimated of more than 200,000 liters of bunker fuel spilled over the area. It affected 7 barangays in Iloilo City which included Brgy. Mansaya.
"We want to go back to Brgy. Mansaya for we know that even until today the community is still reeling from the effects of both the oil spill and the pandemic," Evidente remarked.
"The post oil-spill situation has greatly improved in Brgy. Mansaya, however, recovery of people's livelihoods have been slow. So we thought that we still need to help them through a collaborative effort among community members," underscored Evidente.
Over the weekend, both Evidente and Adelantar organized the goods and prepared the materials needed to set-up the Buligay Community Pantry.
Iloilo Community Pantry showed the best of Ilonggo character
The Buligay Iloilo Community Pantry was described by Adelantar and Evidente as an experience that showed the best of Ilonggo character, especially in this period of extended health crisis.
"We received very positive feedback and our effort was reciprocated. We were amazed by the reception of the community," said the two youth leaders.
Initially upon set-up, some community members thought that they were selling the food and health items. They were hesitant to come closer where the items were displayed.
Yet it aroused curiosity after they saw the message: "Magkuha sang kinahanglan, maghatag sang masarangan" – a line that resonates the same messaging of that in Maginhawa, Quezon City, which stated: "Magbigay ayon sa kakayahan, kumuha batay sa pangangailangan."
"It's really something foreign to them, the community pantry concept," said Evidente.
"We explained to them the concept and intention of a 'community pantry' and we started to see faces of residents light up," shared Adelantar and Evidente.
"The effort made them happy, added by the two, and "news about the Buligay Community Pantry at the covered gym started to go viral through word of mouth within just minutes around the community."

Buligay renews the spirit of kindness and rejuvenated a sense of hope
Consequently, the two youth leaders were also about to experience something unexpected.
The residents and beneficiaries did not only approach the community pantry to take items that they needed. They started to come out and also offered food, bread, even watermelons, and to have these food items included for donation.
Also about community pantry: RIGHT TURN FOR ILOILO: Community pantry to flourish here
"It was also an overwhelming and heart-warming experience combined to see kindness flow out naturally from people in the community who are in fact in need of help and assistance," said the two.
The barangay officials also gave out supplies and medicines to community members.
"It was really a joy to see people sharing despite being affected by the oil spill and much more so by the ongoing pandemic," declared Allen Dave Evidente.

For Adelantar and Evidente, the 'Buliganay' aims to inspire Ilonggos to help each other and they are hoping that other youth leaders, youth organizations and well-meaning Ilonggos will also follow and create community pantries in their respective communities.
"What Ana Patricia Non initiated must be replicated by fellow Filipinos," encouraged Adelantar and Evidente. A community pantry effort renews the value of giving despite the differing status of people in society. It also rejuvenates trust and it gives our people a sense of hope.
The peoplesdomain.net supports the community pantry and the Ilonggos behind it.