MORE Power and SM City Iloilo, together with the Iloilo City Government, unveiled today the zero-emission electric bus.
"The SM Iloilo Electric Bus isn't just any mode of transportation; it represents a new era of mobility that is safer, more comfortable, and environmentally responsible, said Niel Parcon, VP for Corporate Planning and Regulatory Affairs at MORE Power.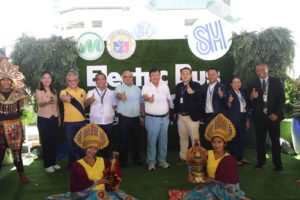 It is a "groundbreaking innovation that promises to revolutionize the way we commute in Iloilo City." As such, it is with excitement that we partnered with SM in introducing to you the SM Iloilo Electric Bus, a game-changing addition to our city's transportation landscape," added Parcon.
Upon today's launch, the zero-emission SM electric bus will be plying along routes that connect SM City Iloilo, SM Delgado, SM SaveMore Jaro, and SM Strata, with stops at other locations like City Hall and the Ceres Northbound terminal.
"SM, together with GET Philippines and MORE Power, brought a zero-emission, fully-electric bus to the heart of the Philippines, the City of Iloilo, to provide a comfortable, safe mode of transportation, said Gilbert Domingo, Mall Manager of SM City Iloilo.
"With the SM Electric Bus, transportation in Iloilo City is going to the next level with reduced pollution and congestion and improved quality of life for our employees, passengers, and the community, Domingo added.
"The SM electric bus is also an affirmation of our sustainability initiative to contribute to a more livable and clean city and our affirmation to be a strong partner of Iloilo City in its goal of giving a better way of life to the Ilonggos," said Domingo.
The E-Bus is estimated to reduce 50000 kg of CO2 per year and 5 kg of particulate matter in the air per year, or the equivalent of 700 trees of CO2 absorption per year.
Apart from the benefits to the environment, the E-Bus is also safe for everyone and offers a better ride for persons with disabilities (PWD) because it is equipped with a ramp and has a designated seat for PWD passengers.
This is not the first time SM has had an E-Bus. As early as 2022, SM Supermalls has integrated the E-Bus in Manila with a route that connects six of its malls from SM Megamall in Ortigas to SM Fairview in 2022.
A couple of months ago, Cagayan de Oro also got their electric bus, which connects SM CDO uptown and downtown.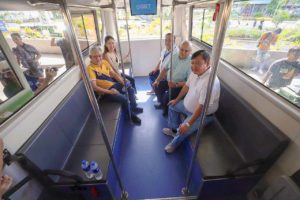 "I believe that electric buses are a major step in reducing our carbon footprint," said Iloilo City Mayor Jerry Treñas.
"They help improve air quality and help address noise pollution in our city," Treñas added.
"E-buses will also be of great service to Ilonggos because they are more comfortable and efficient, and they can help us reduce our reliance on fossil fuels," said Treñas.