ICODE Iloilo NGO Network or the Iloilo Caucus of Development Non-Government Organizations (ICODE) approaches its 30th year with an inside and out makeover. It has a new logo, a refreshed website, and an enhanced internal capability.
A byname when it comes to social development work in the province and city of Iloilo, ICODE commemorated its gains through a branding inauguration held at the Iloilo Provincial Capitol Lobby, September 25, 2023.
The event was attended by Andrea Halverson Director of Health in the Philippines of the United States Agency for International Development (USAID), officials from Save the Children Philippines (SCP), the implementing partner for the Capacitating Strategic Organizations to Strengthen the Civil Society Organization Sector (CSO2) Project, local leaders, partners from various coummunities, and members of the network.
The CSO2 Project supported ICODE's rebranding, including the undating of its its strategic plan, enhancing its leadership competency, succession planning, improved financial stewardship, and bolstering resource mobilization.
"We are very grateful for the assistance of our partner, USAID, and Save the Children Philippines, for it boosted our readiness to face new challenges, especially with the advent of digital technology and social media; hence, the identity overhaul," said Boyet Areño, executive director of ICODE.
"We started working for enhanced organizational capabilities in 2021 through the CSO2 Project, a timely initiative considering the changing development landscape and the role that ICODE can play for the next decade and beyond," said Areño.
ICODE is a movement
"USAID's support for ICODE is rooted in the principle of locally led development. This process empowers local actors, including individuals, communities, networks, organizations, private entities, and governments, to shape their own development agenda, design solutions, and harness the capacity, leadership, and resources needed to bring those solutions to fruition," said Andrea Halverson during the event.
Governor Arthur Defensor of Iloilo Province highlighted his administration's support to CSOs in his message to ICODE.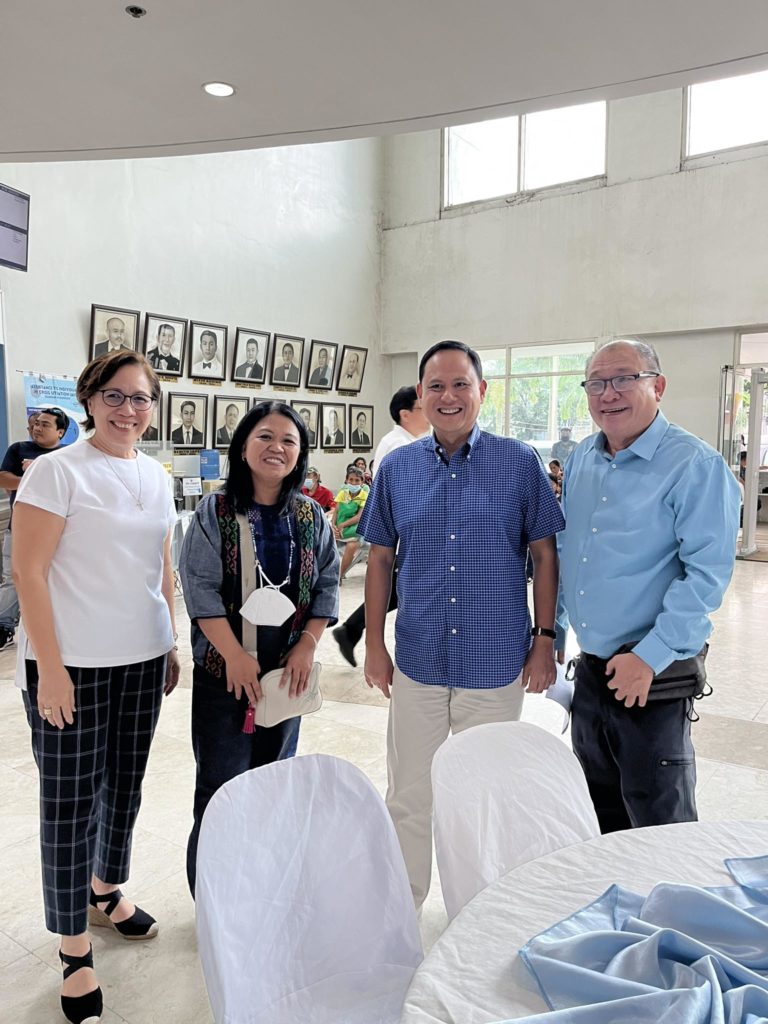 "At present, there are a total of 80 accredited CSOs in the province of Iloilo. We have appropriated funds in order to develop and strengthen the capabilities of our accredited CSOs as active partners in the development endeavors of the provincial government. We look forward to the active participation and commitment as we aim to establish a more responsive and inclusive direction toward a responsive, robust, globally competitive, and resilient province of Iloilo," said Defensor.
Iloilo City Mayor Jerry Treñas described ICODE as "not just a network of civil society organizations but a movement that brings together all advocates who are committed to making Iloilo City the best for its people. With your help, we can build a city that we all can be proud of. Together we can all empower our civil society organizations and empower and uplift our community."
Republic Act 7160 and the birth ICODE
The champion for sustainable development in Iloilo was formed in response to the passage of the Local Government Code of 1991 (Republic Act 7160). The law gave local government units the control and responsibility of delivering basic services to the people, and it called for the active participation of NGOs in local governance and development.
ICODE was organized in 1992 and registered with the SEC in 1994. Currently, there are 15 active member organizations dedicated to advancing the causes of good governance, poverty reduction, disaster risk reduction, and sustainable development.
"Since its formation, we've been at the forefront of promoting community participation in all of our programs and projects," Areño said, and the "interventions that we have employed have enabled grassroots organizations to participate in government processes and engage various stakeholders effectively because of our organizing, development of leaders, and capacity building."
Areño is considered an institution in social development circles in the Philippines and a veteran in the field, having devoted 27 years to ICODE.
Various people's and community-based organizations found empowerment through ICODE, and their involvement in development efforts resulted in projects that responded to their needs and improved their well-being.
Citizen's Query
Among the milestones of ICODE in good governance is the Citizen's Query, an annual or bi-annual public dialogue between local leaders and their constituents usually held in a town hall or gym.
It was adopted in Iloilo Province as "Pahayag sa Banwa" by the municipality of Batad in 2002 and "Pamangkutanon sa Banwa" by the municipality of Bingawan in 2010. The local governance innovation was hailed by local constituents as an excellent transparency mechanism, ushering in improved openness and increasing trust in local leaders.
Through ICODE's Citizen's Query, the Batad and Bingawan LGUs earned a Galing Pook Award from the Department of Interior and Local Government (DILG) in 2002 and 2010, respectively.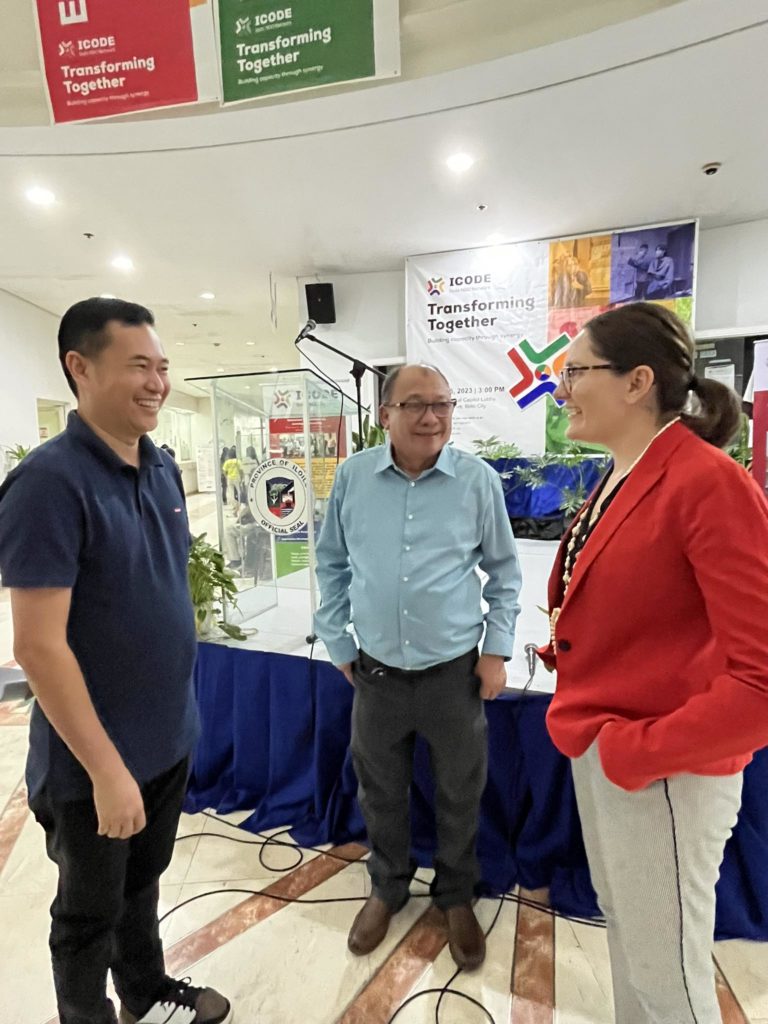 Bingawan Mayor Mark P. Palabrica reported to the audeince during the event that his administration held the 33rd Pamangkutanon sang Banwa in Barangay Malitbog Ilaya last July 31, 2023. The Citizen's Query now includes a report of delivery of social services, apart from performance of elected officials, to bring the government closer to the people.
"This unique and innovative program was presented to Cambodia, Japan, and the United Nations and garnered various awards like the World Bank's Panibagong Paraan: Development Innovation Marketplace in 2007, the Galing Pook Awards in 2010, and in Local Governance Awards in 2018," said Palabrica.
"The recognition enabled the LGU to access financial assistance from government agencies because of its credibility in managing funds by way of transparency and accountability in utilizing public funds," Palabrica underscored.
Grassroots Leadership Development
ICODE also rolled out a certificate and diploma course on Grassroots Leadership Development in 2003 with the Central Philippine University Graduate School as a partner, and the program helped equip community leaders and local elected officials.
In 2010, the certificate course was offered by ICODE to 13 municipalities in Iloilo Province in partnership with the local government units, and more than 100 students composed of community leaders completed the course.
The capacity-building program of ICODE earned four-star recognition from the Local Government Academy (LGA) in 2015 for its Enhanced Grassroots Leadership Development Course and for the Mainstreaming of DRR-CCA in Local Development.
Building on the success, ICODE established a learning resource hub with the support of USAID through Save the Children Philippines in 2022.
"The integrity of ICODE was formed because of the effectiveness of its initiatives in the areas of membership strengthening, capacity development, poverty reduction, disaster risk reduction, environmental preservation, political empowerment, and social development," said Faye Joy A. Pabiona, knowledge management officer of ICODE.
"The strength of ICODE is manifested in its consciousness to combine academic and scientific methods with experience-based and local knowledge systems in crafting interventions for a particular community. It is our priority to provide holistic yet practical solutions to development challenges at the community level," underscored Pabiona.
These are mirrored in the programs and projects undertaken by ICODE in the last three decades, which include responses to climate change phenomena like Super Typhoon Haiyan and similar events that followed thereafter, as well as the recent pandemic.
Among ICODE's chairpersons were Yusah Baddong (1994-2000), Ruth Corvera (2001-2005), Mona Liza Diones (2006-2012), and Wilfredo Homicillada (2013-2020).
The current chairperson is Heide Gustilo-Foulc, executive director of Cameleon Association, Inc. Philippines.
The member organizations to ICODE are the following: Association of Disabled Persons-Iloilo (ADPI), Bubong Ilonggo, Cameleon Association, Inc., Center for Power Issues and Initiatives, Inc. (CPII), CLIMBS Life and General Insurance Cooperative, Family Planning Organization of the Philippines – Iloilo Chapter (FPOP), Freedom from Debt Coalition – Iloilo Chapter (FDC), Iloilo Children's Welfare Foundation (ICWF), Iloilo People's Habitat Foundation, Inc. (IPHFI), Kahublagan sang Panimalay Foundation, Pambansang Kilusan ng mga Samahang Magsasaka (PAKISAMA-Visayas), PROCESS Foundation – Panay, Signpost Philippines, Inc., Taytay Sa Kauswagan, Inc. (TSKI), and Visayas Cooperative Development Center (VICTO).