MORE Power safety training aimed to preserve lives of workers and construction stakeholders in Iloilo.
More Electric and Power Corporation (MORE Power), Iloilo City's sole power distribution utility, conducted basic safety training to raise the awareness of its business stakeholders and improve the alertness of its workers to the hazards posed by improper handling of electricity.
It conducted back-to-back electrical safety training for 25 power substation tenders and 15 safety officers of major construction firms operating in Iloilo and Panay Island.
The training package was introduced by its President Roel Z. Castro who recognized electricity safety as an essential need of its operations and to ensure that lives are preserved every step of the way.
Safety training enhanced safety practices and confidence
The safety training is part of its programming under the modernization plan for Iloilo and aimed to beef up safety protocol considering the hazards and dangers of electricity in the substation facility.
According to MORE Power, electricity safety is embedded in the work of substation tenders for they are working round the clock inspecting the various apparatus, equipment, and overall system.
A power substation is a vital component of a distribution network. It serves as a voltage regulator or switching facility that transforms power either from low to high or high to low, depending on the distribution requirement. Improper safety practices from tenders may result in power disruption, or, worse, cause loss of lives.
On the contrary, a well-managed power substation means smooth delivery of electricity to end-users, prevents a sudden drop or surge of electricity and safeguards the lives of tenders.
Also read: MORE Power brought improvements to Iloilo City in 3-years
According to Engr. Bailey Del Castillo, deputy head for Network Operations, the 6-day training was composed of orientation and lecture, hands-on monitoring, and actual site inspection.
The lecture part was comprised of basic safety practices in the work area, identification of the parts of the substation, and reorientation of functions. The hands-on component, on the other hand, was an actual practice of running electrical (voltage) tests and interpreting results while the actual site inspection was a physical walk-through of the substation.
Moreover, the training of substation tenders is integrated with the vision of MORE Power to improve efficiency in the delivery of electricity to its end-users.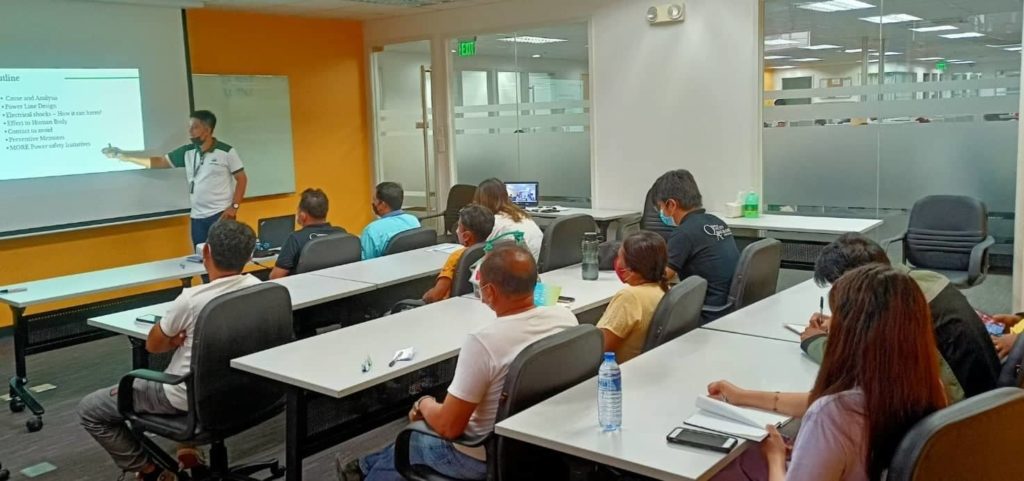 "The safety training resulted in improved personnel confidence and the general well-being of the utility company," imparted Engr. Del Castillo.
Similarly, the training was timely and relevant considering the ongoing facility upgrades being executed by MORE Power and with new and modern equipment that was added to improve efficiency and quality of service.
The new equipment and facility established by MORE Power across the city also require proper use and safety orientation among old and new technical personnel so that it runs effectively.
Improved safety practices of business stakeholders
MORE Power also acknowledged the importance of electricity safety among frontliners of its external partners like construction companies considering the economic boom of Iloilo.
Around 15 engineers and safety officers of construction firms underwent MORE Power's safety orientation and training.
For this leg, the participants received an orientation on the various safe work environments, hazards in the workplace, and proper safety practices.
They also learned "Electricity 101" through a lecture on electricity fundamentals, a background on the different electrical equipment, and training on proper response and action during emergency situations.
Related news: MORE Power energizes new power transformer in Iloilo City
The training enabled engineers and safety officers to identify the risks and hazards that go along with the nature of their work like when the transmission line is mounted near the working area and observance of standard distancing like 3-meters between workspaces and the powerline, among others.
MORE Power's safety officer Priam Roy Rivera introed a reminder to safety officers of the importance of understanding the nature of electricity and the safety protocols required to prevent electricity-induced incidence and loss of lives.
The training combined both technical and practical details that need not be neglected. It is designed to equip them with the proper knowledge in order to prevent exposure of workers to life-threatening electrical shock and death," stressed Rivera.
Workers in the construction industry are among the most exposed to electricity-related incidence and many have died due to informal knowledge of safety and of improper safety practices that somehow were emboldened by experience.
Hence, participants were highly appreciative of MORE Power's effort, especially since it is the first time that a power utility went out of its way to enjoin construction stakeholders in safety training.

"The training was a big help," said Safety Officer Remuel Aboratique of Vision Properties Development Corp., "especially since we are mostly constructing high-rise buildings with high-tension power lines close by."
"The aspect of the training which emphasized standard distance and how a safe distance is computed was valuable for us considering that most of us are not adept regarding the technicalities of the electricity system," Aboratique averred.
"The training also deepened our knowledge and it will definitely improve our safety practices," recognized Aboratique. He assured fellow participants that they will adopt the learning method by integrating safety training as part of the standard practice in the company.
Among construction companies that completed the training were the following: Vision Properties Development Corporation, ASEC Development Construction Corporation, KIMWA-Iloilo Construction Development Corporation, ARSD Construction Corporation, RL Royal Prime Construction Corporation, Naga Crushing Rock, Noel V. Orquila Construction, Manfreds Inn, 5S Construction, Polygon Construction and Development Phil. Corporation, and Fiberhome Philippines Incorporation.