The Midway Fresh Market and Restaurant is located in Brgy. Bacuranan, Passi City, a Fourth-Class City in the Province of Iloilo.
Established by the family of Ricardo "Ricoy" Palmares, Jr., the place was named Midway for Passi City is geographically situated at the heart of Panay thereby serving as a pitstop for travelers from Iloilo City who are travelling to destinations in Aklan, Capiz or nearby municipalities and back.
The 7-hectares Midway started as a casual fruits and vegetable market in order to sell the excess produce from the farmland inside the agricultural estate.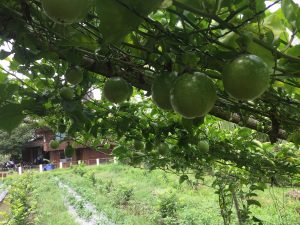 It eventually developed into an orchard, a vegetable garden, and added with a restaurant. Its development continued and Midway today is integrated with an outdoor and a recreational site where visitors and guests can intermingle with nature and enjoy camping and farming activities.
The Midway cultivates high-value crops within the farm complex and in neighboring farms managed by the Palmares family. The orchard produces rambutan, mangosteen, durian, jackfruit, citrus, guyabano, passion fruit, Longkong lanzones, and guava, among the many fruit bearing trees.
The farm also follows an intercrop method with bananas, red lady papaya, Thailand mangoes, dwarf coconut, and sweet Hawaiian cayenne pineapples, which is also being processed as a pineapple vinegar. It has a cacao nursery and a cacao plantation.
no images were found
The gardens are properly sectioned and vegetable plots are appropriately labeled making the rounds in the farm educational and a learning experience, especially among students and children. The plot is complete with both high-value and common vegetables used for everyday cooking.
The garden is complete with garden-fresh ingredients for Laswa, an inexpensive Ilonggo vegetable soup which is cooked with a flexible or optional mix of either following: okra, eggplant, string beans, saluyot, kalabasa, garlic, onions, tomatoes, and added with shrimp or grilled fish.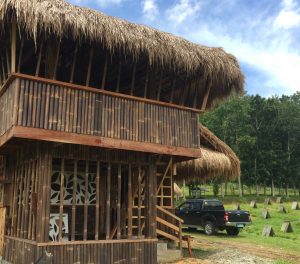 The farm also maintains livestock with free-range chicken, pigs, goose, sheep and some cattle. It also has a Tilapia pond for fishing.
Midway uses good agricultural practice and it showcases the natural method of farming which can be duplicated for backyard gardening. Its gardens are the source of farm-to-table ingredients for the restaurant.
The produce from the farm is also made available at Midway Fresh Market and Restaurant in Delgado St., in front of SM Delgado branch at the downtown Iloilo City. Midway is a Dept. of Tourism accredited Agri-Tourism Farm Site.
*This farm profile feature is a project of Panay Organic Producers Association (POPA) in November 2018.