The CFC Hope Nature Farm is living up on its mission as a sustainable nature farm that produces crops and livestock which are healthy and safe for consumption. The farm is worth a day trip if you intend to learn about sustainable farming.
Nestled in Brgy. San Miguel, Barotac Viejo, Iloilo, the 23 hectares farmland carries the aspiration of the family Causing-Florete-Calibjo (CFC) to maintain a farm which applies the Kyusei Natural Farm Principle. It is managed by Nhilda Rhanee Causing.
It has a distinctive physical attribute with a combined characteristic of a sloping or hilly portion at one end and a flat or plateau section on the other. Its position provides an excellent source of water both from an irrigation canal that cuts through the farm and ground water for farm use.
The location and physical feature of CFC Hope Nature Farm offers a unique landscape that is suitable for tree growing, rice plantation, and livestock production. The farm used to produce mangoes yet the farm was gradually transformed into a diversified farm planted with aromatic coconut and fruit trees like Marang, Babana, Jackfruit, Avocado, Bananas, and Cacao.
Scattered in the area are flowering trees of different varieties like Arbol, April Shower, Palawan Cherry Blossom, Champaca, Ilang-Ilang, Mountain Laurel, and Acacia Convenyi, among others. The flowering trees enhances the farm beauty during the flowering season of summer.
The summer season is an appropriate time to visit the CFC Hope Nature Farm for its flowering trees transforms the farm into a picturesque landscape. It offers visitors a rare opportunity to witness the natural play of colors and mixing of hues offered by the blossoming flowers of the trees which highlights a largely green landscape on the foreground and streaks of cotton white clouds on top of the clear blue sky.
The CFC Hope Nature Farm showcases the natural and organic method in farming, livestock feeding, and waste management.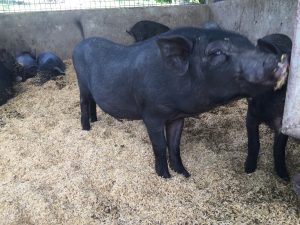 There are plants for forage which are propagated for feeding livestock. It cultivates plant types like Tricantera, Flemengia, Rinzoni, Mulberry, Indigofera, Napier and Azolla for a specific purpose of feeding organic black pigs and hundreds of free-range chickens being grown for meat and egg laying.
It also breeds Black Soldier Fly as a good source of protein for chicken nutrition. It localized a foreign technology using a fly bin for maggot production and harvesting as part of the farm's feeding method. It also adopted Vermiculture for waste management and as a source of nutrient-rich organic fertilizer.
The CFC Hope Nature Farm continues to evolve and develop while sustaining chemical-free rice production, a main farm produce since 2004.
Having recognized the effective role of bamboo as a carbon harvester, the farm has planted black bamboo and it intends to plant additional bamboo varieties.
On the development pipeline of CFC Hope Nature Farm is the improvement of its facilities. It will expand its cacao plantation and it will improve facilities for natural swine production and ranging areas for free-range chicken.
*This farm profile feature is a project of Panay Organic Producers Association (POPA) in November 2018.