Going to a farm is not just a summer activity. The CD Ridge Farm receives a throng of travelers even on a September month – the reason is simple – fruits! It is a rambutan season.
The CD Ridge Farm was established by Baltazar J. Gumana in 1997 out of his passion for plants, gardening, and farming. It is named after her daughter – Carmeli Dominique.
A graduate of industrial engineering, Gumana dev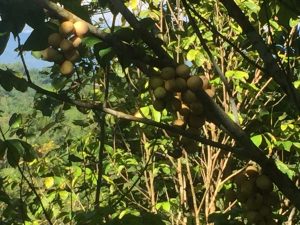 eloped the farm as a venue for learning about different types of plants, sustainable farming practices, and a space where people can commune with nature.
The 25 hectares farm is located in Brgy. San Nicolas, the last village in Calinog. It is characterized by rolling hills and valleys with different fruit trees, a variety of palm trees, tropical plants, cutfoliage, cutflowers, orchids, and landscape materials.
The farm is a nature's paradise and walkable with trails that are shaded by fruits trees like Rambutan, Lanzones, Mangosteen, Durian, Marang, Santol, Mabolo, Makopa, Pumelo, Kamansi, and Guayabano. Interestingly, the farm layout was intended to allow visitors and guests to enjoy fruit picking by hand for these are reachable at arms-length.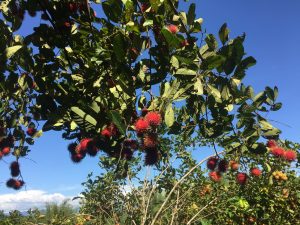 It holds a Rambutan Festival from September to October and it has earned an annual visitor who keeps coming back with their families to delight on its Pick-All-You-Can Rambutan. For an entrance fee of only P200, rambutan eating is unlimited during season and a visitor even brings home 2-kilo of the sweetest produce.
The ridge farm also has plenty of coconut trees, cacao, starfruit, kamias, ginger, turmeric, pineapples, and common vegetables for household use.
Yet one of the major attractions in the farm are its rare collection of Heliconia, Alipinia, Calathea, Dracaena, Cordyline, Costus, Musa, and Pleomele that are planted in between fruits trees. These plants are eye-catching and photograph worthy and it enhances the farm vegetation.
no images were found
The flowering plants highlights the greenery because of the different textures, sizes, and colors of flowers one may not have encountered elsewhere. This is the reason why it has been visited by researchers, farmers, consultants, dignitaries, government officials, and students.
The plants and flowers of CD Ridge Farm makes it a primary destination of major plant hunters, cutfoliage and cutflower producers, landscapers, and flower arrangers both from Iloilo and from other parts of the region.

The farm also serves as a venue for those who wanted to interrupt the stressful cycle of urban living. It offers a firsthand encounter with the natural environment having the facilities that conform with nature like a farm house and a camping area where one can enjoy the sound of birds and farm animals and the sight of fireflies. The CD Ridge Farm is only four kilometers away from Calinog town proper.
Baltazar J. Gumana is a member of various organizations, among them: Heliconia Society International, International Plant Propagators- Japan Region, Philippine Horticulture Society, Federation of Cutflowers and Ornamental Plant Growers of the Philippines and Federation of Iloilo Horticultural Associations.
*This farm profile feature is a project of Panay Organic Producers Association (POPA) in November 2018.