#IloiloBikeCapitalPH a success model for LGUs.
The bikelane infrastructure of Iloilo City was cited by Ilongga Sen. Grace Poe who urged Metro Manila chief executives to take a look at the city's bike culture and development and mold their cities to become bike-friendly similar to what Iloilo City has initially attained.
"Becoming a bike friendly city is only natural for different cities today as more people choose to transition into cycling as a mode of transportation," said Sen. Poe.
The statement of Senator Grace Poe is an added voice to the growing recognition of Iloilo City as a "Bike Capital of the Philippines" and which is now known in social media as #IloiloBikeCapitalPH.
Iloilo City earned the PhilBike Awards "Most Bike-Friendly City" in the Philippines in 2018 during the PhilBike Expo at the World Trade Center in Manila.
The Ilongga senator pointed out that, even before the pandemic, Iloilo City had around 25 kilometers of bicycle lanes, which are being planned to be expanded even further. Iloilo has been hailed as the "Most Bike-Friendly City" as well as the "Bicycle Capital of the Philippines".
"Kakaiba talaga ang development ng Iloilo and I feel so proud to be from Iloilo whenever I see all the development there," said Sen. Poe in Pilipino during a morning radio interview with Aksyon Radyo Iloilo anchor John Paul Tia earlier this week to enlighten the public of the benefits of the passage of the Safe Pathways Act.
Senator Poe emphasized her efforts towards creating a bike culture saying, "kaya isa nga 'yan sa mga naging inspirasyon ko. That's why I pushed for funding for protected bike lanes dahil nga nakita kong malaking bagay ito. Para mayroon tayong mga safe roads para sa ating mga cyclistsa at joggers para naman yung ating alternative mode of transportation and mobility ay masuportahan."
"Ipinaglalaban namin ang budget para sa ating probinsya kasi nakita naman natin ang laking tulong na hindi ka na kailangan palaging nasa sasakyan. It reduces pollution, it keeps our cyclists safe dahil hindi sila basta-basta mabubundol," Poe added.
During the radio interview, Sen. Poe recognized the policy advocacy and budget support that fellow Ilonggo Sen. Franklin Drilon have done for Iloilo City which paved the way for the realization of the protected bike lanes, among other developments.
"I have always supported Sen. Drilon's effort for Iloilo, she said, and we can see how beautiful Iloilo City is today.
The Safe Pathways Act or Senate Bill No. 1582 was approved with 23 affirmative votes and with no negative vote or abstention first week of February. The bill was introduced and sponsored by Senator Pia Cayetano who is the chairperson of the Sustainable Development Goals, Innovation, and Futures Thinking.
The law aims to provide a network of safe pathways for those who prefer to walk, bike, or use other non-motorized vehicles for daily commute to their destinations.
Biking in Mega-Manila
Metro Manila has seen a boom in cyclists accessing the roads of the different cities. A bike had become a pragmatic choice of people who has started to switch to pedaling as a sustainable and healthier way of transportation.
The megacity experienced a bike boom due to the drop of available public transport options especially during the series of lockdowns. The switch to biking, however, has confronted infancy problems with safety and security issues.
According to the tracking data by the Metro Manila Development Authority, road crashes related to cycling have gone up from 1,759 in 2019 to 2,606 in 2020 – the height of the pandemic.
One of the major challenges pointed out by cycling advocates and bike groups are the lack of protected bicycle lanes, among the many, within the Metro Manila as a major cause of the rise of bike crash related road encounters.
Senator Grace Poe initiated a P17.5 million allocation for the construction of protected bike lanes in all highly-urbanized cities in Metro Manila and placed under the Assistance to Cities program of the Dept. of Budget and Management (DBM).
The allocation will complement the Php1.36-billion that Sen. Poe has successfully pushed to be included in the Bayanihan to Recover As One Act as a support fund for the construction of bicycle lanes along major circumferential and arterial roads.
#IloiloBikeCapitalPH a success model for LGUs to replicate
Iloilo City, on the other hand, has steadily experienced a surge in biking population in the last 10-years as catalyzed by the protected bike lane project of Sen. Franklin M. Drilon and the Iloilo City officials.
The biking population further accelerated upon the assumption of Iloilo City Mayor Jerry P. Treñas as chief executive following the May 2019 elections.
Under Mayor Treñas, Iloilo City's biking culture became popular and the city established the status as #IloiloBikeCapitalPH.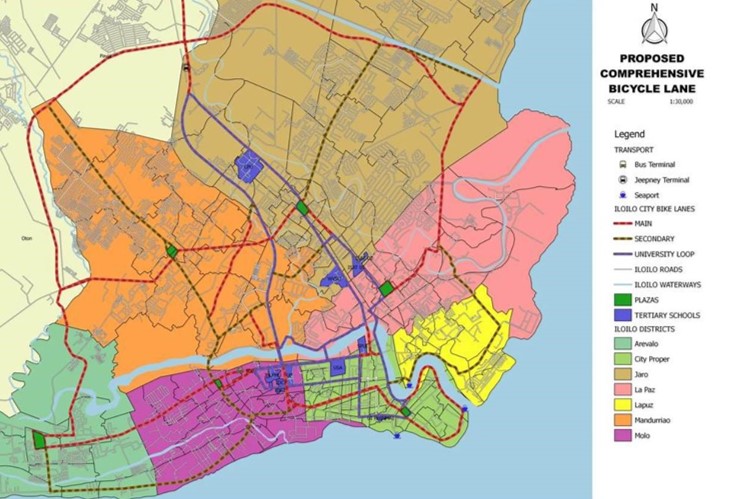 The #IloiloBikeCapitalPH a successful model for LGUs to learn from.
Bike Infrastructure. Iloilo City spotlighted the integration of a dedicated bike lanes in its infrastructure development plan which increased the population of bikers who bike as a hobby and leisure, for health and wellness, and for mobility to work – an environmentally sustainable alternative to automobiles and public transportation.
Biking promotes sustainable living. The significance of the bike infrastructure and its usefulness to everyday Ilonggos was further proven with the lockdowns due to the onset of the Coronavirus pandemic in 2020. Biking advocates expanded and biking became a mode of mobility among frontliners, government personnel, private sector service providers, and among household to buy essential needs.
Biking enhances the local economy. Bike and biking earned its rightful place both in the formal and informal economy and this is manifested by the increasing number of bike stores, bike maintenance services providers, surplus bike shops, bike cafés, and bike spots.
Also by Ted Aldwin Ong at Rappler: Long way to go for Iloilo City's speeding ordinance
Expanding bike network. The current bike infrastructure which started with the integration of a dedicated bike lanes along Sen. Benigno Aquino Jr. Avenue has since expanded and connectivity has multiplied with the completion of the Phase 1 (Jobs 1 and 2) of the Iloilo Bike Lanes Network Project
Phase 1-Job 1 was completed in August 2020. It linked three major bike network together, namely: Sen. Beningo Aquino Jr. Avenue, the University Loop, and the Iloilo River Esplanade.
Phase 1-Job 2, in addition, was also completed in September 2020. This time it connected all the plazas and parks across the city from Plaza Libertad down to the district plazas of La Paz, Jaro, Mandurriao, Molo, Villa Arevalo, and the SunBurst Park.
The completion of these initiatives enhanced Iloilo City's bike network and connectivity for it linked townships, heritage sites, schools, churches, markets, museums, hospitals, malls, government offices, and government centers, such as: the Provincial Capitol Complex and the Iloilo City Hall.
It is worth noting that these projects were being undertaken and completed while Iloilo City was fighting the upsurge of Coronavirus at the community level prompting Iloilo City Mayor Jerry P. Treñas to declare various barangays on a surgical lockdown, which included public markets and the Iloilo Fishing Port.
These two major developments was also complemented by the interlocking advocacy work of Ilonggo bikers and artists boosting the #IloiloBikeCapitalPH a success model for LGUs.
Biking goes hand-in-hand with arts and culture and tourism development. Also completed were Artbike projects, namely: 50 bike racks painted by 50 Ilonggo artists. These bike racks were installed around the city.
Moreover, two public murals that paid tribute to health workers and forntliners were added to the city's 28 public murals, most of which are situated along the bike routes. These improvements were among Mayor Jerry P. Treñas' pet projects in the middle of a pandemic.
Biking attains multiple thematic targets in SDGs. Biking brings Iloilo City to meeting targets set in the Sustainable Development Goals. Out of 17 SDG targets set in 2015 and adopted by member states to the United Nations, Iloilo City is above the with the rest because of biking promotes 3-Good Health and Well-Being. Isn't biking an activity the promotes good health? This is followed by 5-Gender Equality for in biking uplift inter-personal and social relations. In Iloilo City, male, female or members of the LGBTQ community converge on the the bike lane.
The list goes on: 7-Affordable and Clean Energy, 8-Decent Work and Economic Growth, 9-Industry Innovation and Infrastructure, 10-Reduced Inequalities, 11-Sustainable Cities and Communities, and 12-Responsible Consumption and Production.
All of these initial developments has put Iloilo City as a leader in the bike tourism map making the urban center in Western Visayas as the country's #IloiloBikeCapitalPH.
Indeed, #IloiloBikeCapitalPH is a success model worth replicating by LGUs.