Iloilo City will mark its 84th Charter Day on August 25, 2021 with the theme: "Ilonggos Rising Amidst the Challenges of Time and celebrating 84 years as a Noble and Resilient City.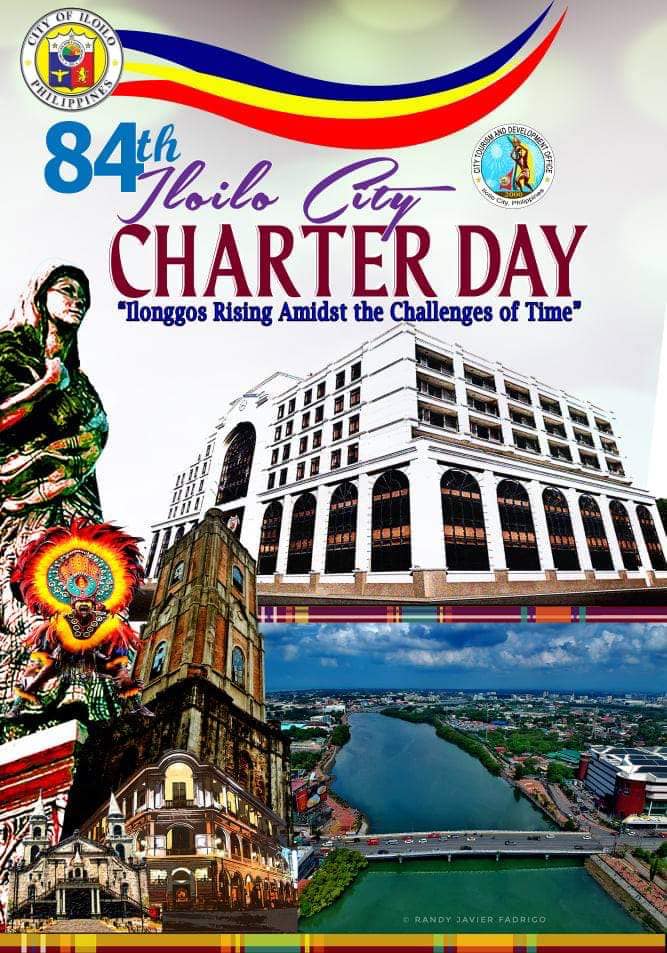 This is the second year for Iloilo City to observe the significant milestone of its history and development under the pandemic. In addition, this is the third instance that the Iloilo City Government opted for a simple event in consideration of public health situation.
Relevant read: Iloilo The Most Noble City: 84th Charter Day is up
In 2019, it cited rising dengue cases as basis for a simple event. The succeeding year was a period of the pandemic and which extended this year.
The 84th Iloilo City Charter Day commemoration will continue albeit virtually. See events guide below.
84th Iloilo City Charter Day weeklong activities
A weeklong activity was lined up from as early as August 20 and will end August 31, 2021.
ILOve ILOve Local Grab Food Sale
August 23 to 31
Iloilo City Charter Day Digital Program
August 25
Online Job Fair by PESO
August 25 to 27
Ambahanon and Ilonggo Concert by Festive Walk Iloilo
August 27, 6:30 P.M.
Excavating the Hidden Stories of Iloilo
August 31, 9:00 A.M. to 5:00 P.M.
84th Iloilo City Charter Day virtual sports events
The Sports Development Division of the Iloilo City Government has likewise lined up events under Executive Assistant for Sports Mr. Rudiver Jungco Sr.
Six sports events were prepared starting August 20 to 27.
August 20 – Virtual arnis "Anyo" competition, virtual skateboarding competition, and the virtual BMX competition.
August 20 – Uswag Open Style virtual competition – a showcase of Ilonggo talent and creativity.
August 25 – Virtual taekwondo speed kicking tournament, online chess tournament, and the Esports festival finals.
August 27 – Padayon Sa Pag Uswag Virtual Hip Hop Songwriting competition.
All video entries of the contestants to the events will be posted on the Facebook page of the Iloilo City Sports Development Division and to be aired Facebook live are taekwondo, chess, and Esports.
Charter Day local economic recovery forum
Within the Iloilo Charter Week celebration is a forum on local economic recovery in time for the 14th General Assembly and Meeting of the Iloilo Economic Development Foundation, Inc. (ILEDF).
The Zoom forum is August 24, 2021 (Tuesday) from 1:00 to 3:00 P.M. and it will discuss local pathways for economic recovery with Brig. Gen. Charito B. Plaza, Director General of the Philippine Economic Zone Development Authority (PEZA) and Cabinet Secretary Karlo B. Nograles as guest speakers.
Secretary Nograles will discuss approaches by the government in balancing lost lives versus lost livelihoods while Dir. Gen. Plaza will present strategies on how promotions of ecozone development in the countryside will help fast track economic recovery.
BUGAL: A Showcase of Ilonggo Artistry
From August 25 to August 31, 2021, the lobby of the posh Richmonde Hotel Iloilo – the home of BUGAL – is transformed into a showroom of unique items created by respected and popular Ilonggo designers.
In commemoration of the 84th Iloilo Charter Day, BUGAL will feature 8 brands that carry locally-made crafts, wearables, clothes and dresses, linens, and hand woven products using Hablon and indigenous materials.
BUGAL is organized by One Iloilo and Richmonde Hotel Iloilo.
84th Charter Day is a special non-working holiday
The Iloilo City Charter Day on August 25, 2021 (Wednesday) is a special non-working holiday by virtue of Proclamation No. 1200.
"It is but fitting and proper that the City of Iloilo be given full opportunity to celebrate and participate in the occasion with appropriate ceremonies, subject to community quarantine, social distancing, and other public health measures," said Executive Secretary Salvador Medialdea.
Learn about it here: Iloilo City Charter Day: 8/25 a non-working holiday
A special non-working holiday in the Philippines is a flexible holiday which can either be enacted by Congress or proclaimed by the President. It is declared for the different historical or cultural celebration of municipalities and cities and which may not necessarily be observed nationwide.
Brief history of Iloilo City*
Iloilo City lies in graceful repose between the mouth of Iloilo and Salog Rivers. The strip of land so cut by the two rivers looks like a nose, hence, the name "Irong-irong" and later on "Iloilo" which means: nose-like.
When the Spaniards arrived in Panay, they established a settlement in La Villa de Arevalo. In 1581, the Spanish seat of power in La Villa de Arevalo was transferred to the village of Irong-irong to avoid the frequent attack of marauders. In 1616 a solid fort named Fort San Pedro was built near the mouth of the river to protect the Spanish settlement.
They finally established the capital of the province in Irong-irong. The rapid economic growth of the place led to the opening of the Iloilo Port to the world trade in 1855.
*Reference: Iloilo City Tourism and Development Office Facebook Post (08/20/2021, 11:46 AM).