The ILEDF 14th Assembly will give focus on local pathways for economic recovery in a Zoom forum from 1:00 to 3:00 P.M. on August 24, 2021 (Tuesday).

The forum billed as LED Talk will have Local Economic Development as main theme and organized by the Iloilo Economic Development Foundation, Inc. (ILEDF) as an introductory activity for its 14th Annual General Assembly and Meeting.
Among the invited to speak in LED Talk are Brig. Gen. Charito B. Plaza and Hon. Karlo B. Nograles.
Nograles is the Cabinet Secretary of the Duterte administration while BGen. Plaza is the Director General of the Philippine Economic Zone Development Authority (PEZA).
Economic recovery faces new challenges
Economic recovery has been an agenda carried by ILEDF since last year. New challenges, however, seemed to have propped-up adding with the onset of deadlier variants of Coronavirus disease raising new concerns to the private and public health sectors and the business industry.
Director General Plaza is expected to shed light on what role economic zones play to local economy, especially among local government units (LGUs) hosting ecozones as the nation continue to struggle with economic recovery.
The PEZA is an attached agency to the Dept. of Trade and Industry (DTI) whose primary task is to promote investments, extend assistance, register, grant incentives to and facilitate the business operations of investors in export-oriented manufacturing and service facilities inside selected areas throughout the country that are proclaimed as PEZA Special Economic Zones.
Participants to LED Talk are also expecting BGen. Plaza to touch on strategies employed on how promotions of ecozone development in the countryside will help fast track economic recovery.
On the other hand, Secretary Nograles is expected to discuss approaches applied by the Duterte government to show how it balances the stark trade-off between lost lives versus lost livelihoods, which is often erroneously viewed as an all-or-nothing choice between complete lockdown versus zero restriction.
As the cabinet secretary, Nograles holds the senior position among cabinet members and he manages the Cabinet Office of the Duterte administration providing vital services and advice to the cabinet members.
Nograles is one of the chairpersons of the Inter-Agency Task Force for the Management of Emerging Infectious Diseases (IATF-EID or IATF).
Western Visayas has 22 ecozones
According to 2017 list of ecozones with operators posted by PEZA on its website, there are 5 Economic Zones in the Philippines , namely: Manufacturing Economic Zone – 74; Information Technology Parks & Centers – 262; Agro-Industrial Economic Zone – 22, Tourism Economic Zone – 19; and Medical Tourism Park & Centers – 2.
Region VI or Western Visayas is host to one (1) Manufacturing Economic Zone in Negros; five (5) Information Technology Parks & Centers in Iloilo and 13 in Negros Occidental; one (1) Agro-Industrial Economic Zone in Negros; and two (2) Tourism Economic Zone located in Aklan and Iloilo.
Currently, there are no Medical Tourism Park & Centers in Region VI. The existing ecozones on Medical Tourism is in Taguig and Batangas.
Iloilo City will have MILOECOZONE
In 2019, Lone District Iloilo City Rep. Julienne L. Baronda filed House Bill 5794 pushing for the establishment of the Metro Iloilo Special Economic Zone (MILOECOZONE) and Freeport Authority.
Both the House committee on economic affairs and the committee on trade and industry has approved the bill in February 11, 2020.
The MILOECOZONE cover public and reclaimed lands along the coastal side of La Paz district from the Iloilo International Port in Brgy. Loboc to Barangays Hinactacan, San Isidro, and Ingore up to Barangays Bitoon and Balabago in Jaro District.
Ongoing dialogue for regional recovery
The Iloilo Economic Development Foundation has taken the lead role in the dialogue for regional economic recovery.
Upon government's easing after the lockdown in the second half of 2020, ILEDF opened the opportunity to discuss local economic situation during its 13th Annual General Assembly and Meeting held August 28 with Iloilo Governor Arthur R. Defensor, Jr. and Iloilo City Mayor Jerry P. Treñas as invited speakers.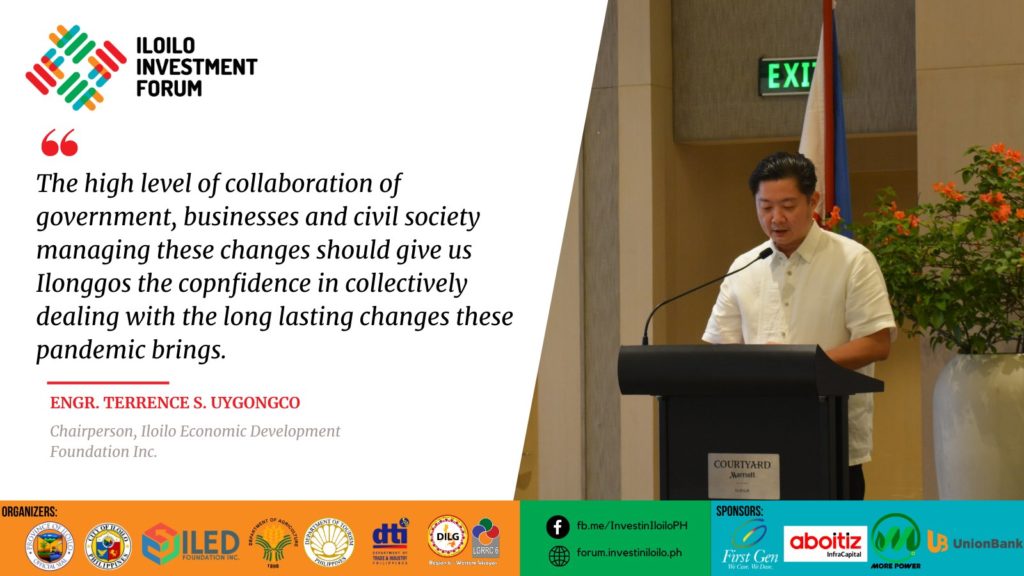 It also co-hosted the Iloilo Investment Forum for Economic Recovery in December 9 to 10, 2020 at the Courtyard by Marriot Iloilo.
Read here: Iloilo to ramp up economic recovery starting with an Investment Forum on Dec. 9-10
The hybrid business conference was organized by ILEDF together with the Iloilo Provincial Government, and the Iloilo City Government Inc. in collaboration with the regional offices of the Department of Agriculture (DA), Department of Trade and Industry(DTI), Department of Tourism (DOT), and the Department of Interior and Local Government (DILG-LGRRC VI).
It was attended by local, national and international business leaders and government officials from the national, regional, provincial and local government units.
Last month, economic recovery was also a top agenda in the forum it co-hosted with the Philippine Chamber of Commerce and Industry (PCCI Iloilo Chapter), the Iloilo Business Club (IBC), the Iloilo City Government, and the University of Asia and the Pacific, entitled: "Bangon Iloilo: A Forum on Economic Recovery."
The July 27 online forum invited Dr. Bernardo M. Villegas who presented "Economic Prospects in the New Future: Implications for Iloilo" and Dr. Winston Conrad B. Padojinog who discussed Drivers of Iloilo's Economy".
The upcoming ILEDF 14th Assembly forum is part of the series of activities related to economic recovery facilitated by ILEDF consistent with its mission that is to catalyze investments through advocacy, expertise and partnerships for the continued growth and sustainable development of Iloilo.
=====
*Original news material was lifted from the Facebook post of Francis Gentoral, executive director of ILEDF.
**Additional relevant data were taken from PEZA website.
**Photo credit. The featured photo used for this news article is by Ilonggo photographer Randy Javier Fadrigo, titled: J.M. Basa St. from the collection "Iloilo City Streets" dated 7-22-2020.