Iloilo will mark the International World Bicycle Day set June 3 annually by initiating a bike count. The effort is being led by the Iloilo Folding Bike Riders (iFOLD), along with the Iloilo Cycling Community, in partnership with the Iloilo City Government, the Department of Public Works and Highways (DPWH), and Mobility Awards.
iFOLD is a group of professionals, experts, and advocates who are working for proper bicycle infrastructure as well as road safety since 2012.
This is the first bicycle count program and the effort is related to the Gold Rank Award received by Iloilo City from Mobility Awards 2021.
Read news here:𝐈𝐥𝐨𝐢𝐥𝐨 𝐂𝐢𝐭𝐲 𝐫𝐞𝐜𝐞𝐢𝐯𝐞𝐬 𝐛𝐚𝐜𝐤-𝐭𝐨-𝐛𝐚𝐜𝐤 𝐠𝐨𝐥𝐝 𝐚𝐰𝐚𝐫𝐝𝐬 𝐚𝐬 𝐁𝐢𝐜𝐲𝐜𝐥𝐞-𝐅𝐫𝐢𝐞𝐧𝐝𝐥𝐲 𝐂𝐢𝐭𝐲
What is the bike count?
The bike count is part of the responsibilities of Iloilo City as a winner which is to maintain its pedestrian and bicycle infrastructure, as posted by coordinator Arch. Wilfredo Sy, Jr. in a Facebook post dated May 28, 2022.
While there are certain monitoring programs installed, the city has yet to institutionalize Bicycle and Pedestrian Count among its existing activities, as highlighted in the intro of the volunteer form.
This lack of consistent data on road use particularly foot traffic (walking and cycling) has made it difficult to properly monitor the efficiency of prioritized roads for cyclists and pedestrians.
Also read: Iloilo ranked gold in Mobility Awards 2021
While other modes of transportation such as motor vehicles have established conventions to collect and use data (such as trip generation for traffic modeling), this has yet to be instituted for other modes of transport, especially non-motorized transport which is a growing feature of cities and urbanizing towns.
Simply, the effort intends to count or inventorize the number of bikes in the city considering the growing number of bikes plying our roads.
Be a bike count volunteer
If you are interested to become a volunteer, fill up this form. You can also visit the Facebook post of iFOLD members Wilfredo Sy, Jr. or Jai Javier if you wish to know more or intends to coordinate for your participation.
An orientation is set June 1, 2022 (Wednesday), 5:00 P.M. at the Plaza Libertad in Iloilo City's downtown area where the Iloilo City Hall is likewise located.
The bike count will be undertaken every Friday starting June 3 or a total of four Fridays. Below is the date and time:
June 03, 2022 – 6AM to 8AM

June 03, 2022 – 4PM to 6PM
June 10, 2022 – 6AM to 8AM
June 10, 2022 – 4PM to 6PM
June 17, 2022 – 6AM to 8AM
June 17, 2022 – 4PM to 6PM
June 24, 2022 – 6AM to 8AM
June 24, 2022 – 4PM to 6PM
Likewise, there are 20 locations for the bike count, namely:
B Aquino Avenue, UPV Intersection
B Aquino Avenue, Pison Avenue Intersection
B Aquino Avenue, El 98 Intersection
Molo Plaza Intersection
Avancena St, Quezon St Intersection
Yulo Drive, Villa Oton Blvd Intersection
R Mapa St., Onate De Leon St Intersection
Megaworld Blvd, Q Abeto Intersection
B Aquino Avenue, Ungka Intersection
E Lopez St., Ledesma Mansion Intersection
Delgado St., Infante St. Intersection
Baluarte, Fishing Port Intersection
Forbes Bridge, Gaisano City Area, Lapaz
Plazoleta Gay Intersection
Coastal Road, Balabago Road Intersection
Iloilo Capiz Road, Circumferential Rd Intersection
Tacas, Circumferential Rd Intersection
JM Basa St., Zamora St. Intersection
Burgos St., Huervana St. Intersection
Muelle Loney Bridge, Provincial Capitol Area

Ride a bike for the International World Bicycle Day The International World Bicycle Day every June 3 started after the declaration of the United Nations General Assembly in April 2018. The declaration recognizes "the uniqueness, longevity and versatility of the bicycle, which has been in use for two centuries, and that it is a simple, affordable, reliable, clean and environmentally fit sustainable means of transport.
The campaign for its passage was initiated by Polish social scientist Leszek Sibilski who led a grassroots campaign with his sociology class to promote a UN Resolution for World Bicycle Day, eventually gaining the support of Turkmenistan and 56 other countries.
The original UN Blue and White #June3WorldBicycleDay logo was designed by Isaac Feld and the accompanying animation was done by Professor John E. Swanson. It depicts bicyclists of various types riding around the globe. At the bottom of the logo is the hashtag #June3WorldBicycleDay. The main message is to show that the bicycle belongs to and serves all of humanity.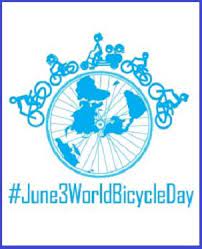 World Bicycle Day is a special day meant to be enjoyed by all people regardless of any characteristic. The bicycle as a symbol of human progress and advancement "[promotes] tolerance, mutual understanding and respect and [facilitates] social inclusion and a culture of peace. The bicycle further is a "symbol of sustainable transport and conveys a positive message to foster sustainable consumption and production, and has a positive impact on climate.