The Visayan Sea will have a 3-month slumber from fishing activities starting November 15, 2019 up to February 15, 2020.
The well-deserved rest for the Visayan Sea has been observed after the Bureau of Fisheries and Aquatic Resources (BFAR-VI) enforced Fisheries Administrative Order (FAO) 167 -3 series of 2013.
The administrative measure provides the legal basis for the Closed Season which enforces a spatial and temporal closure of a portion of the Visayan Sea, considered as an important traditional source of fish, not just for the Visayas, but for the whole country.
Regional Director Remia A. Aparri announced the Closed Season as the agency launched the campaigns Ang Pahuway sang Baybay and Bantay Visayan Sea over local media in Iloilo in November 14, 2019.
The FAO 167- 3 (2013) is also a conservation intervention for sardines, herrings, and mackerels. Sardines and herrings are locally called tamban or tabagak or tamban-tuloy or balantiong. Mackerels, on the other hand, are called hasa-hasa, gumaa, bulao or alumahan.
In an interview over the morning TV show Panay Sikat aired by ABS-CBN, Director Aparri said that "we have once again reached the annual observance of the Closed Season for the Visayan Sea.
"Ti-on naman para sa closed season sa Visayan Sea. Imbes nga tan-awon lang ang ini nga layi nga nagadumili sa aton mga mangigisda nga magpalawod para sa tamban, balantiong, kag alumahan, tan-awon man naton ini nga tion sang pagpahuway sang aton kadagatan agod nga dalayon ang kabuganaan sini, indi lang para sa aton, kung 'di para man sa mga madason nga henerasyon," explained by Director Aparri in Hiligaynon language during her orientation with BFAR 6 law enforcement team.
The closed season covers the coastal towns of Iloilo Province, portions of Capiz, Negros, and Bantayan Island on the part of Cebu.
Among towns that are covered by the closed season in Northern Iloilo are Barotac Nuevo, Anilao, Banate, Barotac Viejo, Ajuy, Concepcion, San Dionisio, Batad, Estancia, Balasan, and Carles.
There are five locations that are covered in Capiz Province, namely: Pilar, Pontevedra, President Roxas, Panay, and Roxas City.
In Northern Negros EB Magalona, Victorias City, Manapla, Sagay City, Cadiz City, and Escalante City will observe the closed season and Bantayan Island in Central Visayas.
Director Aparri appealed among different stakeholders that "on top of looking out for ourselves, we should also look out for the welfare of the sea – our source of living."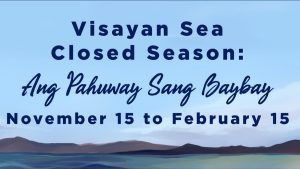 The campaign Bantay Visayan Sea is a call to action for each and every stakeholder that they can do their part in protecting the rich marine resource that is the Visayan Sea from threats of illegal fishing, unregulated fishing practices, and unreported violations.
Violations abound even during the closed season.
The Visayan Sea is a vast fishing ground surrounded by the 33 cities and municipalities of the provinces of Capiz, Iloilo, Negros Occidental, Cebu, and Masbate. It is a vital marine resource being the home to corals, mangroves, seagrasses, and other migratory species. It is also considered fragile as a result of illegal activities that harm the marine seascape.
*With report from RJSenangote/BFAR6
**As posted at https://www.facebook.com/notes/bfar-region-6/visayan-sea-closed-season-ang-pahuway-sang-baybay/1581513121991492/
*** Graphics and photos are lifted from BFAR-6 Facebook Page.