UPV Media Excellence Awards is titled "bantala" a Hiligaynon term which means to announce, to notify, to advise, to inform, to broadcast, or to publish news. Bantala is used in the vernacular to describe various forms of announcement or information distribution.

More often bantala is used to direct someone to make an announcement or to declare a relevant information to the public like "Ibantala mo" or to receive an advisory or news from a newspaper or pamantalaan like nabasahan ko sa pamantalaan or I've read this news from the local newspaper.
The 2021 BANTALA: UP Visayas Media Excellence award is anchored in the Hiligaynon theme: "Medya: Kaupod sang Rehiyon sa Pagtib-ong sang Tunay nga Demokrasya" or Media: A regional partner in promoting genuine democracy.
UPV Media Excellence Awards to recognize stellar journalism
The UPV Media Excellence Awards highlights "stellar journalism" as the foundation of BANTALA – to stimulate excellence in reporting as mirrored by West Visayan journalists like Graciano Lopez Jaena, Don Rosendo Mejica, Russel Tordesillas, Flavio Zaragoza Cano, and Conrado Norada.
The awards program was introduced by the Office of the Chancellor in March 25, 2021 as a community engagement designed to serve as a stage to evaluate and to recognize the covering, writing, reporting, and publishing of news stories and events on different media platforms whether in English, Hiligaynon, Kinaray-a, and Aklanon language.
The project intends to examine journalistic procedure and recognize stellar journalism among media practitioners, bloggers, writers, and various content creators in Western Visayas.

The BANTALA will have 2 categories: Category A will focus on newspapers and radio while Category B will cover blogs, social media campaigns and advocacy, and news portals.
Also read: UPV Media Awards 2021 has a bloggers' category
Moreover, entries to the awards will have to focus on the following thematic challenges: 1.) Deepening participatory democracy; 2.) Protecting human rights and fighting corruption; 3.) Fighting disinformation, and 4.) Addressing various forms of marginalization.
The entries will cover published work between April 2021 to January 2022. The deadline for the submission of entries will be on January 31, 2022, and the final awarding will be in February 2022.
Information is democracy – Dr. Zoilo Andrada, Jr.
"The precise delivery of information is a form of democracy for information is democracy," expressed Dr. Zoilo Andrada, Jr. in his opening message during the launching.
"Journalists, as the front liners in combatting disinformation, have a lot of stories to tell. Stories that sometimes put their lives at stake. Despite the risks, stories get across to the readers and listeners, because the best story-tellers are the journalists," declared Dr. Andrada, Jr., assistant for Project Development for Mass Media and Communications under the Office of the Chancellor.
"The UPV Media Excellence Awards is only a starting point of a more intensive university program in its hope and plan to professionalize the media practitioners in Western Visayas," he said while trainings, workshops and immersion programs are being seriously studied to critically examine the journalistic procedures in the delivery of reports and writing of narratives."
"Generally, the program will re-examine and re-assess journalist function, shared Dr. Andrada, Jr., not only as watchdogs of society, but as well as catalysts of change."
Dr. Andrada also declared that "having the right information, the right agenda, the right perspective, gives journalists the power to influence, to encourage action, and to bring change in a democratic process."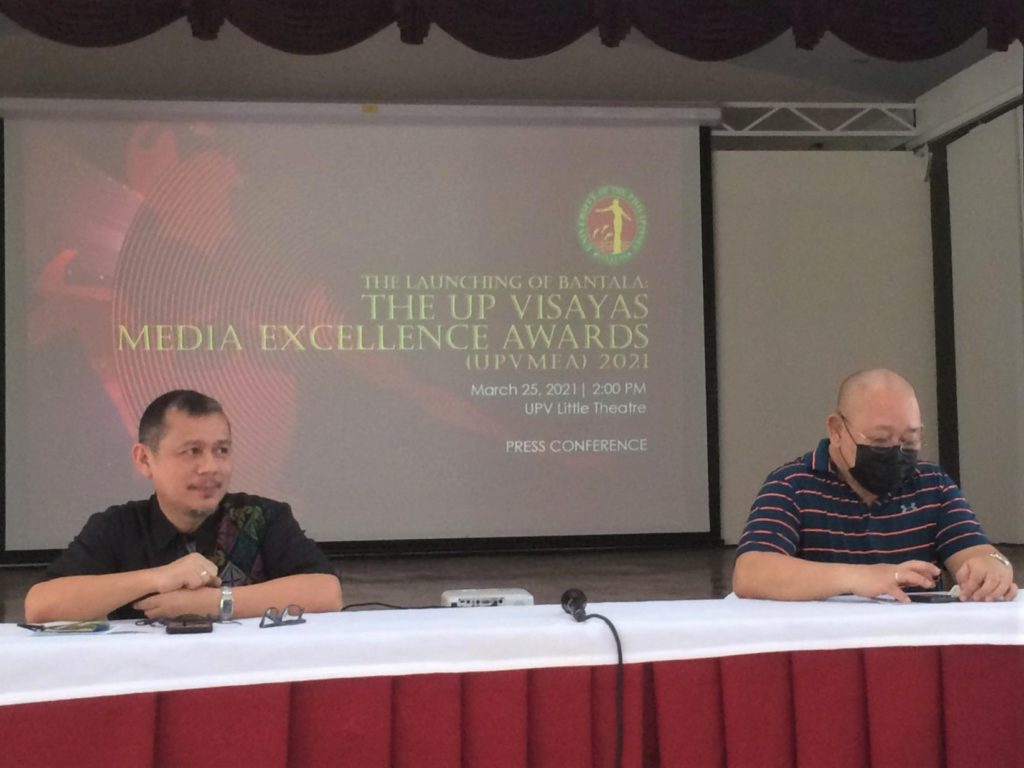 Media have a more crucial role to play today – Dr. Clement C. Camposano
"Our society is now flooded with user-generated content," Dr. Camposano remarked, and we can no longer determine what is factual from what is not, because of the spread of misinformation and disinformation.
The chancellor discussed the context of digital development from the time John Perry Barlow released his paper entitled: "A Declaration of the Independence of Cyberspace" in February 8, 1996 or 25 years ago to connect what was then and what has become of media today.
It recognizes the prevailing weaponization of the internet and social media resulting in intensified misinformation and disinformation, which includes efforts to discredit journalists and other forms of attacks against media practitioners in the age of social media.
Dr. Camposano observed that the watchdog function of the media has become "more salient." While we tend to perceive that traditional media has become irrelevant with technological advancement, "I believe that it is the opposite and that the traditional media has a critical role to play, especially with the heightened effort for mis-and-disinformation, noted Dr. Camposano.
It is in this context that we decided that we should have a media award program. The times are changing and with these challenges in mind, the holding of the media awards program would bring together both the university and the media to tackle and engage with each other on these complex issues," declared Dr. Camposano.
UP Visayas has taken an active role in the fight against Disinformation and Misinformation. It hosted the 3rd Democracy and Disinformation National Conference held just this March.
BANTALA is another feather in UP System's media engagement
The UP Visayas Media Excellence Awards program is another feather in the UP System's growing effort to elevate quality and ethical journalism in the Philippines as a guidepost of democratic societies.
The College of Mass Communication in U.P. Diliman also recognizes journalism excellence of Filipino journalists in the 17-year old U.P. Gawad Plaridel awards.
The annual U.P. Gawad Plaridel is a namesake of Marcelo H. del Pilar who used "Plaridel" as nom de plume (pen name). Marcelo H. del Pilar is honored through Gawad Plaridel for his selfless effort as a propagandist whose stewardship of the reformist newspaper La Solidaridad helped crystallize nationalist sentiments and ignited libertarian ideas in the 1890s.
The U.P. Gawad Plaridel Awards recognizes Filipino media practitioners who have excelled in print, radio, film, television, and new/emerging media and who have performed with the highest level of professional integrity in the interest of public service.
The University of the Philippines is also home to one of the longest running community journalism fellowship – the 36 year old Graciano Lopez-Jaena Community Journalism Fellowship which started in 1985.
These awards programs have trained hundreds of media practitioners and it elevated the competency of Filipino journalists across the archipelago.
The UP System will have another noble addition in recognizing excellent journalism in BANTALA: The University of the Philippines Visayas Media Excellence Awards starting 2021.
For additional information, visit the website of UP Visayas at https://www.upv.edu.ph/ or its Facebook page at https://www.facebook.com/U.P.Visayas.Official
The featured photo can be viewed here with credit. See: The UP Visayas Oblation Plaza at sundown