What's inside the UP Visayas Museum in Iloilo City? Precious paintings, sculptures, textiles, and at times you'll get to see musical performances.
The Museum Complex has four art galleries, two of which are with changing exhibitions – the Lantip and Hanas galleries. Another two are called legacy galleries for it carries the works of extraordinary Ilonggo artists Ed Defensor and Nelfa Querubin. The collection shows their masterpieces that reveal their valuable contribution to art development in the region and the Philippines.
The newest addition is Panapton, a textile gallery located on the right side upon entry at the main door while at the left side is Taliambong, the UPV Art Gallery that is now being worked up. Taliambong or art historian was initially opened to show the collection of Dr. Dionesia A. Rola, the first Chancellor of UP Visayas, entitled: CHOICED – a personal collection of various works of art which Dr. Rola bequeath to UPV in 1997 and another set in 2019. The art collection was showed to the public in commemoration of her 100th birthday.
Thunderous applause had likewise become frequent at the UP Visayas Performing Arts Hall since the easing of the pandemic.
Read: UP Visayas Museum Complex: From Ayuntamiento to Galería de Arte
The Performing Arts Hall used to serve as a courtroom from way back the time when the building complex served as the Ayuntamiento of Iloilo.
The building remains the home of the Center for West Visayan Studies and the current Chancellor also holds a liaison office at the back. Some spaces are still being refurbished and minute details are being refined to attain their original form.
Panapton Textile Gallery
The Panapton Gallery was opened on June 27, 2022, and it shows the collection Panapút: Articles of Clothing and locally produced textiles.
Panapton (panápton) is a Hiligaynon word for garment or clothing and the gallery features various clothing – Baro (dresses), Camisa (undergarments), Pañuelo (scarf), Barong, Traje de Mestiza (mestiza gowns), Panyal (baptism garments), and Saypang (Panay-Bukidnon clothing).
The Curatorial Team for the gallery is headed Prof. Martin Genodepa with Dr. Alicia Magos, Dr. Randy Madrid, Anna Razel Ramirez, Prof. Jose Taton, and Sashah Dioso. The team is assisted by Ofelia Balogo, Noemi Grace Palmares, Josie Jane Tambirao, John Niño Sacmar, Jhunne Harold Mana-ay. Junel Tallas, and Dana Alfuerte.
Lantip Art Gallery
The Lantip Gallery is a changing exhibition gallery and it currently features the works of 13 women artists in the show that opened on March 11, 2022, entitled: From Lin-ay to Hangaway: Voices of Ilonggo Women Artists.
The gallery name Lantip is described in the Hiligaynon language as a skilled artisan or master of the craft. The title of the show, on the other hand, also carries a rich Hiligaynon meaning. Lin-ay means a fine young woman while Hangaway is a warrior or army.
Hence, the collection shows the evolution of women from Lin-ay to Hangaway in the various fields that they have chosen and for diverse causes. Fortifying their collective struggle towards self-expression and self-realization, they do not just serve as inspirations; rather, they dauntlessly blaze trails for women as well.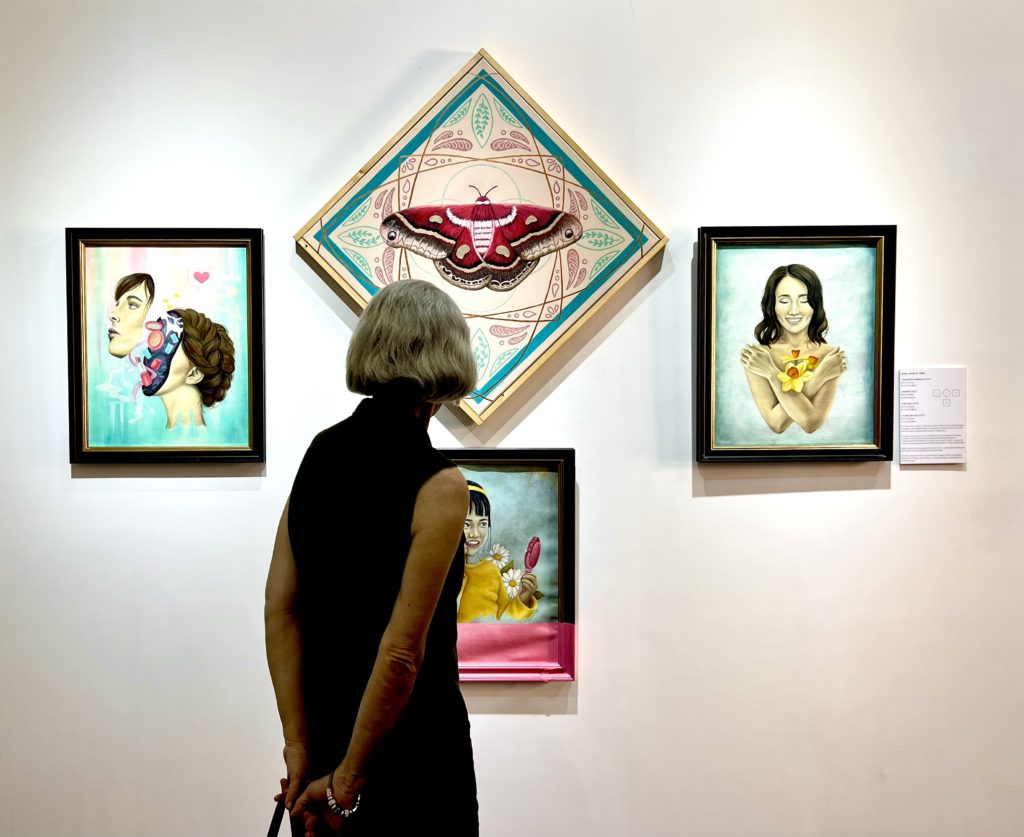 The works featured in Lantip speak of identities, knowledge, and strengths of Ilonggo women – sundry but distinct – through works that are self-referencing, perceptive, reflexive, impassioned, and even risqué.
This is illustrated by the works of Margaux Blas, Sasha Cabais, Marge Chavez, Charmaine Espanola, Bea Gison, Madhu Liebscher, Katelyn Minoso, Shiela Molato, Mia Reyes, Pam Reyes, Adhara Sebuado, Althea Villanueva, Ma. Rosalie Zerrudo with the women artists who are Persons Deprived of Liberty.
Hanas Art Gallery
The Hanas Gallery contained selected works of many of the best and most respected Filipino artists that are now part of the UP Visayas art collection. This is being exhibited in Leading Lights.
The collection reintroduces some Filipino trailblazers who became distinguished icons of modernism in the Philippines. It also makes familiar those who followed after them to become, in their own right, forerunners in the contemporary artistic paths that they have chosen to navigate, succeeding these leading lights.
Hanas or well-trained and skillful in Hiligaynon offers art pieces by award-winning painters and national artists. It is set up at the mezzanine which served as a former radio station of the university and it can be accessed through a secondary door from Lantip Gallery like a secret sanctum by taking 24 small steps on its narrow wooden stairs leading up to the gallery.
You will find an undated mixed media work of Ilonggo artist Rock Drilon under its Jeepney Series.
The works in Leading Lights embody a small fraction of Filipino artists who confined themselves and endured art making despite the dynamism of the country's economic, social, political, and cultural contexts. It demonstrates a rich macrocosm of Philippine art and invites a deeper look at a story that needs to be written and shared with the public.
Ed Defensor Gallery – Art Forms
The collection in the Ed Defensor Gallery provides a foretaste of his achievements as a painter, sculptor, and printmaker, on top of his other character as a performance artist, theater director, academic, and community leader.
The collection in Art Forms shows the various experimentation of Ed Defensor on different methods of artmaking spanning more than 45 years with works on display every decade past since 1977.
Read more about him: ED DEFENSOR: Reintroduce yourself to the life and art of Iloilo's living legend
The viewer of his body of work on the show might confront or resolve the question regarding Defensor's skills considering the extensiveness of his work. One would ask: if art is a human construct, art constructs a human being and forms the person – Ed Defensor is a representation, an embodiment of that thought.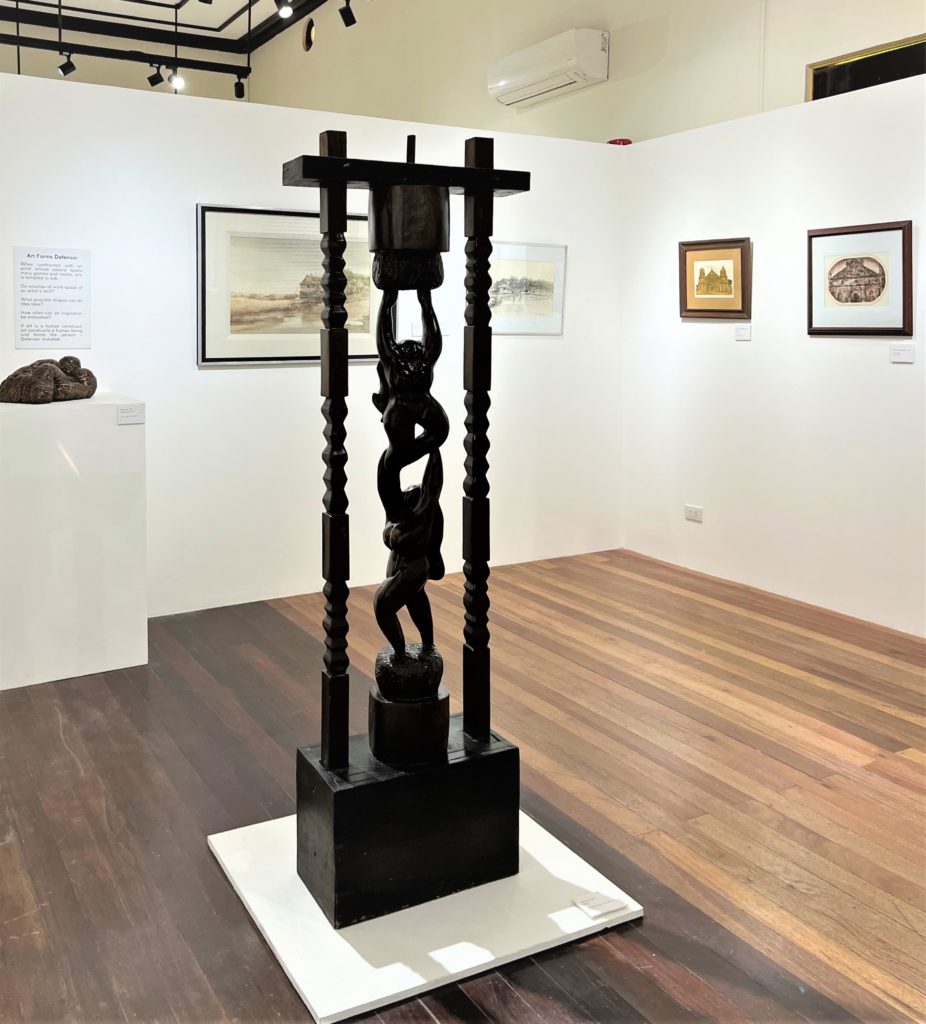 The UP Visayas Gallery will periodically introduce both old and new pieces of the artist in this section. Currently, it features 12 of his masterpieces comprising sculptures, mixed media and oil paintings, and the various printmaking techniques that Defensor applied across time.
Nelfa Querubin Gallery – Textured Querubins
Another gallery is in honor of notable award-winning Ilonggo artist Nelfa Querubin. The gallery described the collection as Textured Querubins for it characterizes her paintings, prints, and pottery.
Querubin started as a painter and she studied printmaking from no less than Manuel Rodriguez, Sr. – the Father of Philippine Printmaking and founder of the Philippine Association of Printmakers.
In 1973, Querubin started pottery by setting up her wood-fired kiln and pottery studio in Miagao, Iloilo. Her work exemplified ceramic deconstructions which she applied on vases and jars and stylized figures of humans and animals. While she earlier used locally sourced clay, her experimentations also led her to available clay, glazes, and pottery techniques.
In 2015, she launched the book A Passion for Clay which showed her contribution to the development and history of contemporary ceramic art in the Philippines. In 2020, she launched a memoir during her homecoming to Iloilo City, entitled: The Winding Road to Change where she shared about her life as a Christian artist.
Presently, the gallery shows oil on canvas paintings, prints, and different stonewares, among others.
Textured Querubins proffered that texture gives life to art by inviting touch which aligns with the human desire to touch and be touched. Hence, the work of Nelfa Querubin invites the beholder to engage with her art.
The UPV Performing Arts Hall
The UPV Performing Arts Hall serves as a venue for intimate events.
In August 2021, UP Visayas presented the Parangal with a commencement concert with a piano performance by Dr. Clement Acevedo who is from Roxas City, Capiz. Go here to see his performance.
The hall has hosted musical performances organized by UPV-OICA to celebrate the 75th-year presence of UP in Iloilo this year.
Prizewinner in the Jakarta ASEAN International Guitar Competition Aaron Aguila was brought here by impresario Pablo Tariman in a Classic Guitar Concert on May 4, 2022 back-to-back with Tariman's book launch of a poetry collection, entitled: "Love, Life, and Loss During the Pandemic".
Also read: PABLO TARIMAN in a 'retirement mode' but he's back for Iloilo recital
Marquez is the First Prize Winner in the 2022 New York Laureate International Music Competition and 2022 New York Young Performers Prize Competition while piano scholar Paguirigan is a prizewinner of the 2013 PPO Young Pianists Competition and the 2013 PTGP Piano Ensemble Competition, respectively.
The Performing Arts Hall was filled up and the audience was brought to a standing ovation four times on the superb performance of Marquez and Paguirigan.
Museum and venue for arts events
The UP Visayas Museum Complex also serves as a venue for arts events. Last February, National Arts Month had a virtual kick-off at the Lantip Gallery with Ilonggo artist PG Zoluaga performing songs to mark his 64th birthday.
Also that February, Martin Genodepa's show Memorial Park: Missing the Crowd was exhibited. Genodepa presented a 16-piece sculpture made from fabricated steel rods, assembled and mounted on a steel plate.
Some of the pieces can be found inside the complex where a cozy open space garden is maintained and installation art is mounted.
Revisit the work here: MARTIN GENODEPA shows a 16-piece sculpture Memorial Park
The UP Visayas Museum Complex in Iloilo is managed by the UPV Office of Initiatives in Culture and the Arts (UPV OICA). The Galleries are open on weekdays from 8:30 A.M. up to 4:30 in the afternoon. Whenever you're in Iloilo City spend time and see both the beautiful heritage building and the art collection inside.