The Pablo Tariman series of Iloilo recital were wrapped up with standing ovations, bravos, and with looooong thunderous applause echoing the hall.
But a closing message before the final encore during the Evening of Opera in December 2019 at the Nelly Garden received a brief uncharacteristic silence, then a slow, warm, yet reluctant applause followed. Nothing went wrong with the production. It was perfect as usual.
Rather, the impresario hinted at retirement in a soft-shy tone. He conveyed taking a rest from his lifelong engagement of introducing classical music to educate a new generation of audiences.
Classical music was a toast of the Iloilo arts and culture during the pre-pandemic period and the name Tariman made it all genuine and unforgettable.
Senator Franklin Drilon initiated the performances of two distinguished symphonies in the Philippines to Iloilo.
The 55-piece world-class Manila Symphony Orchestra (MSO) under conductor Prof. Arturo Molina performed in Iloilo on August 25-26, 2017 with Sweet Symphonies: Bach vs. Beatles at the Molo Church and Soundtracks and Symphonies at the Iloilo Convention Center.
The following year, Drilon and wife Mila invited the Philippine Philharmonic Orchestra (PPO) under Herminigildo Ranera for an outreach concert at the Iloilo Convention Center. The 75-piece ensemble rendered a two-hour performance on March 1, 2018.
These musical events brought the Ilonggos to a sentimental journey with Filipino tunes and traditional Ilonggo folksong becoming an awaited part of the program.
These large performances democratized music and were interchanging with Tariman's intimate recitals as he brought solo, tandem, and or quartet giving the Ilonggo audience an up close musical appreciation and a personal experience with the artists.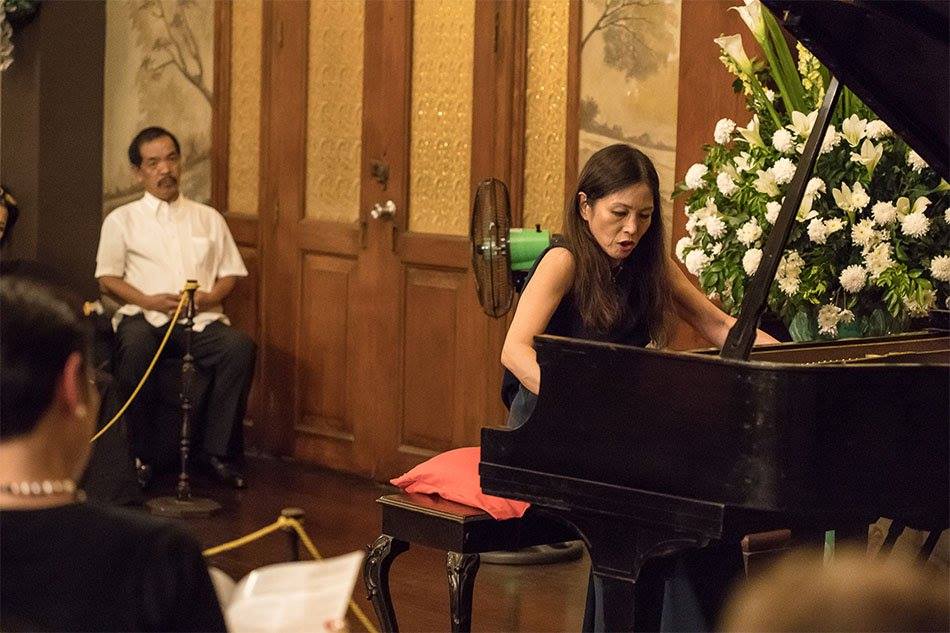 The pandemic disrupted the momentum and it imposed a needed vacation to the impresario and directed his passion for poetry writing. But he is back in what I assumed as a 'retirement recital' with tours last May and with an upcoming performances this July in Iloilo City and August in Manila.
This is the fifth return of the Catanduanes-born impresario to Iloilo in the span of four years and with him this time are award-winning violinist Jeanne Marquez and pianist Gabriel Allan Paguirigan.
The intimate musical treat is set July 26, 2022 at 4:00 P.M. at the newly opened Performing Arts Hall of the University of the Philippines Visayas Museum Complex.
This is organized by the Office of Initiatives for Culture and the Arts of UP Visayas in celebration of 75 years of UP presence in Iloilo and presented in association with Richmonde Hotel Iloilo, Manila Arts Quarterly, and Rustan's Group of Companies.
From Cecile Licad to Aaron Aguila
In November 29, 2018, Tariman featured world-acclaimed Filipino pianist Cecile Licad in a back-to-back night of fine music at the St. Anne Cathedral in Molo and the Nelly Garden in Jaro.
Onwards, his recitals had become an anticipated event not to be missed by Iloilo's who's who and art patrons. This was followed by two performances in August and December 2019, respectively.
He featured the 12-year old Damodar Das Castillo in a rare cello recital with pianist Dingdong Fiel also at the Nelly Garden.
Revisit: A tribute to Ilonggo tenor Otoniel Gonzaga will conclude Tariman's intimate concert series in Iloilo City
Among the highlights of Fiel and Das Castillo's evening performance was the popular sentimental folk lullaby Ohoy Alibangbang which awakened dormant emotions of the audience eliciting tears and earning them deafening applause and standing ovation.
Tariman then capped his series of concerts that year in Iloilo with an Evening of Opera, a musical tribute to Ilonggo tenor Otoniel Gonzaga.
The Evening of Opera featured tenor Nomher Nival, soprano Jasmin Salvo, clarinetist Andrew Constantino, and pianist Gabriel Allan Paguirigan.
The invited audience was treated by Nival with Recondita Armonia (Tosca) of Giacomo Puccini and by Salvo who performed Ebben! Ne Andro Lontana (from La Wally) of Alfredo Catalani.
On the other hand, Andrew Constantino performed in clarinet Louis Adolphe's La Traviata Fantaisie Verdi while pianist Gabriel Allan Paguirigan featured Musica proibita of Stanislao Gastaldon, among the various pieces that the four offered to the excited audience that night.
Tariman and the pandemic
The Ilonggos, however, was in for a surprise. On May 4 this year, his photo was at Facebook with UP Visayas Performing Arts Hall as the backdrop.
Tariman brought with him classical guitarist Aaron Aguila in a book launching with a guitar concert.
He launched his book of poetry, entitled: Love, Life and Lost during the Pandemic for Ilonggo readers. Poetry pieces was read and this was followed by Aguila's guitar performance.
The prizewinner of the Jakarta ASEAN Guitar Competition performed in guitar Bayan Ko, a timely piece considering that the recital was few days before the national elections.
But it was Aaron Aguila's rendition of Hiligaynon song Ili-ili Tulog Anay that stroked a chord in the hearts of the selected audience bringing them on their feet for an extended standing ovation.
Then Marquez and Paguirigan
As if that was the last, but Iloilo have appeared not to be over with Pablo Tariman.
Next week, the audience will be treated by Por Una Cabeza by Carlos Gardel; Introduction et Rondo Cappricioso of Charles-Camille Saint-Saëns; Ludwig van Beethoven's Sonata No. 7 in D major, Op. 10 No. 3; and Felix Mendelssohn Violin Concerto in E Minor, Op.64.
Also read: 4 geniuses will bring Iloilo City to an Evening of Opera
This will be performed by violinist Jeanne Marquez who is the First Prize Winner in the 2022 New York Laureate International Music Competition and 2022 New York Young Performers Prize Competition.
Consequently, this is the second time for pianist Gabriel Allan Paguirigan to perform in Iloilo with Tariman.
Paguirigan was a scholar of the Philippine High School for the Arts (PHSA) and finished Bachelor of Music Major in Piano at the University of the Philippines.
Hailed then by the Philippine Star as a "virtuoso-in-the-making," Paguirigan is top prize-winner of the National Music Competitions for Young Artists (NAMCYA), a prizewinner of the 2013 PPO Young Pianists Competition, and the 2013 PTGP Piano Ensemble Competition.
Certainly, the recitals of Pablo Tariman reawakened the affection of the Ilonggos to excellent live classical music and the crowd was not prepared to let him go. They would have preferred a Pablo Tariman becoming an Ilonggo.
= = = =
Check out the Facebook timeline of Pablo Tariman to know more about the upcoming recitals and to learn and enjoy his poetry pieces and timely opinion on current events.
Photos for this article and featured photo of Pablo Tariman was lifted from his Facebook album
Image: Minabalay Island in Baras, Catanduanes
Photo by: Floyd Evangelista Flores