MORE Power Oplan Valeria launched two years ago has neutralized power theft in Iloilo City and that the effort has paid-off benefiting consumers and Iloilo City in general.
The effort has contributed in the lowering of power rates, strengthened the functioning of policies, better compliance to regulatory standards, and improved efficiency and quality of service to end-users.
Upon implementation of the unpopular anti-power theft drive in 2020, system loss was at a high of 28 percent, a statistical figure multiple times higher than the cap allowed by the Energy Regulatory Commission (ERC).
The numbers is a residual evidence that demonstrate the wanton neglect and deliberate tolerance of power theft by the previous service provider.
The combination of interventions employed by MORE Power Oplan Valeria like legal action, compromise agreements, customer relations, and infrastructure and facilities upgrade brought down distribution system loss to standard level at an average of 7 percent, or an inch to 6.50 percent cap set by the regulatory body.
Number of cases had likewise gone down from a monthly average of 230 filed per month to a minimal of 10-20 cases today.
The socio-economic benefits of the anti-theft drive may be quantified in the near future for better appreciation.
Understanding the crime of electricity theft
The Anti-Pilferage of Electricity and Theft of Electric Transmission Lines/Materials Act or Republic Act 7832 was a law passed in December 8, 1994 under the administration of former President Fidel V. Ramos.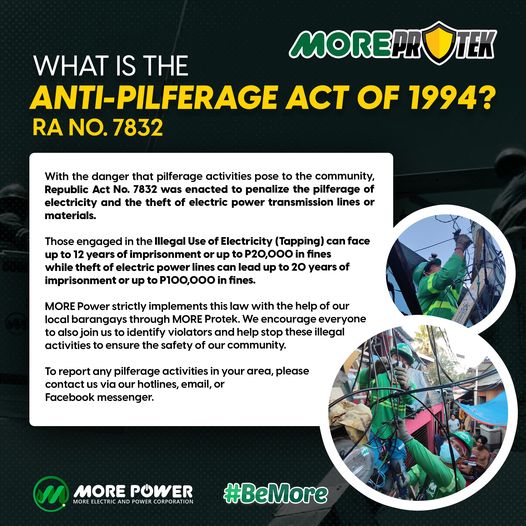 The 28-years old law, however, was poorly implemented and under-enforced by power utilities.
In Iloilo City, the previous power utility tip-toed in fighting power theft, as such, illegal connection had become a norm and widely accepted activity in the communities.
The law declared that it is unlawful for any person, whether natural or juridical, public or private, to:
Tap, make or cause to be made any connection with overhead lines, service drops, or other electric
service wires, without previous authority or consent of the private electric utility or rural electric
cooperative concerned;
Tap, make or cause to be made any connection to the existing electric service facilities of any duly
registered consumer without the latter's or the electric utility's consent or authority;
Tamper, install or use a tampered electrical meter, jumper, current reversing transformer, shorting or
shunting wire, loop connection or any other device which interferes with the proper or accurate registry or
metering of electric current or otherwise results in its diversion in a manner whereby electricity is stolen or
wasted;
Damage or destroy an electric meter, equipment, wire or conduit or allow any of them to be so
damaged or destroyed as to interfere with the proper or accurate metering of electric current; and
Knowingly use or receive the direct benefit of electric service obtained through any of the acts
mentioned in subsections.
Under the law, violators of illegal connections will face a fine of up to P20,000 or imprisonment of up to 12 years.
Upon assumption of franchise to operate power distribution in the city, MORE Power used RA 7832 to address the high level of system loss and the exponential number of illegal connection through political will and consumers cooperation on the ground.
Oplan Valeria across all districts
MORE Power launched an an all-out war against illegal connections in July 2020. The campaign was named after Valeria Street, a popular street food and barbeque night spot at the downtown area frequented by Ilonggos from all walks of life.
One month after the launching of MORE Power Oplan Valeria, around 30,000 illegal connections was discovered across the metropolis and these are mostly operated by syndicates in the community and who act as facilitators of illegal jumpers climbing electrical posts at dusk to connect to the secondary line or lines assigned to government facilities.
"Sang nagsugod kami sang 2020, kada gab-i daw galibog amon ulo kay may mga sitwasyon nga bilog nga block wala kuryente kag wala sang suga. Nagalibog ulo namon ano natabo sa mga area nga ni. May mga jumper gali kadamu-damu kung gab-i," said Engr. Edwin Montemayor, Head of the System Loss Reduction Program in Hiligaynon.
"So ang nagakatabu, ang transformer nga na install dira para sa mga legal nga consumer, naga overload kay gin angutan sang mga illegal nga consumer. Ang transformer, naga trip kung gab-i. Amo na nga may mga unscheduled interruption kita sadto kun gab-i nga whole block no-light," Engr. Montemayor explained.
MORE Power Oplan Valeria also received assistance from vigilant consumers who were fed up of the illegal practice.
Also read: MORE Power P1.1B CAPEX to complete modernization by 2025
Legitimate consumers became pro-active and joined the fight against power theft.
"They played a big role in the success of the campaign," underscored Engr. Montemayor, "because they are the ones who know exactly which areas in their community have massive power pilferage and who are the persons responsible of the wrongdoing."
"So may mga tip ang mga consumer. So kung ginakadtuan namon, kay kun kami lang, indi tanan nga mga lugar makadtuan namon. Kag indi kami kabalo sina nga ang mga lugar sina may jumper. So ang consumer gid na number one nagahatag sang benepisyo sa pagtapna sang illegal connection," shared Engr. Montemayor.
Each tip is handled by MORE Power Oplan Valeria team with sensitivity. Reports are treated with high confidentiality to ensure that those who vigilantly support this campaign are protected.
The technical team also ensures that security measures are in place and that MORE Power Oplan Valeria is properly coordinated with the barangay officials.
Legal Action for rich and poor
Initially, the crackdown commenced at the populous shoreline communities of Calaparan, Calumpang, and Sto. Niño Sur in Arevalo district. The effort apprehended hundreds of jumpers and cases were filed against violators while hundreds also entered into compromise agreements.
Other districts followed like Molo, LaPaz, Lapuz, Bo. Obrero, Mandurriao, Jaro and City Proper.
In January 2021, lawyer Hector Teodosio of MORE Power filed a case against five members of the prominent Tiu family after the Iloilo City Prosecutors Office ruled to file the charges in court against Edward Tiu, Rodolfo Tiu, Eugene Tiu, Mary Tiu, and Edgar Tiu and his wife Caroline Tiu for violation of RA 7832.
The case stemmed from the result of the inspection on the power meters of the Tiu family compound at the posh Villa Rosario Subdivision in Molo on July 17, 2020 conducted by the power utility's Meter Lab and Apprehending Team.
The Tiu family is recognized in the business community who operates the Iloilo Grand Hotel, Grand Xing Imperial Hotel, the Grand Tower Suits, Madison Hotel, and the Dragon Lodge Hotel. They are also into real estate with TTK Realty and Development Corporation and engaged in leasing, appliances, and laundry enterprises.
Also in February 2021, MORE Power hauled to court prominent local leaders Iloilo City Councilor Carlos "Jojo" Javellana and wife Brgy. Captain Mary Katrina "Tracy" Javellana of Barangay Loboc likewise for violation of RA 7832.
Jojo Javellana lost in a reelection bid in the recent May 2022 elections.
Related news: MORE Power energizes new power transformer in Iloilo City
By October 2021, the legal department of MORE Power shared a status of cases filed and compromise agreements initiated. The report revealed the following:
703 compromise agreements were settled after differential billings were paid;
19 cases were dismissed after full payment was made prompting the utility to file Motion to Withdraw;
23 were pending dismissal upon availment of staggered payment scheme;
108 cases were pending at the City Prosecutor's Office and Regional Trial Court; and
54 additional cases were waiting for filing at that time.
According to company lawyer Allana Babayen-on, they filed 220 formal complaints against those who were caught in the act, 157 of which were brought to court. The rest were given provisional dismissal on the condition that they pay for the illegally used electricity.
MORE Power exercised patience in dealing with the issue having understood the plight of consumers using illegally sourced electricity.
We make sure that due process is followed, said Babayen-on.
"After the apprehension, we sent the demand letter informing them nga nadakpan sila. Amo ni ang ila differential billing and that they would settle. Thankfully ang iban nagasettle man, very cooperative man sila and they recognize nga sala ang ila pagpangawat sang kuryente and they promise to pay. Well and good. But sometimes, may ara gid ya indi magsettle, or nagpromise magsettle or nag breach sang ila compromise. So in those cases, we file a complaint before the office of the city prosecutor," she explained in mixed dialect.
"Krimen ang ila nga nahimo, Babayen-on emphasized, pero wala naton sila ginakabig nga mga kriminal. Bangud ang aton gusto nga buligan sila nga ma-correct ang sala nga madugay na nila nga nakaangdan." dded.
They also strengthened their partnerships with Barangay Officials in the total rehabilitation of the utility's facilities and improvements of voltage capacities to eradicate the "jumpers" in their community.
MORE Power Oplan Valeria created safe and jumper-free community
The Oplan Valeria campaign also created jumper-free barangays and safe communities.
The power utility declared last year that Brgy. San Pedro in Molo district is the first village to be considered as 'jumper-free' in Iloilo City.
The barangay was previously a haven for jumpers. MORE Power Oplan Valeria team disclosed that more than half of 700 households did not have meters and most of them only rely on informal connections.
The power utility assisted by barangay officials led by Brgy. Captain Carl John Lapascua helped the community become jumper-free by facilitating the application of 300 households to gain legal status. It also brought in new infrastructures by establishing 17 poles and it installed new equipment like power meters and transformers.
MORE Power Oplan Valeria team also addressed the unsightly 'spaghetti wires' in coordination with telecom companies. By the end of 2021, Brgy. San Pedro was declared as the first jumper-free barangay in Iloilo City.
Increased legitimate consumers
MORE Power assisted consumers to have a legitimate electricity connection by trimming down the list of requirements. As a result, around 29,000 consumers became legally connected bringing the total number of registered power end-users from 62,000 then to 91,000 today.
According to MORE Power Oplan Valeria team, to be formally connected to the power utility pays off because it ensures the safety of all.
Power theft compromises the safety and general welfare of power end-users and pilferage or "jumpers" has been attributed to be the roots cause of household and community fires because of overloaded electrical lines, it stressed.
MORE Power expressed appreciation and gratitude of the support and assistance given by the consumers. The power utility encourages the public not hesitate in informing the company of power pilferages in their communities and they are enjoined to help sustain the campaign.