Orchard Valley is the first and only certified organic farm in Iloilo since 2011 issued by the Negros Island Certification Services (NICERT), one of the two certification body accredited by the Dept. of Agriculture in the country. To maintain its standing as a certified organic farm, Orchard Valley undergoes the annual renewal of its certification.
The 32-hectare farmland which stretches behind the Tigum River in Pavia, Iloilo was established in 1999 by Johnny Que as a manifestation of his advocacy for environmental protection and sustainability through food production from organic farming methods.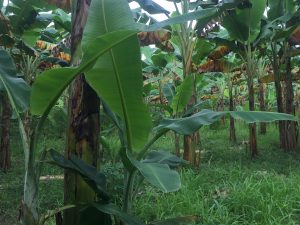 Being a certified organic farm, the vegetables and fruits from Orchard Valley are guaranteed free from toxic pesticides and commercial fertilizer. The cattle raised at the farm are likewise free from synthetic hormones, anti-biotics, and steroid interventions.
The farm site is a visitor-friendly and conducive for learning about organic farm practices. Its physical layout is divided into main sections: a vegetable, fruit trees, livestock, and organic fertilizer production. Each of the main sections are further partitioned into sub-sections making farm operations organized and farm management efficient.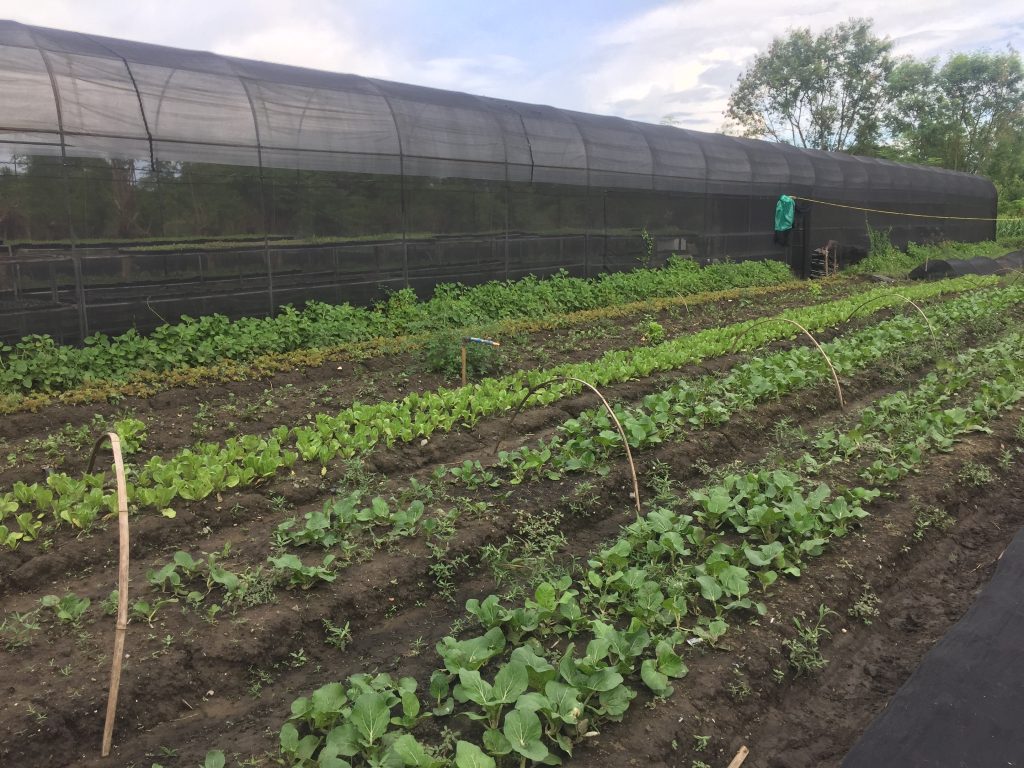 The vegetable plantation carries a wide-array of vegetable products that are for everyday household cooking and used by commercial food establishments and supermarkets. It has an herbs and medicinal plants garden. A variety of ornamental and flowering plants are scattered within the area.
A visitor can enjoy a walk at the orchard section under a canopy of tree branches while learning about the different varieties of familiar fruit trees with bananas, coffee, and cacao stretched alternately under the coconut plantation.
The farm has a flourishing pasture land for cattle and livestock raising. It grows free-range cows, goat, sheep, and native pigs that are grass-fed and with a natural environment needed for its growth.
The imported Holstein and Sahiwal cattle are among the attraction at the cattle section for they are the sources of organic milk. The farm also grows ducks, geese, and free-range chicken which yields organic eggs.
Validating its toxic and chemical-free environ is the thriving colony of honeybees. It has an apiary for honey production.
All the produce from Orchard Valley are supplied to a hotel, a chain of restaurants, cafés and coffee shops, and a string of grocery and supermarkets that are operated by the family.
All food waste materials which includes vegetables and fruits are gathered and processed back in the farm for animal feeding or through vermi-composting, an organic fertilizer production practice that use worms for decomposition.
Since its establishment, Orchard Valley has become instrumental in expanding the practice of organic farming to other parts of Iloilo. It has set-up a strawberry farm in Brgy. Mali-ao, Bucari, Leon; a chocolate farm in Brgy. Alaguisoc and a Dairy Island in Brgy. Napay, all in Jordan, Guimaras.
The farm is an accredited Agri-Tourism Farm Site by the Dept. of Tourism (DoT) and it is among the destination in the Iloilo Agri-Tourism Circuit.
More developments are on the pipeline for Orchard Valley and it is envisioned to become a prime Agri-tourism destination in Western Visayas. Its current facilities composed of a learning center and dormitory will be further expanded to include a pavilion, farm houses, a pool, a Zen spa, organic shop and café. These plans will further enhance the farm as an outdoor activity destination where visitors can hike or bike.
Orchard Valley is an organic haven who puts a lot of conscience in the agriculture world. Its existence is literally a breath of freshness for it offers the public with a healthier option in food consumption.
*This farm profile feature is a project of Panay Organic Producers Association (POPA) in November 2018.