Travelers have come to Guimaras, not only to taste its sweet mangoes, but to visit its Agri-Tourism spots.
The rural charm of the island has enticed the interest of socially-conscious travelers whose reason for visiting is to learn how traditional livelihood activities have thrived and to understand the weaving technique of Sapal Weavers in San Lorenzo, Guimaras.
Weaving is a way of life
Weaving had become a way of life for village weavers of Sapal. "We inherited the skill of weaving mats from our forefathers and which they handed down to our parents and then to us," declared Rosa Gomez.
Gomez is currently the manager of the association. She also served as president of Sapal Weaver's from 2007 up to 2012.
"We are accustomed to the simple and peaceful life in the village and we cared for each other's welfare. We have found contentment in life by being weavers," intoned Gomez.
Weaving is also a community work for members of Sapal Weavers with both women and men playing the role at the production chain.
Men mostly handle the planting, harvesting, cleaning, and manual drying of the "buri" and "baryos" leaves. The dried materials are carried over to the handicraft center for weaving mats and other products.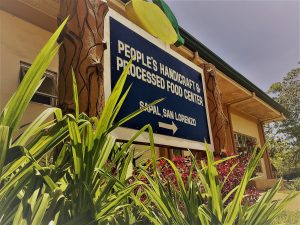 There were times that women weavers had to work even up to midnight just to meet demand from bulk orders.
End products like a coin purse, wallets, laptop sleeves, conference kits, or slippers have to undergo the special process of cutting and sewing.
Weaving transformed lives and realized dreams
Gomez expressed that the noble work of weaving is instrumental in improving the lives of families for the better.
Sitting on the floor to show how mats are manually weaved, 66-years old Felicitas Gella shared how their mother was able to send family members to school and produced graduates from weaving mats.
"We learned from them that hard work pays off," Gella gestured calmly.
Moreover, a weaver since she was a young girl, Marrieta Tanaleon, who is now 61-years old agreed with Gella and Gomez that weaving has realized the aspirations of many families who resided in Sapal.
Continuity in the face of struggle
But similar to other communities that have a traditional livelihood, Sapal Weavers are also facing the challenge of declining membership because many have grown old and has retired from weaving. Moreover, a good number of its young members also sought work abroad to support their growing family.
The association started with 43 members when it was organized in 1997, but it gradually dropped bringing it to only 31 today. "We cannot deny that we need a new breed of weavers," Gomez lamented, "but the sad reality is that many of our young people in the village had preferred to pursue other careers that pay well and which offer a comfortable workplace in the city."
While the supply of raw materials is abundant, the association have struggled to meet demand, especially when orders comes in one after another, because of a reduced workforce.
They also emphasized that weaving takes time for it remains manually done and has yet to become mechanized.
Growing learning visits to Sapal
Guimaras Island has become a preferred venue for learning Agri-Tourism.
Through the years, the association has recorded a growing number of visitors to Sapal Village. Some of the visitors were social entrepreneurs, purchasers, government officials, and tourists who were curious about weaving as a craft and as a traditional livelihood activity.
There were also students who were studying culture and indigenous practices or scholars on agri-business and tourism that have visited Sapal Village to learn about their technique and practices.
Gomez shared a story of a group from Papua New Guinea who had stayed with them for weeks in order to interact and learn about the weaving process and to enrich their understanding of Sapal Weaver's way of life.
Another foreign national, a Japanese has regularly visited Sapal Village to monitor development on the lives of weavers and document changes on their practices and livelihood activities.
These visits have contributed to the growing number of visitors and tourists to the island.
"We have extended an open hand to visitors from different places who are eager to learn about our weaving technique with the hope that the knowledge that they have acquired can be put to better use and shared with others," stressed Gomez.
*The feature article was first published in May 2018 at the online page of Tahum Western Visayas of the Dept. of Tourism-VI.