The Mamusa Art Bistro has put on show the works of Ilonggo artist Rock Drilon in "As You Start to Paint, The Painting Paints Itself."
It presents a mixed sizes framed paintings from 18" x 24 inches, to a mid-size of 48" x 39," and to a centerpiece of 78 ¼ x 56 ½ inches. The art pieces were Drilon's selection from previous exhibits in Manila and the show was also curated by the artist.
Rock as he is called by friends and artists, came back to Iloilo in 2012 and established a studio in his hometown of Dumangas. Since then, the artists has jetted between Iloilo and Manila to do solo and collaborative shows with other artists.
Show of works and advocacies
In September 2017, or five years after establishing his Dumangas workplace, Drilon showed his works in "Homecoming: Works from Dumangas" at Galleria Duemila. In June 2018, Drilon was among the 13 artists in the show: "The Absence of a Plan is Itself a Plan" at MOs Space in Taguig. It was followed by another show: "Visayan Rhapsodies" in November 2018 at the Underground in Makati.
In Iloilo, Drilon has presented solo works in 2015 entitled: "Iloilo Period" and then a set of collections in "Untitled" in 2016. In January 2018, he showed a 10 new collection in the "Bicycle Series" which was exhibited at the Fitstop Bites and Bikes – a venue that has closed down already.
The Bicycle Series represented Rock Drilon's other passion – biking. He has integrated biking and art by also pioneering ARTBike in Manila while he was still managing the art gallery Mag:net in Quezon City.
ARTBike was an initiative that promoted biking as a mode of mobility to visit art galleries. This art tourism initiative was duplicated in Iloilo and it developed artists' interest to biking while bikers into art by visiting galleries and joining Visit Tours – a tour among artists, guests, travelers, dignitaries, and bike advocates in Iloilo City.
Then there was Cycling HeARTs, an art event being held simultaneously during the Iloilo Bike Festival.
Understanding Drilon and his art
Drilon was mentored by National Artist José Joya as a fine arts student of UP Diliman. He belong to a generation of artists whose works became instrumental in shaping the country's contemporary art as we know today.
His art process is described as "automatism" by art scholars and critics – a technique derived from the subconscious or an art that stems from the artist's subconscious mind. An art portrayed through automatism is described as an art piece which unleashed the deep inner personality of an artist. It breaks free from the intellectual, cultural, social, and historical barriers.
While Automatism has been associated with modern artists, its fundamental forms already emerged among the works of some 18th century artists. This gestural orientation of action painting is notable among artists like Dada, Joan Miro, Salvador Dali, and Jackson Pollack, among other famous names.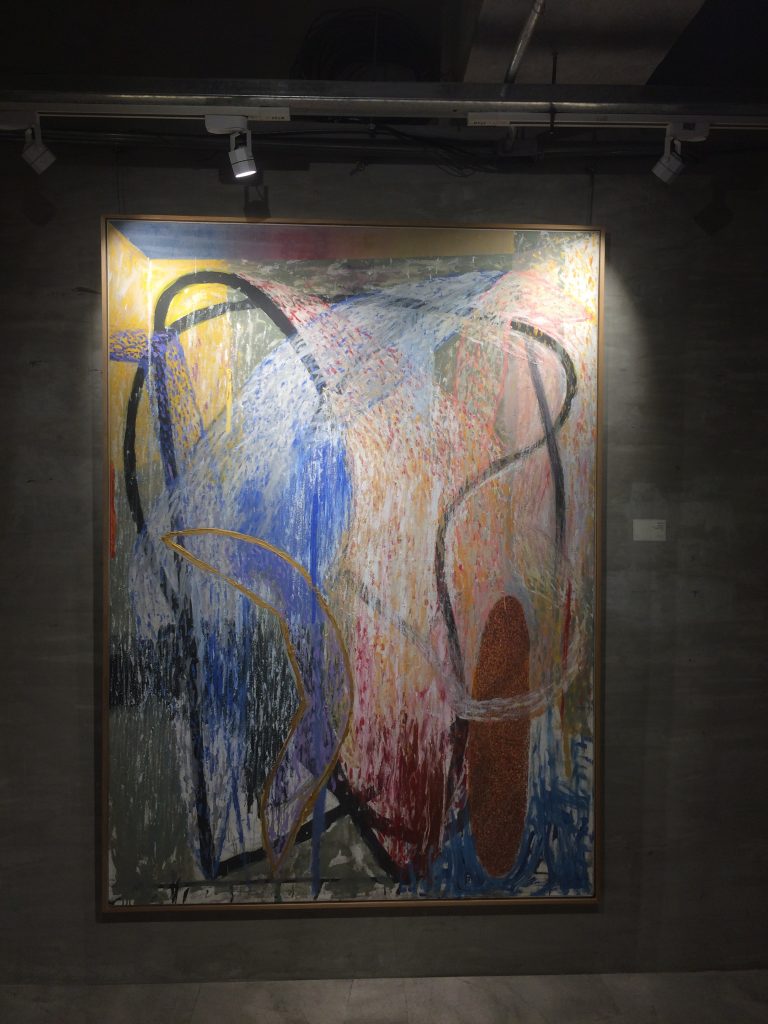 In the Philippines, automatism equates to a Rock Drilon work. He is the only Filipino artist "who consistently practices automatism," declared poet and writer Constantino C. Tejero in his written art review published at PDI in June 10, 2013, entitled: "The art of children and psychotics in the work of Rock Drilon."
To appreciate a Rock Drilon work will require a viewer to understand what is automatic painting and its characteristics as deliberated by writer and academic Lisa Ito. Ito has followed Drilon's works and development.
"The loop has long remained both a visual and biographical marker for Drilon—not merely a decorative element or a stylistic quirk," writes Ito, on her review of Drilon's show, entitled: "Rock Drilon's 'Homecoming: Works from Dumangas' is both familiar and fresh."
It is "also a symbol and trace of continuity, moving on and beyond. Employing the loop as a form of automatic painting, in which he allows the line to carve its own path on paper or canvas, Drilon expresses impulses both subliminal and primordial," explained Ito (PDI, 10/17/2017).
It perhaps hints why the title of the show is As You Start to Paint, The Painting Paints Itself. As an institution in the Philippine art scene, a Rock Drilon collection is a fitting introductory exhibit for 2020.
Viewing a Drilon masterpiece may be therapeutic for some of us and it may also trigger self-reflection as we attempt to look into our inner subconscious self. Whatever is your intention, an art piece on show may be a painting which represents yourself.
The As You Start to Paint, The Painting Paints Itself will be on show at the Mamusa until February 10, 2020.