Home Credit Philippines, the country's leading consumer finance company, in partnership with Overseas Workers Welfare Association (OWWA), honored the heroes of the modern age, the Overseas Filipino Workers (OFWs), during the OFW Family Day Caravan in Western Visayas.
The two-week-long caravan was attended by over 2,000 OFWs and OFW associations combined from the provinces of Antique, Capiz, Guimaras, Iloilo, and Negros Occidental. The program aimed to create an avenue for the OFWs and their families to reconnect and spend quality time with their loved ones.
Aside from family bonding activities, the caravan also opened conversations on financial literacy and education, addressing the common problems of OFWs spending years working abroad only to come home with little to no savings.
"Our main goal for the caravan was to show appreciation for the Filipino migrant workers. We want to empower them to make informed decisions on how to spend and manage their hard-earned money from working overseas. We at OWWA Region 6 support our OFWs all the way, and we want them to succeed and secure a better life for themselves and their families," said Rizza Joy Moldes, OWWA Region 6 OIC director.
Throughout the caravan, Home Credit led the discussions on the basics of budgeting and saving as part of its advocacy program to promote financial literacy across the country. The OFWs were also given knowledge on safe consumer finance options they could explore while protecting themselves and their families from bad debts and financial risks.
"We at Home Credit honor the modern-day heroes of our country. They are an inspiration to many Filipinos as they serve as examples of strength and perseverance. As they strive to make ends meet for their families, we are committed to providing them with the proper knowledge to handle their finances to avoid financial mismanagement and risks. We will continue to support the OFWs and be their trusted ally Para sa Life," shares Sheila Paul, Home Credit's chief marketing officer.
According to the Philippine Statistics Authority (PSA), the number OFWs globally has already reached 1.83 million in 2021, a three percent increase from the number released in 2020. With the growing volume of labor migration from the Philippines, it is expected that OFW remittances will also increase. The data likewise shows that majority of the OFWs are in the age group 30 to 34 years old, followed by 45 years and older, which can be read as parents and other breadwinners going abroad to support their families.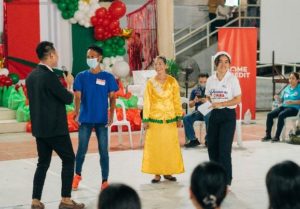 Home Credit is committed to providing more Filipinos with financial education and opportunities to make their lives more comfortable and secured. With its flagship financial literacy and CSR programs, Wais sa Home and Alagang Home, Home Credit will continue to be at the forefront of promoting financial freedom and better lives for all.
Home Credit Philippines is a financing company duly licensed and supervised by the Securities and Exchange Commission (SEC) and by the Bangko Sentral ng Pilipinas (BSP). To learn more about the latest updates from Home Credit Philippines, visit its official website www.homecredit.ph
About Home Credit
Home Credit Philippines is a consumer finance provider that promotes the principles of financial inclusion and safe lending, providing world-class financing services to qualified customers. Home Credit arrived in the Philippines back in 2013 and within 9 years, the brand has helped close to 10 million customers to purchase the things they need through fast, convenient, and affordable financing in more than 14,000 partner stores nationwide.
In 2018, Home Credit was granted the license to operate as a credit card issuer by Bangko Sentral ng Pilipinas (BSP), making it the first and only non-bank financial institution in the country to issue credit cards. Home Credit continues to expand its digital and online presence, and now has millions of users of its My Home Credit app. Home Credit Philippines is part of the Home Credit Group, an international consumer finance provider. More information on HCPH is available at www.homecredit.ph.