Eastern Communications, the Philippines' premier telecommunications company, has earmarked one billion pesos for capital expenditures this year as part of its ongoing national expansion and rollout of fiber network services.
Eastern Communications' capital expenditure amounting to P1.04 billion is allotted to augment expansion efforts into more emerging sites and business hubs while continuing its network infrastructure improvements and restoration across the country this 2023.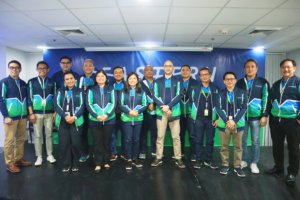 Driven by Eastern Communications' current offering of connectivity and internet products and the increasing demand for reliable ICT solutions, with cloud services, and cybersecurity suite, the telco reported a revenue increase of 7% in 2022 compared to its 2021 performance. Consequently, customer satisfaction also increased to score 90.92% in 2022, fulfilling the Eastern promise of high-touch service.
"We are proud of our high touch approach, and this has become our competitive advantage. Our 2022 customer satisfaction score shows our dedication to continuously delight our customers. We will bring this commitment with us as we expand to more areas in the country," said Vince Tempongko, Co-Coordinator for Eastern Communications.
Eastern Communications expands to help more businesses evolve
The ICT solutions company kickstarted the year by launching its 2023 campaign "Evolve Every Day" to democratize technology throughout the country and launch initiatives to help Filipinos and businesses thrive.
This year, Eastern Communications will continue its Via Eastern expansion campaign and extend its coverage across Visayas and Mindanao to provide more services to Filipinos. Eastern Communications' cutting-edge technology and unparalleled customer service through its Philippine Domestic Submarine Cable Network (PDSCN), which recently landed in Zamboanga, and will also be available in the remaining sites, Liloy and Dipolog in Zamboanga del Sur; Maasin, Leyte; and Mactan, Cebu.
The PDSCN kickstarted in July 2022 at Subic Bay with Eastern Communications and its partners Globe and InfiniVAN Inc. The joint infrastructure project is set to complete by April 2023 with the help of its latest cable ship provider, NTT WE Marine (NTTWEM).
Eastern Communications will soon hold its Via Eastern launch in Zamboanga, one of its major expansion areas, to officially offer business-grade connectivity and digital solutions to customers in the area.
"Because of the expansion and the increase in the number and the quality of our services, there has to be a shift in our competency to provide the quality service that our customers need and expect so Eastern Communications and its people will continue to evolve," said Atty. Aileen Regio, Eastern Communications' Co-Coordinator.
"Our nationwide expansion will be completed by the end of the year. With this, more Filipinos will be enabled by the high tech and high touch services of Eastern Communications," added Tempongko.
On top of widening its reach, Eastern Communications will help businesses in Metro Manila and regional areas evolve even further through live business seminars and thought-leadership sessions on digitalization. It aims to introduce new products to its suite of tech solutions, with the line-up to be announced soon.
To learn more about Eastern Communications' events and services, visit eastern.com.ph or follow @easterncommph on Facebook.
ABOUT EASTERN COMMUNICATIONS
As one of the premier Philippine telecommunications companies, Eastern Communications has evolved into a world-class telecommunications and ICT solutions company providing an extensive portfolio of services that include Connectivity Solutions, Network Solutions, Security Solutions, Cloud and Data Center Solutions, and Business Applications. As an internationally acclaimed, multi-awarded company, it continues to champion solutions for both the biggest industry players and emerging businesses in the country through its unique brand of "High Tech" and its "High Touch" service.