The Dept. of Tourism Region VI (DOT6) is gearing up to regain traction as quarantine guidelines in the region will enter further easing under the Modified General Community Quarantine (MGCQ) starting June 1 up to June 15, 2020.
Western Visayas is composed of the provinces of Aklan, Antique, Capiz, Guimaras, Iloilo, Negros Occidental, and two cities – Iloilo City and Bacolod City, will be under MGCQ as per Resolution No. 41 issued May 29, 2020 by the Inter-Agency Task Force (IATF) for the management of emerging infectious disease.
In an online forum organized by the web-mobile app Tourismo aired over Facebook last May 29, DOT-VI Regional Director Atty. Helen J. Catalbas shared three (3) easy steps that local residents and tourism stakeholders can take to help in the revival of the tourism sector in Western Visayas.
"We are moving with caution," said the agency director while she outlined the guidelines that will govern the operations of hotels and other accommodation establishments in areas under MGCQ as reflected in DOT Administrative Order No. 2020-002.
3 steps that will help revive Western Visayas tourism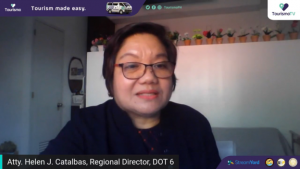 Catalbas urged stakeholders to take 3 easy steps as the agency is moving for the gradual revival of regional tourism activities during her report presentation entitled: "Tourism Update in Western Visayas under MGCQ".
"Stay healthy, produce local and support local products, and engage in farming and fishing are easy and doable steps that our residents can take for the revival of local tourism," Atty. Catalbas emphasized.
First, we need to stay healthy," she underscored, "for staying healthy during these times is important. Only healthy persons and residents can travel within their locality, within the provinces, and within the region. So stay healthy."
This is the time to again start exploring the tourism sites within their provinces, she said, as a form of localizing the agency tagline of "Experience Western Visayas First" at the provincial level. A Guimarasnon can "Experience Guimaras First" while an Antiqueno, Aklanon, Capiznon or Negrense can likewise do the same in their respective provinces.
Second, "support the production of local products and buy local produce." By supporting local, our stakeholders are helping and giving support to our community tourism through the enterprises operated by our people who create handicrafts and souvenir items," added Catalbas.
Third, "we need to farm more and fish more," she stressed, as she encouraged more local farming and fishing activities. Stepping up effort on these activities are vital in ensuring a more food secure household.
The 3 easy steps moving forward offered by Director Catalbas were also captured as strong components among the 12 focused areas of its Regional Tourism Portfolio; namely Agri-Farm Tourism, Eco-Tourism, and Nature-based Tourism, together with nine others.
"We have a strong and loaded regional tourism product portfolio," said Catalbas and "each of the provinces were very active in promoting their respective tourism portfolio before the onset of COVID-19 lockdown."
Tourismo and the advent of the virtuals
The online forum organized by Tourismo gathered various resource persons who offered vital insights regarding tourism activities under the new normal.
Along this line, Director Catalbas shared the efforts being undertaken by DOT which she termed "the advent of the virtuals".
Virtual meetings among various stakeholders, orientations, tour guiding services, skills training, seminar on hygiene, and virtual familiarization tours will now become part of the menu of services and activities under the new normal.
Other guests of the online forum were Dubai-based Erwin Narito, who is the chairman of International United Hoteliers of the Philippines, Inc. and duty manager of Holiday Inn Dubai; and Peter Tay, managing director, Boracay Adventures, Inc. and a member of the board of directors of the Tourism Congress of the Philippines. Tay was in Singapore during the online forum.
It was moderated by DZRJ broadcaster Barbie Atienza and co-moderated by Tourismo founder and CEO Michael Herrera. Atienza is also the president of United Print Media Group and external affairs head of the Manila Bulletin.
Herrera, on the other hand, established Tourismo as a platform designed to unify and synergize the travel and tourism industry.
The 1.5 hours forum has earned 77 shares and 9,305 views as of Sunday, May 31, 2020. It can be accessed through the link: https://www.facebook.com/tourismophapp/videos/1103913883328182/