"We are staying nearby a public market and so we sometimes buy food stuff and cook during our day-off," shared call center workers Kienth Floyd Martinez and Mercy Cadiz.
Classmates and friends from grade school up to college in the Province of Capiz, Martinez and Cadiz who migrated to Iloilo City to find a decent work are now sharing a rented apartment space. Both of them are currently employed in one of Iloilo's established company in the Business Processing Outsourcing (BPO) sector.
Their weekly grind is characterized by a 9-hour graveyard shift and a two-days day-off. They come in to work starting 3:00 A.M. and they are on the "floor" until 12:00 P.M. attending a variety of customers abroad who needed assistance.
"Our off hours from work falls on a lunchtime and so we either grab food that is convenient for us or we rush to our apartment to get some sleep and just take what food is available upon waking up late afternoon. We then hit the bed again," laughingly shared by the two early twenties.
Another colleague, Mary Grace Baranda, described that "there are days that are stressful and eating seems like an outlet to manage stressful episodes at the 'floor,' a BPO workers lingo to mean workspace."
The young workers admittedly have been enjoying each other's company and mostly over food – "fast food that is, especially on my case," emphasized Kienth Floyd who also confessed that he is impulsive when it comes to food and that his craving is mostly fastfood by known brands or on the street.
Drivers that influence food consumption
The food consumption of the young workers is governed by four major considerations: accessibility, affordability, convenience, and the last is nutritional benefits. "We cannot help but go for what is convenient and affordable," explained Cadiz who is carrying an 8-month baby, "considering that we lack the time to prepare for our food."
My food mindset is to go for inexpensive choices like a cup of rice and a slice of fried chicken. "Why go for the expensive when you can get the same set of food for less than P50.00?" quipped Martinez. I can get a cup of rice at P6.00 and a slice of fried chicken at 15.00 per piece on the street food vendor. Two packed rice and two slices of fried chicken is already less than P50.00, he illustrated.
Baranda, on the other hand, could still relish for homecooked food for she lives with her parents. "My mother cooks for us but on times that there are no cooked food, I go for the usual easy to cook food stuff like pancit canton," chuckled by the 23 year old.
"We missed that – homecooked food" Martinez and Cadiz pointed out for they too grew up with home cooking under the care of their mothers. They also recounted that they eat on time back then unlike today.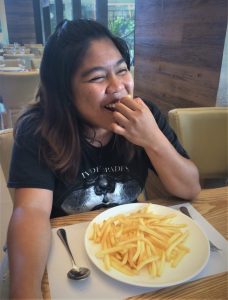 The three of them observed that their food consumption pattern began to change when they started working. Likewise they acknowledged that they are leading into an unhealthy direction each day for fastfood has become a mainstay in the menu and especially that they mostly preferred fried chicken, French fries, creamy beverages, and quick to cook foodies and microwavable items.
What about trans fats?
"I generally believe that foods which undergo frying are unhealthy," uttered Martinez earning a nod from Cadiz and Baranda as a gesture that they too agree on the point.
"While we munch on biscuits and bread with over the counter sandwich spread in between meals, fast food and processed foods are among the dominant items if we assess our food intake," shared Martinez.
The three young workers, however, confessed that they are not aware what are the ingredients that made up their preferred fried chicken or French fries which makes its taste the way they like it or what kitchen process it underwent to make it a little less greasy in texture and less oily on the tongue.
"We should be checking on, it but you know we are on a rush most of the time so we just buy them for they are convenient and it fills up on our need for food," they emphasized.
Unfortunately, the three young workers are unmindful of the fatty acids that characterizes their food choices. "I have seen saturated fats and trans fats in the nutritional facts of food containers that I purchase at the grocery store, but I am not knowledgeable what is it all about or if it is good or bad for health," Martinez explained.
According to Dr. Ranulfo Javelosa, Jr., there are three different kinds of fatty acids on our food: unsaturated fats, saturated fats, and trans fats.
A cardiovascular specialist from the Division of Preventive Cardiology of the Philippine Heart Center, Dr. Javelosa explained that fatty acids serves as building blocks of fat and essential fatty acids are needed by the human body and which can be acquired through food.
However, we need to have an understanding as to which one is good, bad, or ugly for the body, said Dr. Javelosa in his presentation "Understanding Cardiovascular Disease" during the workshop entitled: "The Truth About Trans Fat" for journalists and media practitioners.
Unsaturated fats, he explained, are good fats that can be found in nuts, vegetables and even avocado. This is a type of fats that can cause the lowering of calories.
"Saturated fats, on the other hand, are fats that are mostly found in animal products. It is highly recommended that consumption of this type of fats be reduced to ensure that a person remains healthy," urged Dr. Javelosa.
"But trans fats is a complex type. Its characteristic is typified by an unsaturated fats yet it also carry saturated fats with hydrogen, so it is categorized as partially saturated," pointed out Dr. Javelosa.
Trans fats is derived from a partially hydrogenated oil and many processed foods are made with trans fats, explained the American Heart and American Stroke Associations, yet many consumers are unaware of it.
Considering the nature of these fatty acids, Dr. Javelosa encourages Filipinos to include good fats in their diet while limit the consumption of foods with saturated fats and to keep foods with trans fats as low as possible.
Trans fats and the rise of cardio-vascular disease
Partially hydrogenated oils are the main source of industrially-produced trans fats. This ingredient is used in many food including margarine, vegetable shortening, fried foods and doughnuts. It can also be found on baked products like crackers, biscuits, and pies and pre-mixed food stuff like pancakes and hot chocolate mix.
What makes food consumption with trans fatty acid (TFAs) a global concern is the fact that annually an estimated of 540,000 deaths is being attributed to a non-optimal intake of TFAs revealed by the World Health Organization (WHO).
In 2016, WHO reported that there are 17.7 million people died from Cardio-Vascular Diseases (CVDs) or it accounts to 31 percent of all global deaths every year. CVDs is a number one killer, revealed WHO, and a key factor that elevates the risk of death by 34 percent is an increase of high trans fat intake.
In the Philippines, among the Top 10 causes of mortality is heart disease at 84.8 percent of all deaths.
Apparently, Iloilo City could not be far behind. Councilor Candice Magdalene Tupas who chairs the Committee on Health, Sanitation and Hospital Services of the City Council recognized that among the top common causes of morbidity and mortality is cardio-vascular disease.
"In my rounds in the communities, I have observed an increasing number of obesity among the population, not only on adults, but also among children," said Tupas who is a radiologist.
"What does it illustrate when obesity is high? It means our people are on risk for cardiovascular disease and on diabetes. Having been aware of the growing cases of CVDs, fighting the risk became a top priority on our legislative agenda and program interventions since 2017."
The Iloilo City government through the Committee on Health of the City Council has organized community health clubs on all barangays for constituents who are diabetic, hypertensive or with cardio-vascular disease.
Programs and support services reaches the constituents through these clubs which includes medicines when available. The City Government through the City Health Office has earmarked an annual budget of 300,000 for trainings of Barangay Health Workers because they are at the frontlines in the delivery of services and in implementing the programs.
Tupas revealed that cardio-vascular disease is a major focus and so the local government has set every Tuesday as a Cardio-Vascular Day Clinic in order to encourage constituents to have a check up at the Barangay Health Center.
It also passed an ordinance localizing the Philippine Package of Essential Non-Communicable Disease or the PhilPEN services. The Ordinance mandates all district health centers in the city to provide services such as: fasting blood sugar to detect diabetes mellitus; blood pressure screening to detect hypertension; visual acetic acid test for early detection of cervical cancer; routine breast examination; and digital rectal exam for early detection of prostate cancer.
The City Government, however, has yet to recognize the linkage of increased trans fats intake on the rise of CVDs. Councilor Tupas acknowledged that trans fats or its impact on public health is not a well discussed matter, much more so its linkage to rising cases of CVDs.
Bring trans fats to public consciousness
The young BPO workers: Kienth Floyd Martinez, Mercy Cadiz and Mary Grace Baranda lamented that they have zero knowledge about trans fats, or food that have trans fats, and the risk that it poses to human health.
Although they see trans fats on food container labels, there are no advisories that may help them make an informed decision about what food to buy or order as in the case on fastfood chains or restaurants. "The situation could even be worse when we buy, say, a fried chicken on the street because it is a norm that you just buy without asking much, much more so regarding trans fats," highlighted Martinez.
"It cannot be denied that the socio-medical nature of the issue could serve as an obstacle that can hinder public understanding about the use and presence of trans fats in our food," explained nutritionist Romulo Ferrer.
Currently, there are an estimated 26,000 workers in the BPO industry in Iloilo City according to the Iloilo Federation of Information Technology (IFIT). Majority are young or newly graduates and there are high school graduates who are likewise employed in various companies.
"Considering our working condition, we definitely need to see more advocacy materials that popularize the issue and probably push for better regulation on the part of the local government like bigger labeling on food containers or integrating information of food with trans fats on the menu book of restos," urged by the three young workers
"Food consumption, after all, is intended to prolong our life and not to cut short our lives when our families are depending on us," they said.
(This story was written by the writer under the '(Un)Covering Trans Fats Media Training and Fellowship Program' by Probe Media Foundation Inc. (PMFI) and ImagineLaw (IL). The views and opinions expressed in this piece are not necessarily those of PMFI and IL).