The Rosary Herbal Products is an entrepreneurial venture established in 2000 from the missionary and charity work of Ma. Tessie Pagay of Passi City.
Pagay developed what now has become the most trusted and reliable brand when it comes to herbal-based skin application and body liniment – "Balanyos," a common Hiligaynon term being used to describe "something to rub" to ease pain or tiredness.
A flagship product of Rosary Herbal Products, Balanyos comes from Pagay's original formulation which combined 15 different organic herbs. It was developed primarily from her profound understanding of the beneficial effects of plants and herbs as ingredients for healing being a chemist by background and having acquired extensive experience as a former Quality and Technical Assurance Officer of Metro Drug Laboratories.
The Balanyos embraces 20 years as a home use formulation concocted by Pagay to ease the various body pains experienced by her late father as a result of aging. After the family patriarch passed away as a centenarian at age 101-years old, Pagay formally developed the Balanyos as an enterprise.
Its 15 herbs ingredients include the following: Lonoc, Adgaw, Albotra, Bita, Alibhon, Cogon, Bangkal, Herba Artamesa, Tanglad, Labnog, Lagundi. Malawmaw, Eucalyptus, Kayumbal, and Luya. These ingredients are gathered from different sources and are brought to the two-storey laboratory in Brgy. Sablogon. The facility serves as the head office and processing plant for manual drying, cooking, packing, labeling, and storage of the products.
The area around the laboratory can also be considered as a herbal plant garden for it showcases various plants and herbs that have medicinal and natural healing components.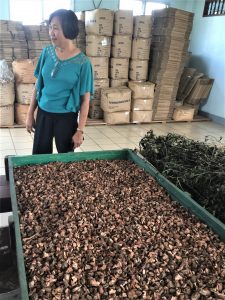 The Rosary Herbal Products are being marketed both locally and it has a sales office and factory outlet in Passi City. It is also being made available in specialty stores and commercial and grocery outlets in Iloilo City and in the neighboring provinces in Western Visayas.
Yet its effectiveness has spread through the word of mouth and from the testimonies of loyal users; thus, its market has expanded with customers in Cebu, Metro Manila, Pampanga, Baguio, Zamboanga and General Santos City, among other key cities in the country.
It is not only the market that has expanded for Rosary Herbal Products. Its research for product development allowed the company to produce a Passi Herbal Vaporub and RHP Herbal Oitment for Skin Diseases and external application. It has created a line of essential soaps like the Women Papaya Herbal Soap, Women Herbal Bath Soap, and Women Glutathione Soap. It also manufactures body lotions like the Nature Herbal Lotion and Qui Hand and Body Lotion with Moringa.
It also produces a nutritious brand of coffee drink and chocolate food supplement drink. Its best-selling product today is the RHP 8-in-1 Coffee and Herbs followed by RHP 8-in-1 Choco and Herbs which helps improve the immune system and enhances the performance of the mind and body.
The Rosary Herbal Products was established with a philosophy of producing herbal-based product that uses local resources for the benefit and development of the local community. It is registered with the Dept. of Trade and Industry (DTI) and has a license from the Food and Drug Administration of the Dept. of Health (DoH).
*This enterprise and product profile feature is a project of Panay Organic Producers Association (POPA) in November 2018.