In spite of the ongoing pandemic, San Miguel Corporation's (SMC) corporate social responsibility efforts continues. Its P1-B initiative to dredge the Tullahan-Tinajeros river system has yielded 2,150 truckloads of silt and garbage as of August 25.
The initiative, part of a wide-ranging plan to address flooding in Bulacan and many parts of Central Luzon, was launched in February together with the Department of Environment and Natural Resources (DENR) but only fully commenced in June after the enhanced community quarantine (ECQ) was eased.
"In just over two months, we have extracted close to 20,000 cubic meters of silt and garbage. That is equivalent to 2,150 truckloads of debris. We thank the DENR for its commitment to the initiative and for making this possible," said SMC president and chief operating officer Ramon S. Ang.
Ang said that the company has been removing 600 tons of solid waste on a daily basis that go to disposal sites designated and approved by the DENR.
"We're just starting with phase one of the project, covering a 5.25 km. stretch of river system from Navotas to Malabon City. We have a long way to go, but we are fully committed to this long-term project that will benefit so many people and our environment," he added.
He said other government units that continue to provide invaluable support to the initiative includes the Department of Public Works and Highways (PDWH), Department of Interior and Local Government (DILG), Metro Manila Development Authority (MMDA), and the local governments of Malabon and Navotas.
Larger objective
While the project aims to clean Tullahan as part the Manila Bay rehabilitation project, Ang said its larger objective is to form part of a much-larger initiative to solve perennial flooding problem in low-lying provinces, including, but not limited to, Bulacan.
The province is where SMC is set to build the country's largest and most modern world-class international airport. Groundbreaking is set October this year.
"We committed to the people of Bulacan that we would help solve flooding in their area. Dredging the Tullahan is a major component of our flood mitigation strategies. Essentially, it will clean up and deepen the river system, increasing its capacity to handle heavy rains and allowing for floodwaters to flow more freely and drain into to the Manila Bay," Ang said.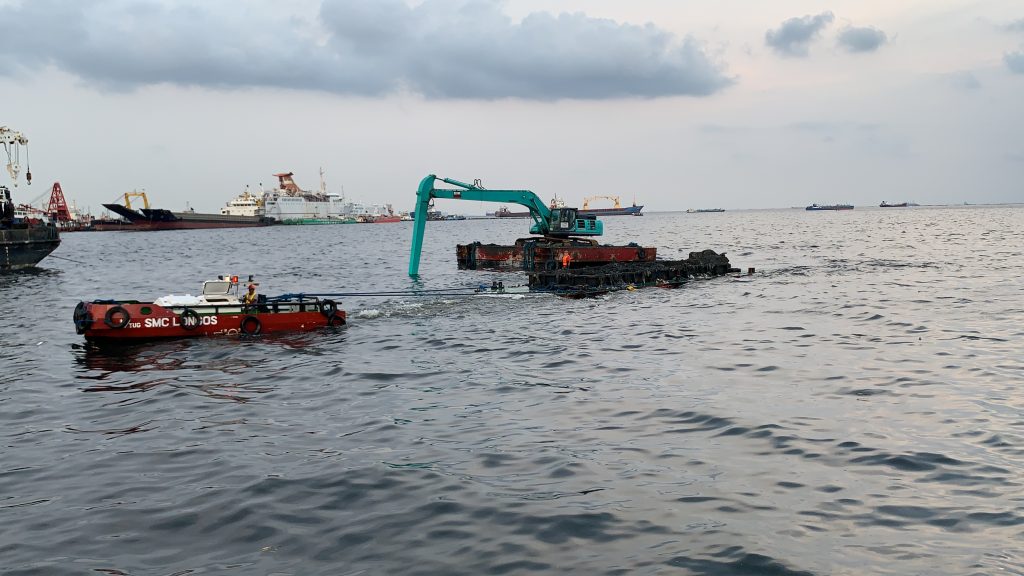 Ang also explained that the Tullahan River is also a spillway for water coming from Angat and Ipo Dams going to the Manila Bay; hence, the need to maintain its depth.
The first phase of the dredging is divided into five (5) sectors: Sector 1 from Manila Bay to Tonsuya Bridge; Sector 2 from Tonsuya Bridge to Lambingan Bridge; Sector 3 from Lambingan Bridge to Tinajeros Bridge; Sector 4 from Tinajeros Bridge to Tullahan Bridge, and Sector 5 from Tullahan Bridge up to Potrero.
Ang said that from these first five sectors alone, they expect to dredge a target volume of around 1 million cubic meters. To hasten dredging operations, SMC acquired larger excavators and a fleet of barges, tugboats, cranes, and dump trucks, specifically for the project.
Silt, debris, illegal structures causes flooding
Ang reported that accumulated silt and debris as well as illegal structures have reduced the Tullahan River's depth to only one to two meters in many areas, causing heavy floods in surrounding areas in recent years.
"Based on studies by the DPWH, we will need to deepen the river by five meters. Some parts have gone to as low as one to two meters. The accumulation of silt and trash that has caused this is also the primary reason for the heavy incidence of floods in the low-lying areas beside the river, including Bulacan province," Ang said.
Ang said that with the help of expert foreign consultants, the company was able to identify the rivers, creeks, tributaries, and bodies of water that are in need of cleaning, dredging, and widening to further address flooding in Bulacan.
"With the approval of the national government and the DENR, we hope to further expand the dredging and cleaning programs in many key rivers in the province of Bulacan," he said.
Long-term, sustainable solution
Ang also addressed claims made by groups opposing the airport's construction that it would "worsen" the flooding situation, "On the contrary, the airport project and its flood mitigation component will be the long-term and sustainable solution to the perennial flooding in Bulacan. It will not make sense for us to build an airport here if we do not address these issues. We will do everything to ensure this huge investment in our country will benefit millions of Filipinos and the country for many generations," Ang said.
Ang emphasized that there is no one solution to flooding, rather, it has to be a combination of many solutions.
Apart from the Tullahan cleanup, San Miguel also recently kicked off a massive mangrove planting initiative that will see 190,000 mangroves planted over 76 hectares of coastal lands in Bulacan and all over Central Luzon.
The pilot site in Hagonoy is currently being planted with 25,000 mangroves over a 10-hectare area. SMC is also planning to seed 100,000 mud crabs in the mangrove forest to help the mangroves grow and provide locals a new source of livelihood.
Ang expressed confidence that with the Tullahan river cleanup and continuous maintenance, time will come when the river system will again be conducive to marine and plant life. It may even be used as an alternative means of transport.
"Keeping the Tullahan river clean will involve a more conscious and coordinated effort among many stakeholders, including the local government units and residents. Under the strong leadership of President Duterte, I have no doubt that we can bring the revival of the Tullahan River and the long-term solution to the flooding problem into reality. "Ang said.