The ACM Landholdings unveiled the showroom that showcases two model residential units in a groundbreaking and launching ceremony of Salas Real, the newest residential development in Brgy. Tacas, Jaro, Iloilo City.
The model units, Angelina and Bernardita, are Asian-inspired and its doors were opened after the blessing in order for the public to tour around and take a look of how spacious, homey and functional every unit that will rise in the area.
The two model residential units also exhibits a good mix of the old functional concept in buildings houses and combining modern design with high consideration on the optimum use of spaces both from the outside, its surroundings, and to the interior.
The Angelina is complete with necessary home amenities as a two- story residential unit that sits on a 120 sq.m. lot with 79 sq.m. floor area. It is composed of a living room, dining area, kitchen, four bedrooms, two toilets and bath, an open terrace at the second floor and a carport.
The Bernardita, on the other hand, is also a two-story residential unit standing on a 166 sq.m. lot area and 56 sq.m. floor area. It has a living room, dining, three bedrooms and two toilets and bath.
The residential units are designed by Salas Real in reminiscent of the old Filipino "Bahay na Bato" which are heavily-influenced and with many of its features adopted from old Spanish houses.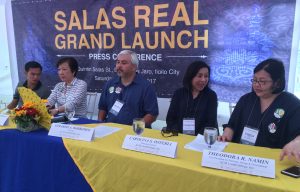 A key element in the development of Salas Real is building a peaceful community which promotes holistic lifestyle for families. It will be complete with necessary amenities like a clubhouse, playground and a basketball court. It will also have provision for open spaces for parks and gardens and will be integrated with a greenhouse, a unique characteristic only known as part of ACM community development in order for families to have an opportunity for an alternative activity and additional livelihood.
Salas Real is considered the first foray of ACM Landholdings in the Visayas as a land and real estate developer. ACM has built more than 20 villages and 12,000 homes for the past 25 years mostly in Batangas and Cavite area.
The primary market of Salas Real are the seafarers located in Iloilo especially that ACM is majority owned by Philippine Transmarine Carriers (PTC). The 13.5 hectare development is envisioned to build 500 good quality houses for the seafarers in recognition of their bravery and sacrifices and in response to their aspirations of providing peaceful and secured community as essential for a good quality life. (Archived News – January 31, 2017)