It was one early evening that can make one feel so good – you wanna do it again, not by your lonesome, but with Ken Lerona and the members of Iloilo Bloggers Society.
It was a meeting of "suckers" – yes, suckers regarding new information about Iloilo and what makes Iloilo – Iloilo, today and perhaps in the future. It is not peculiar for the Ilonggos to talk and discuss about Iloilo, I tell you they do talk about it and the topic is varied: from facts to gossips, from politics to social happenings, and from good food and dining places and its opposite.
A conversation with Ken was all that and more. Indeed, there is more to him than what his Facebook "about" section can describe. In fact, you won't find a good description there and because of that, you might develop an impression that somebody is after this guy. What you can do is to scan the photos section like a skilled chismoso (nevermind being a lazy reporter) so that you may be able to get hold of some description worth reporting.
Under a November 13, 2019 Facebook page post by Techtonic Summit, a 2019 Festival of Innovation dubbed as the Philippines' Largest Tech Conference, Ken Lerona acted as a moderator during a session called Quicktake: Transforming the Marketing Process. He was described as a Head of Marketing and Communications of Entrego.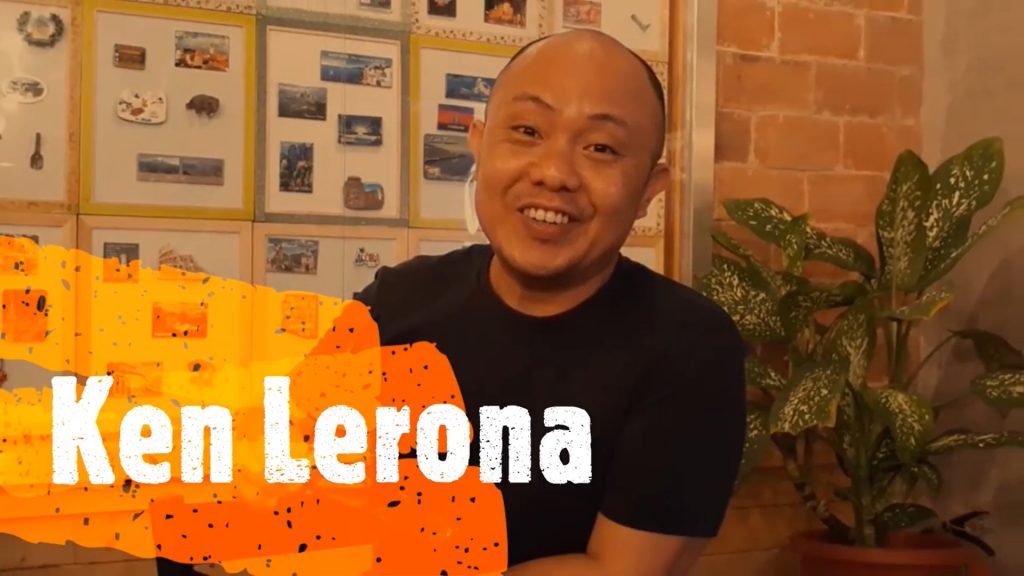 If you are reading this, I will leave it on your liberal judgement to investigate further what is Entrego or what was the Techtonic Summit all about and why an Ilonggo like Ken got involved in all of that.
I will not make an extra effort to reveal more of Ken Lerona. Although his love life, who is his crush, a first kiss or something, are also attractive topics and may be relevant to Ilonggo pop culture. The reason is simple: he treated us bigtime with Nachos and Pizza, and then we sliced a cake using a spoon at Nadej, located at the Megaworld Iloilo.
If you have a PR person who does that to you, you don't make any negative comments. We, bloggers, don't do that to our clients or potential clients. We swallow a paracetamol ahead of an impending fever or flu. But for us, that was what a cake was for, to mutually leave a sweet impression (Lol). This is the reason why we brushed aside a 4.8 magnitude jolting of Iloilo just minutes after the convo.
But mind you, while some of our colleagues admitted that they are bloggers and not journalists by discipline, some acted so natural, we barely noticed that they have posted reports of the tectonic shaking on their Facebook pages. As a result, their 'page likes' where growing exponentially in a matter of seconds. Unbelievable! That's what a cake can do to you when offered by Ken Lerona.
I invited Ken to share some writings on the IBS digital news platform, yet he responded that he was too busy most of the time. Unfortunately, however, he tagged me about his 6 paragraph quick write up regarding our convo which he posted on his Facebook timeline. Damn, it revealed a lot of our "off-the-record convo" (Hahaha, joke!).
But read below:
EARTHSHAKING. The earth literally shook last night right after this meeting. Looking back at the learnings of 2019 and looking forward to wins in 2020 with the Iloilo Bloggers Society. It was a fun and insightful conversation last night where we asked a lot of questions and gave our own observations on the digital marketspace in #Iloilo.
Iloilo might be attractive to the outside market but it is difficult to penetrate. Ilonggos are moneyed but they want bang for their buck. If you're an outsider brand, better know them well and build good relationship, otherwise your business shelf life will be shorter than that of a tsetse fly's.
When asked if Ilonggos are still kuripot (thrifty/cost-conscious), the answer was a resounding no. Ilonggos are willing to spend as long as your food is manamit (delicious), reasonably priced, your service is good, and there is a face and name that is attached to your brand name. Again, relationships matter to Ilonggos, especially in building and keeping a brand.
As for the digital versus legacy media, both are catching up with each other at fast pace. Digital players and bloggers are fast learning and adapting the high standard of journalistic practice. Legacy players are being run by digital media savvy managers and are fast in growing their online audience base. We are both media to meet somewhere soon and collaboration is imminent!
There is still a huge space for growth in digital marketing in Iloilo, both for homegrown and outside brands. There is a lot more need for convincing the local players to explore the use of social media to reach a wider audience — they're already comfortable with the offline following that they have throughout the decades of being present in the city and province of Iloilo.
As for PR and marketing, we see a wide space to grow here. The growth of the city and province is on the right track and this growth will definitely need these disciplines. (You know who to call when you need help on how to speak to the local market!)
That is Ken Lerona. Cheers to a friend of IBS!