Many travelers who has visited Iloilo City for a bowl of La Paz Batchoy will now have to come back in order to experience the "Deco's way." The newly-refurbished branch of Deco's La Paz Batchoy in the populous Valeria Street will allow you to witness how a delicious bowl is being prepared before it reaches your table.
In fact, it is best for you to occupy a seat at the counter for the set up is Ramen-style, something that is familiar among Asian diners.
The setting is an attraction by itself because it offers a firsthand experience of the process of batchoy, a delicious and sought after soup.
While the Ramen-style set-up appeared to be something new, the concept can be traced back to old Batchoy houses inside the La Paz Public Market where Deco's originated. It appears to be a revival and it brings a lot of nostalgia especially among LaPaznons.
Ilonggos and visitors to Iloilo City alike can enjoy a bowl of hot and steamy delicious Deco's La Paz Batchoy in a convenient yet clean environment which characterizes the three branches of Deco's – Robinson's Iloilo, Robinson's Jaro and the newly-renovated Valeria Branch at the ground floor of La Salette Building, beside SM Delgado.
This is the second branch of Deco's La Paz Batchoy with walls that depict Ilonggo heritage and culture; hence, selfie-worthy and instagrammable to say the least.
Magalona SB Alliance is the licensed operator and the group behind the keen transformation of Deco's La Paz Batchoy. It revolutionized the look of a batchoyan in Iloilo by making it more exciting and safe for guests considering that the metropolis has become a preferred venue for Meetings, Incentives, Conferences and Exhibitions (MICE) events.
In spite of modernization, Deco's La Paz Batchoy has preserved the traditional way of preparing the old-time favorite dish, shared Marichel Magalona, president of Magalona SB Alliance.
"We continue to prepare our soup in the same manner that it was done when it was created by Federico Guillergan Sr. before the 2nd World War broke out. This is how Ilonggos love their batchoy, and to this day we continue to please their palate," said Magalona.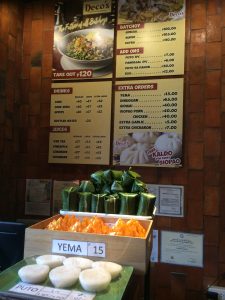 Deco's offerings include Special Batchoy, Super Batchoy, and Extra Batchoy. One may choose among egg noodles, miswa and bihon. The ingredients includes a hot clear soup of boiled bone marrow, meat (pork or beef), liver, local shrimp paste (or called guinamos), chicharron, and garlic.
Deco's also has other dish selection like Diniguan, Siopao, Siomai, Pandesal and Puto.
For updates, follow them on social media.
Facebook: Deco's La Paz Batchoy https://www.facebook.com/decos.lapaz.batchoy.official/
Instagram: @decosbatchoy