KBP is 48 years old today and it marks its founding anniversary with a virtual forum.
The Kapisanan ng mga Broadkaster ng Pilipinas (KBP) celebrates its founding anniversary which also falls on a Broadcaster's Month with a virtual forum together with the U.P. Department of Broadcast Communication.
The Virtual Forum on Philippine Broadcasting is TODAY April 27, 2021 starting 10:00 A.M. through Zoom. It is entitled: "How Technology Innovations and the Pandemic are Transforming Broadcast Media".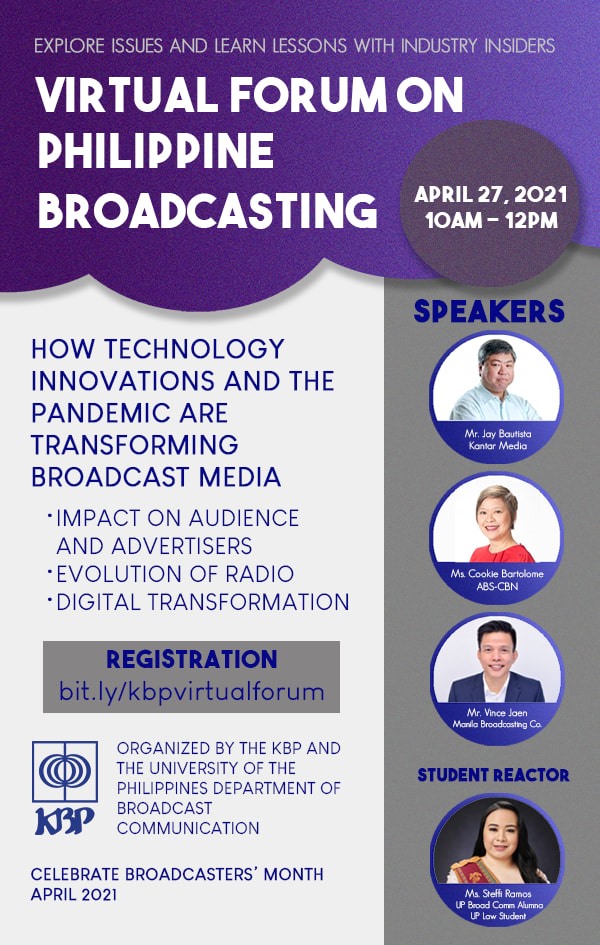 The forum will focus on the impact of recent issues and trends on audiences and advertisers, the evolution of terrestrial radio and the digital transformation of broadcasting.
Featured speakers are: Ms. Cookie Bartolome of ABS-CBN, Mr. Vince Jaen of Manila Broadcasting Company anf Mr. Jay Bautista of Kantar. Ms. Steffi Eunice Ramos, a student of the U.P. College of Law and graduate of the Department of Broadcast Communication will serve as student-reactor.
The forum is free and open to students and faculty, broadcast managers and practitioners and representatives from the advertising industry.
You can register here: bit.ly/kbpvirtualforum
KBP is 48 years old
The Kapisanan ng mga Brodkaster ng Pilipinas (KBP) is a non-government, non-profit organization of the broadcast media in the Philippines. Its aims include the promotion of an independent and free broadcast media, responsible broadcasting, enhanced public service by broadcasters, advancement of innovation in broadcasting, and the development of Philippine broadcasting.
The KBP was organized on April 27, 1973, initially with 19 members but grew within a few months to include practically all radio and television broadcast stations in the country at that time. Martial law had just been declared before the KBP was organized. In view of this, the KBP worked with the Broadcast Media Council (BMC), a self-regulatory council appointed by the government for the broadcast industry, in formulating and implementing policies for the development of Philippine broadcast media.
After the lifting of martial law, the Broadcast Media Council was dissolved and the KBP, as a private association of broadcast operators, established its own system of self-regulation and standards for radio and television stations in the country.
The KBP represents the interests of the broadcast media in advancing the cause of a free and responsible broadcast media and helping its members maintain a relevant role in Philippine society in the 21st century.
*from https://www.kbp.org.ph/about-kbp