Iloilo is home to a beautiful craft of hand-loom weaving where it has centuries old history. Traditional weaving has been brought down from generation to generation in the local towns and is a long-established livelihood especially for women in the community.
The towns of Miagao, Badiangan, Oton, Duenas, and Igbaras has always been known for their high quality of its hand-loom textile products. Strong raw material base such as cotton and polyester and with its core competencies in producing woven fabric and value added textiles; the future potential to market these products at the global level looks very promising.
With the aim of preserving our hand-loom weaving as a cultural heritage and promoting it as a sustainable weaving industry for Iloilo, the Provincial Culture, Arts, History, and Tourism Office and SM City Iloilo will celebrate the 15th Indigenous Fiber Fashion Fair on August 22-28, 2022 at the North Point Event Center.
The annual event is an exclusive fabric promotion, networking and business opportunity for the local textile industry to showcase hand-loom fabric, apparels, fabric fashion accessories and more. And here, hand-woven fabrics from weaving towns of the province will be showcased.
Previous event: 5 young Ilonggo designers to be featured in 14th Indigenous Fiber Fashion Fair
There is a huge hand-loomed fabric lifestyle option that many Ilonggos need to know about. The event is our way of expanding Ilonggo's horizons and showing that their money can count to make a difference by helping to support sustainable livelihood.
Discover the beautiful hand-loom weavings up close and witness the designs in action for the week-long celebration. The event is a potential incubator for re-introducing and re-educating the Ilonggos of our local fabrics as a source of raw materials in the local and national textile industry.
To celebrate the vibrancy and dynamism of our hand-loom weaving, series of fashion shows will be produced to feature the latest creations done by local designers.
The 15th Indigenous Fiber Fashion Fair schedule is as follows:
August 26 (Friday) at 5:30 p.m. – noted local fashion designers namely Jun-g Candelario, Ruffy Itaas, and Sai Barcenas will open the Fiber Fashion Show
August 27 (Saturday) at 5:30 p.m. will showcase Jeff Ticao, and Otet Patrimonio. They will be joined by five promising student designers from the BS Fashion Design and Merchandising of the Fashion and Wellness Department – ISAT University namely Kyb Buenafe, Cristine Cambel, Curt Gerard Copia, Earl Jabonillo, and Jose Nacionales.
August 28 (Sunday) at 5:30 p.m. will be highlighted by John Montinola, Ravi Domingo and Daryl Amar.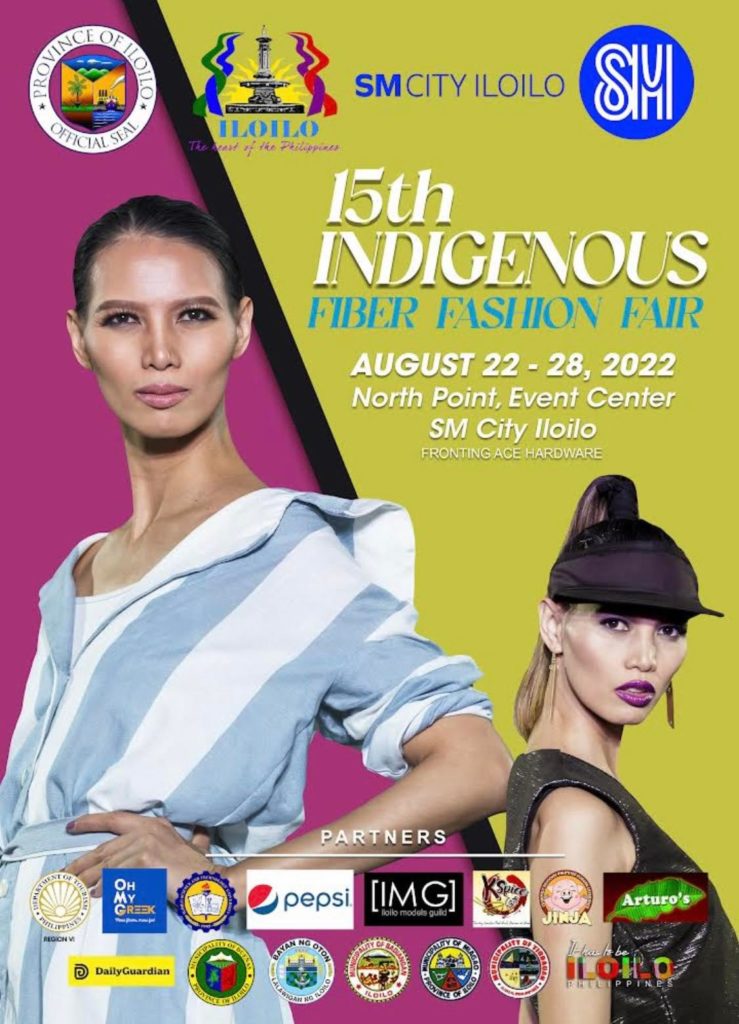 The 15th Indigenous Fiber Fashion Fair is also brought to you by ISAT University, Pepsi Cola Philippines Inc., Iloilo Models Guild (IMG), Jinja Korean Resto, K Spice Resto, Oh My Greek, Arturo's, the municipalities of Miagao, Oton, Badiangan, Tigbauan, and Duenas, and the Daily Guardian.
= = =
The text and photos of this news material is by Bombette Golez Marin.