The Ilonggos Against Terrorism Act (IMATA), a multisectoral group composed of various organizations and individual professionals has organized an online forum for August 29, 2020 via Zoom to commemorate this year's National Heroes Day. The forum will start at 1:00 P.M.
The 2-hour National Heroes Day online forum is themed in Hiligaynon: "Demokrasya kag Kahilwayan Tindogan! Angay sang mga Baganihan sa Kasaysayan."
Among the resource persons are De La Salle University College of Law Dean Chel Diokno, Senator Francis Pangilinan, former Magdalo representative Gary Alejano, and Monsignor Meliton Oso of the Jaro Archdiocesan Social Action Center.
Diokno will discuss about Charter Change while Sen. Pangilinan will provide updates of the current legislations including the one on Covid-19 response. Alejano, on the other hand, will present the current Anti-Terror Law and Monsignor Oso on Death Penalty.
The online forum is open to the public and it will also be accessible through the Facebook page of IMATA at https://www.facebook.com/PamatokanTerrorAct/
The forum will likewise have a set of panel of reactors from different sectors, namely: Iloilo Board Member Jason Gonzales (governance); Boyet Areno (civil society); Elmer Forro (social movements); Melvin Purzuelo (environment and climate change movement); Josh Serilo (youth), and Dr. Kristin Trenas (professionals and health sector).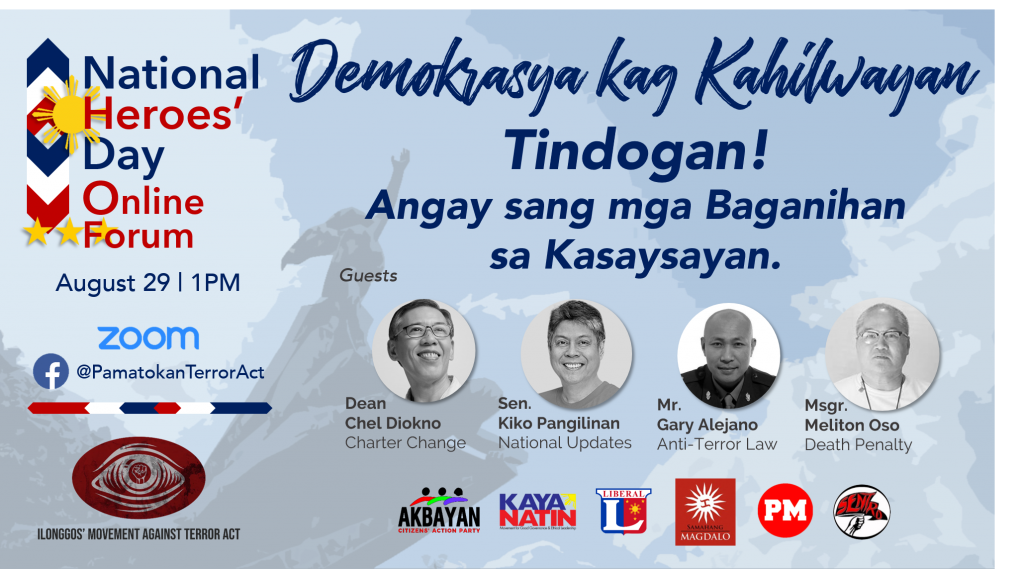 According to IMATA, "the gains that we now enjoy like freedom and democracy were fought for with blood and life of our heroes like Jose Rizal, Andres Bonifacio, Gabriela Silang, Teresa Magbanua, and the WWII guerillas and veterans."
"Much recent in our history are the Filipino youth who fought against the Marcos dictatorship in what was dubbed as the First Quarter Storm of the 70s. This was followed by the martyrdom of Ninoy Aquino and which immortalized by the peaceful EDSA People Power Revolt in the 80s," it added.
"Many fights followed suit which brought down elected leaders and installed new ones in the 90s and 2000s," it further underscored.
"Fast forward today," IMATA stressed, "the hard-fought freedoms by our heroes and modern day martyrs are disregarded by the present administration by asserting a 16-million vote mandate to legitimize many anti-people actions. This is made clearer by new laws, policies, and ordinances and manifested by the manner that the Covid-19 pandemic is being (mis)managed."
"We believe that there is a need to find a sense from all of these and to remember the struggles that our heroes and martyrs went through for us to enjoy the freedom that we have today. The National Heroes Day is a fitting remembrance if only to inspire us to become more vigilant of our freedom and to exercise active citizenship," the group highlighted.
The National Heroes Day is a regular holiday in the Philippines and it is commemorated every last Monday of August. This year, it falls on August 31.