Ilonggo tenor Otoniel Gonzaga tribute will bring to close the series of intimate concerts by the impressario Pablo Tariman at the historic Nelly's Garden in Iloilo City on December 7.
The Ilonggo tenor is the first Filipino to sing Verdi's Otello, wrote Tariman on a string of social media posts, articles on newspapers, and blog entry at https://artsnewsservice.wordpress.com/.
A night of fine music was brought by the impresario to Iloilo City starting with the world-acclaimed pianist Cecile Licad in November 29, 2018. It was followed by cello prodigy Damodar Das Castillo in tandem with pianist Dingdong Fiel last August 17.
All of these concerts brought the Ilonggo audience on a sentimental journey back to its jaded cultural past as manifested by their warm reception of the artists and the event and manifested by the applause and standing ovation that the concerts have earned.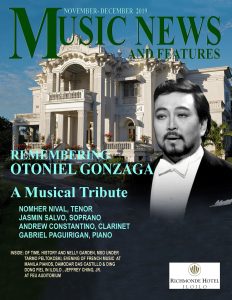 The December 7 concert is significant for it will conclude Pablo Tariman's lifelong engagement of reintroducing classical music to a new generation of audiences and by bringing fine music on the ears of those who are familiar with a sonata or symphony pieces.
The Evening of Opera at the Nelly's Garden is dubbed by the impresario as the "Vocal Event of the Year in Iloilo City". The concert is meaningful for the Ilonggos for it pays a fitting tribute to Otoniel Gonzaga, a much-revered musical performer and artist of his time.
According to Tariman, Gonzaga received his training at the Curtis Institute of Music under the tutelage of English tenor Richard Lewis and American soprano Margaret Harshaw and later from Prof. John Lester.
It can be recalled that while in Curtis, Gonzaga won first prize in the Marian Anderson International Singing Competition in Philadelphia, wrote Tariman on his blog piece, entitled: "Of Time, History and the Ilonggo Artists." It is during this period that Serkin heard Gonzaga in a rehearsal of Cosi fan tutte and commented, "Most singers sing loudly but I like the way Gonzaga sing because he sings musically."
Gonzaga appeared in more than 45 opera houses in Germany including Berlin, Cologne, Dusseldorf, Hamburg, Hannover, Munich, Frankfurt and Stuttgart. He made his last performance with the Philippine Philharmonic Orchestra in 2006 at the Philamlife Theater in Manila.
The Evening of Opera at the Nelly's Garden will feature the performance of tenor Nomher Nival, soprano Jasmin Salvo, clarinetist Andrew Constantino, and pianist Gabriel Paguirigan.
Nival is a winner of the National Music Competitions for Young Artist, said Tariman in his article that appeared at Lifestyle.INQ of the Philippine Daily Inquirer, and he got his first taste of foreign judges and audiences in the Marcello Giordani International Vocal Competition in Florida, United States, where he received the Tommy Steyer Encouragement Award.
On the other hand, "Salvo—a prizewinner in the non-professional category of the International Voice Competition in Singapore—was last heard in Iloilo City as the opera singer in the hit Broadway play, "M. Butterfly" while clarinetist Constantino just finished his stint with the Asian Youth Orchestra," added Tariman.
What the impresario has prepared for you
Below is program for the Ilonggo audience that Pablo Tariman has prepared.
The Lord's Prayer Malotte
Recondita armonia (Tosca) Puccini
Nomher Nival, tenor
Un bel di (from Madama Butterfly) Puccini
Ebben! Ne Andro Lontana (from La Wally) Catalani
Jasmin Salvo, soprano
La Traviata Fantaisie Verdi- Arr.Mayeur, Louis Adolphe
Andrew Constantino, clarinet
Intermission
Duet from Rigoletto Verdi
Nomher Nival, tenor
Jasmin Salvo, soprano
Rigoletto Fantaisie Brillante, Op.123 Verdi (Arr. (Dumon, Jean-François)
Andrew Constantino, clarinet
Musica proibita Gastaldon
Nessun Dorma (Turandot) Puccini
Nomher Nival, tenor
Gabriel Allan Ferros Paguirigan, piano
Advisory to attendees
The tickets are invitational and the car pass is limited considering that the Nelly's Garden only allows a maximum of 20 vehicles in the compound. The ticket and pass will be available starting Monday, November 18, 2019.
For reservation and arrangement for tickets, you may contact mobile no. 0917-575-8040 c/o FitStop Tours or 0906-510-4270 or E-mail to: artsnewsservice@gmail.com
*Photo credit: https://www.google.com/