The Iloilo Museum of Contemporary Art marked its first year anniversary last March by unveiling an all-female artworks for the Adoracion Valencia Gallery.
All of the works on display were taken from the rich collection of finance honcho Edwin Valencia, the museum's main benefactor and whose mother – Adoracion – is honored as the namesake of the Third Floor gallery.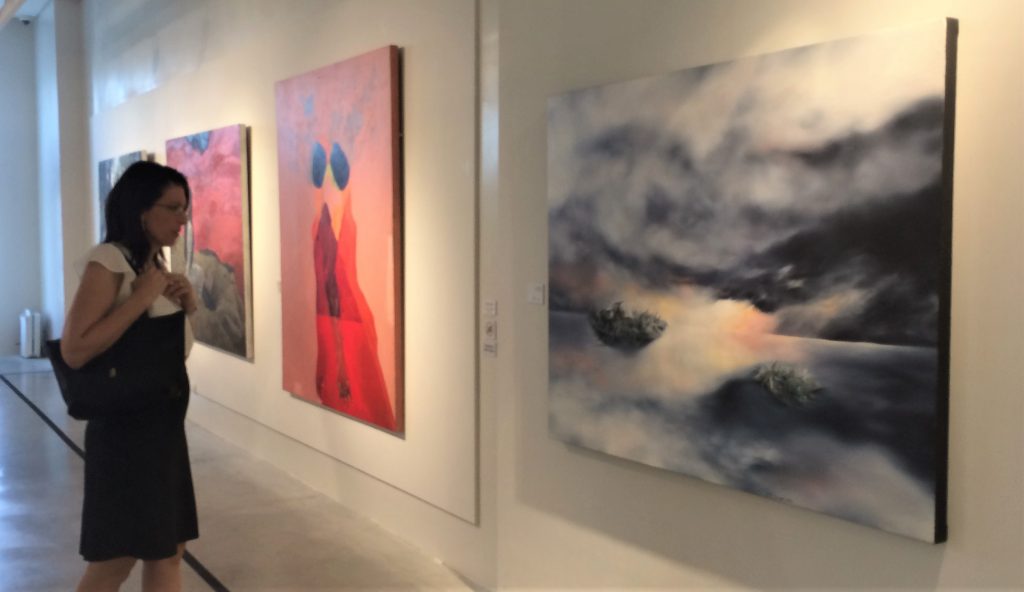 The hanging of an all-female art collection on the walls of the permanent gallery certainly added a dimension, meaning, and significance on this year's Women's Month celebration across the metropolis with a theme that said "We make change work for women."
Varied female masterpieces
Varied female masterpieces
The show is a well-deserve dedication on the country's female artists especially that majority of the works on display at the lower level galleries were done by male artists.
The exhibition cycle offers a visual feast and a learning delight on the different mediums, materials, approaches, and strokes by artists who used various sizes to accentuate a theme, convey a message or highlight a statement.
The selection offers a rare opportunity for Ilonggos and visitors to Iloilo to get a closer look on earlier works and recent masterpieces of known and respected contemporary female artists like Anita Magsaysay-Ho, Brenda Fajardo, Araceli Dans, Lydia Velasco, Moreen Austria, Ofelia Gelvezon Tiqui , and Nelfa Querubin, among others.
Balanced and Cohesive
Unlike the first series which featured around 70 pieces, the new set is comprised of 37 artworks inviting a more relaxed mood and granting the audience an unhurried rhythm in viewing the art pieces.
The floor plan and arrangement of artworks was patterned to give a balance and attain unity as such the over-all presentation is more cohesive," museum officer Allyn May Canja told In The Frame.
By following the principle of balance, the less crowded set-up offered viewers more time to have a one-on-one encounter with each of the pieces that are on display and learn more about the artists who made them.
Among the artists whose works are featured are: Ambie Abaño, Norma Belleza, Jovan Benito, Malyn Bonayog, Chati Coronel, Marina Cruz, Olivia d'Aboville, Lanelle Abueva-Fernando, Lyra Garcellano, Sarah Geneblazo, Geraldine Javier, Aileen Lanuza, Michelle Hollanes-Lua, Kat Malazarte, Suzette Bernardo-Montelibano, Yasmin Sison, Clairelynn Uy, Liv Vinluan, Janice Liuson-Young, and Lisa de Leon- Zayco.
Iloilo is experiencing a upsurge on art engagement in the last three years and women artists has definitely occupied the frontline in pushing for a regional development on arts and culture. Women's art have noticeably gained much attention especially with the emergence of young female artists who are courageous to show works ranging from experimentations up to award-winning pieces and to deal with subjects that affects the lives of women today.
While it is the first for ILOMOCA to feature an all-female works, it will certainly not going to be the last.
*This is an archived article which appeared at In The Frame section of the Iloilo Metropolitan Times in April 2019.