Frances Aimee Tiu could have stayed in California and pursued a career in Hospitality Management, a course she completed from De La Salle-College of St. Benilde. The family business, however, offered Frances the opportunity to apply what she learned from school. She is now the general manager of Waterworld Iloilo.
Handover of business from the "olds" to the young generation in the family is nothing new to us. In Iloilo City alone, continuity is not a new game and we see the young generation take over the cudgels of running the business.
The Tiu family is no exception. We see its businesses gradually flourished with time and guided by the family patriarch Felix Tiu alongside wife Bernadette.
The children of Felix and Bernadette may not have been seen in the frontlines of the business by the public, but they are all hands-on and are deeply involved. They handle major responsibilities in the family business, which ranges from trading, production, micro-finance, real estate development, travel and tourism, and hotels.
The person in charge
A welcome addition to the Eon Group of Companies by the Tiu family is the Waterworld Iloilo which they opened in December 2016. Constructed within the Eon Centennial Resort Hotel complex in Alta Tiera Village in Jaro, the waterpark is the first in the Visayas and also boast as the first to have integrated solar energy for its power requirement.
"We set up the Waterworld to offer a new experience to the Ilonggos and visitors to Iloilo," said Felix Tiu, chairman of the Eon Group of Companies, during the opening program.
It is also the first for the family to venture in a waterpark and it was conceptualized to offer recreational activities that the entire family can participate and enjoy. It was also intended to offer another attraction for Ilonggos and visitors alike and one that will allow them to say that "you haven't been to Iloilo if you have not been to Waterworld," added Felix Tiu.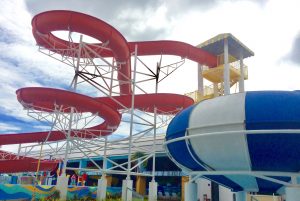 Attended by invited guests from local leaders in politics, business, friends, and relatives, Tiu introduced her daughter Frances Aimee as the one who will take charge of its management and operations.
"The Waterworld will be managed by my daughter Frances and she has all our trust and support," announced Felix in his welcome message.
What the new generation brings to the conglomerate
The youngest in the family of four, Frances Aimee Tiu had laid her hands in many different aspects of the family business, yet "managing the Waterworld is my first major responsibility," she intoned "and what I carry into the management comes both from knowledge and experience."
Frances' core interest in business evolves around hospitality industry and culinary arts. "This is my passion and I wanted to learn the science behind it," she explained. This is the reason why she completed Hospitality Management and then took up specialized study in culinary arts at the American Hospitality Academy in Makati after her graduation.
Although she didn't right away build a career after graduation, her travel to the United State helped shape her plan to pursue a working career abroad.
"I had my mind set to stay in California after I started working for a Filipino resto at Chino Hills," she shared, "but my plans soon changed after my short vacation back in the Philippines."
Her dad offered her to handle the food and resto operations of the Eon Centennial Hotel and she stayed and tried her hand by improving the hotel resto from kitchen operations and training of staff and she reinvented the menu list.
"I applied my knowledge in culinary arts by experimenting on fusion – food prepared from different culinary traditions. Fusion was not yet the 'in thing' then and we tried to offer it," quipped Frances.
Sooner she realized that the Ilonggos find fusion too sophisticated and quite ahead of its time considering the Ilonggo palate and food preference.
They innovated by again developing something closer to the hearts of the Ilonggos and put up Merkado Seafood Restaurant. They constructed the restaurant on a family owned space across the Tagbak Transport Terminal in Tabuc Suba, Jaro.
"The place was huge for a resto yet we again developed it with a concept similar to existing ones like the Dampa in Manila, Sutukil in Cebu or Pala-Pala in Bacolod," shared Frances, "and it was a hit at the start because it carries a menu that Ilonggos are so fond of 'lutong bahay' – food prepared from fresh ingredients and served steaming hot."
The Merkado Seafood Restaurant, however, also did not stay long after fresh seafood supply got affected by the impact of Super Typhoon Yolanda that hit Panay Island in November 2013.
Mixing old and new perspectives
For Frances, keeping the family business means having to attain a good balance between old business principles and new ideas. She believes that the old ways of doing business remains relevant while new knowledge can help the business keep up with growing demand of the changing times.
"I do things my way and I can be impulsive," laughs Frances, "because seriously I want to be decisive and act fast. But the old ways of doing things are more deliberate especially in processing decisions with consideration to costs and return on investments, but without necessarily compromising quality."
Frances learned from her dad the value of employing 'calculated risk' in weighing decisions. It simply means not necessarily putting all your eggs in one basket, but making a kind of decision that will enable the business to optimize returns.
Young, pretty and aggressive that she is; Frances smiled while emphasizing her management style saying: "When I need something, like equipment in the kitchen, I want to buy it right away and the best brand no matter what the price tag, because for me, it makes production efficient and it can improve the quality of service."
Later did Frances realized that she likewise needed to do the math, like what all young entrepreneurs does with their businesses; checking the cost down to the detail and computing how she will be able to regain the investment.
This is what makes our dad important for he has embraced the realities of running the business by learning it the hard way – from experience; as such, he always reminds us of the value of frugality. "Although I'm a sort of hardheaded businessperson, I learned a lot from him," she smiled.
Making calculated risk and exercising frugality has become a core value of Frances in business. These are characteristics which reinforces her own knowledge and skills in hospitality management and culinary arts, and by accepting the fact that not everything that she needs to make business succeed are taught in school.
Shared knowledge brings better service
Just like any young blood to the family business, Frances aims to bring the quality of service to a higher level.
What Frances introduce on this part of the family business are the principles and elements that she learned from school and that are relevant and applicable to improve its operations.
"I am working slowly to professionalize our operations starting from the attitude of our personnel, customer relations, up to management and operations system, in order to raise the standard of our service," expressed Frances.
Although Waterworld is still new, Frances has faced both praises and criticisms that tested her leadership and management.
"I am grounded from the reality that we are likewise new in the waterpark business and as the general manager I have anticipated which among the areas might create problems and we addressed it beforehand," told Frances, "but there were many other factors that came into play when we opened Waterworld. So we devoted regular time to inspect all the details and assess the operations by running the system again and again."
Frances personally checks everything from water quality, facility and equipment, and preparedness of every personnel to ensure that everything is on tip-top shape and that safety of customers will not be compromised. "Sometimes immediate feedbacks from customers are valuable because we can right away respond and act on it" said Frances.
Receiving praise and flak are considered by Frances as part of the dynamism in doing business considering the nature of their business which provides service to the people. This kind of business has high interaction between management and customers.
The new generation
All of the Tiu siblings are involved in a specific business which forms the Eon Group's conglomerate.
"All of us in the family employ both what we have learned from school and from experience that we have gathered along the way. But more importantly, we learned a lot from our parents. There are valuable lessons that only your parents can teach you especially in handling the business the proper way," said Frances.
Like any other family business, Frances recognized that debates are part of the process in making decisions. She emphasized the need to have a balance in listening and speaking skills because decisions are important for the company.
Frances also emphasized that managing the business requires leadership. "Running a business is not all about profit. There are many aspects that you need to consider and one needs to be mindful that there are a lot of people who depend on your leadership," she shared.
By keeping up with the family tradition and introducing new ideas in doing business, Frances Aimee Tiu can be considered among the league of young and educated business leaders who are capable of bringing their family businesses to new heights.
Handing over learnings while pumping in new knowledge to the veins of established businesses might perhaps serve as the secret why old businesses endure even with the changing times.
*The feature story was first published by Iloilo Metropolitan Times in June 2017. Photo from google.com