ILOILO CITY, Philippines – Ford Philippines is bringing back its Driving Skills for Life (DSFL) program in Iloilo City with an aim to educate more vehicle owner about safe driving and how to become a more responsible road user.
Now on its second year in Iloilo, the DSFL program will introduce three training sessions on October 29, 2019 at the Iloilo Convention Center located at the Megaworld township in Mandurriao, Iloilo City.
Also read https://peoplesdomain.net/ford-to-introduce-safe-driving-solution-program-to-iloilo/
Ford first launched the DSFL program to the Iloilo market last year and it facilitated the training of around 500 private and public utility drivers, student drivers, and traffic and road management personnel.
The first leg of the training enabled participants to learn the benefits of smart, safe, and fuel-efficient driving. It also allowed them to acquire the kind of driving skills  that will help them minimize causing traffic congestion and road crash and form attitudes that reduce altercations with other drivers on the road.
This year Ford intends to reach out to more drivers in order to help instill the importance of road safety – either as a driver or as part of the commuting public. Hence, for the second run, Ford is looking forward to have a partnership with companies who are operating taxi, bus and transport network vehicle services (TNVS) and combining it with traffic management bureaus and colleges and universities within Iloilo.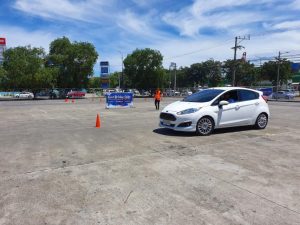 In addition, Ford will also reach out to vehicle stakeholders like call center workers, dealers and car clubs so that they can participate or be trained under the DSFL program and become road safety advocates.
Among the topics that can be learned from the DSFL program are the following: updated road statistics, relevant regulatory policies like the Child Safety in Motor Vehicles Act (RA 11229), implications of distracted driving and drunk driving, proper vehicle handling, and some important tips and techniques in driving under special conditions.
See https://peoplesdomain.net/flooded-roads-ford-can-go-further/
The DSFL program utilizes a combined learning method with lecture and actual practice. A participant will undergo classroom training and learn from lectures from modules which tackles topics ranging from vehicle handling, driving in special conditions, anti-distracted driving, and fuel-efficient driving. A participant will then experience hands-on driving simulation that allows drivers to apply what they have learned from the lectures.
The program is offered to participating drivers for free.
Flagship CSR program of Ford
"One of our commitments at Ford is to help promote and improve road safety in the country. Our aim every year is to increase driver safety awareness with the DSFL, practicing the proper skills required of anybody who gets behind the wheel and ensuring that drivers and their passengers get to their destinations safely all the time," shared EJ Francisco, AVP, Communications, Ford Philippines.
Driving Skills for Life was established in the United States in 2003 by Ford Motor Company Fund, the U.S. Governors Highway Safety Association, and a panel of safety experts in order to teach newly licensed drivers with the necessary skills for safe driving beyond what is learned in standard driver education programs.
The DSFL brings to life Ford's long-standing advocacy and promotion of road safety  and it is considered as one of the biggest global Corporate Social Responsibility program of the global auto company.
In the Philippines, the DSFL was introduced in 2008 and it has successfully trained over 23,000 Filipino drivers. The program has become even more relevant considering the development of the automotive market in the country and the transformations of the auto industry brought about by new infrastructures and the passage of new policies and regulations.
The DSFL is an initiative which earned the recognition of the United Nations and it has been a consistent recipient of awards from different award giving bodies in the country. Early this year, it bagged a Gold Award in the road safety category of the 3rd Driven to Serve Awards of the Society of Philippine Motoring Journalists (SPMJ).
For more information on Ford Driving Skills for Life, visit Ford Philippines' Facebook page or send an e-mail to fgpcomms@ford.com.