Cultivating green consumerism is what we need to learn and soon!
The Philippine Center for Environmental Protection and Sustainable Development, Inc. (PCEPSDI) will help you transform to a green consumer through a virtual learning event, titled: Cultivating Green Consumerism Through Sustainable Practices in a Fast-Paced Society. It be on September 8, 2021 (Wednesday) from 1:30 to 5:00 P.M.
The whole afternoon webinar will have 100 participants. The learning event will also be posted live via PCEPSDI's Facebook Page.
Register through the link here: https://bit.ly/GreenConsumerismREG.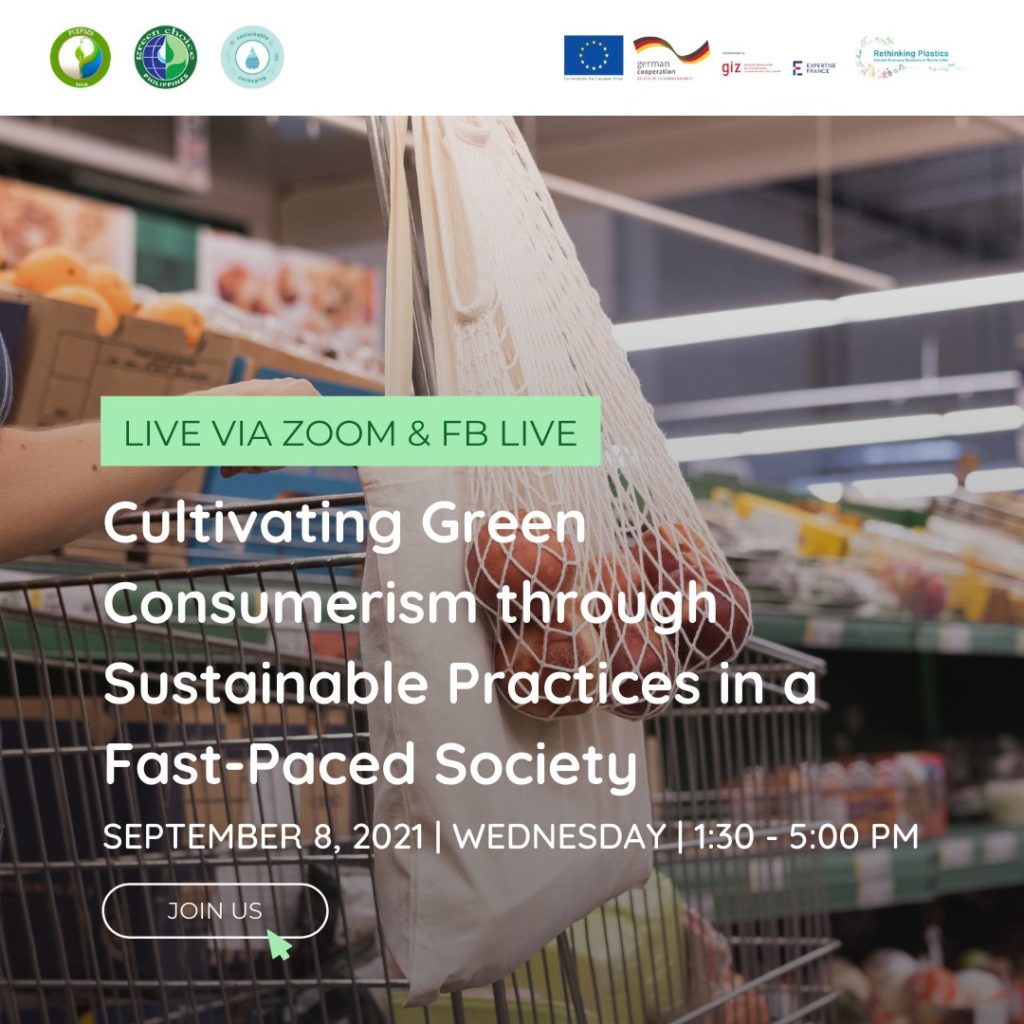 Quick look at sustainable consumption

The concept of sustainable consumption and production (SCP) has mainstreamed progressively in the Philippines with many Filipinos getting more conscious of sustainability practices.
The United Nations Environment Programme (UNEP) defined SCP as "the use of services and related products, which respond to basic needs and bring a better quality of life while minimizing the use of natural resources and toxic materials as well as the emissions of waste and pollutants over the life cycle of the service or product so as not to jeopardize the needs of future generations".
The SCP serves as an important tool to advance the effort of combating environmental degradation especially for the business sector.
A "green consumer," described Mousumi Roy, "is someone who is aware of his or her obligation to protect the environment by selectively purchasing green products or services."
Hence, "a green consumer tries to maintain a healthy and safe lifestyle without endangering the sustainability of the planet and the future of mankind," added Roy.
About the Project

The webinar by PCEPSDI is under the project: "Development of Voluntary Guidelines on Sustainable Packaging Towards Reduction of Marine Litter and Promoting Packaging from Alternative Materials Through Market Based Approach".
In short the project is called "Sustainable Packaging toward Marine Litter Reduction" – it aims to reduce marine litter by promoting packaging for reuse and from alternative materials using market-based instruments.
The project is a component of a larger effort of the European Union and the German Federal Ministry for Economic Cooperation and Development (BMZ) titled: 'Rethinking Plastics – Circular Economy Solutions to Marine Litter'.
'Rethinking Plastics' is likewise implemented by the Deutsche Gesellschaft für Internationale Zusammenarbeit (GIZ) GmbH and Expertise France.