The news article entitled: "The Fourm to youth: Have a responsible sexual behavior" has caught my attention on your Facebook last February 14, 2020. I quickly made a comment.
My comment was and I quote "…I'm just still curious why it is always a photo of a young female with an infant being used on news materials about early teenage pregnancy It's already 2020 but the visibility still pinpoints to women as the sole culprit of early sexual engagements."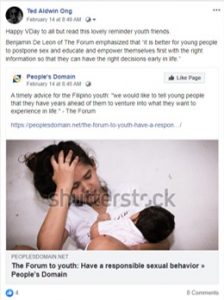 I wish to share my opinion regarding early pregnancies and teenage motherhood. It is a reaction to some online photos that accompany a news material or a press release about responsible sexual behavior that are circulating online.
I understand the noble intention of these materials as a campaign tool for responsible sexual and reproductive adolescents. Yet I have observed that men usually escapes the negative consequences of acts that result to teenage pregnancy and which I find it as a factor that reinforces their masculinity.
It has been an enduring notion that when it comes to early pregnancies; it is the girls who are to be blamed for being too easy to get, irresponsible, or as an outrageous flirt. No doubt that it is them who "should" face the consequences of early parenthood and it is the girls who take the cudgels of avoiding a night out, discouraged a drink or two with friends, or even wearing a short pants and fitted dresses.
Often times, the girls are portrayed with negative impressions – indecent or immoral. Girls are tainted with too much negativity while the boys are given the freedom and their masculinity are tolerated like a sense of entitlement. But when it comes on the outcome from an 'irresponsible' sexual activity, the boys usually occupy the blind spot while the girls became prominent.
This is not new because of our social and gender constructs. This is a 'construct' that regard men with privilege, higher status, and with a dominant character. Statistics have showed that there are more young males than young females who has engaged in a sexual activity. Yet it is sad to see, however, that it is the women who are drawn to negative social stigma, especially when they got pregnant.
Consider this: when a young unmarried woman got pregnant, she is subjected to a lot of unjust societal questions: Who is the father? Where is he? Once the the answer is "I don't know" or that "he left me" – do we empathize with those young girls? Do we provide a safe space for them to become a better parent? Do we give them an adequate chance to continue with their studies, their work, or even living their lives?
According to a close friend, "of course, men could just easily walk away." But it takes a brave one to walk with the woman on a journey to responsible parenthood. Yes, we have laws. Our laws in fact have promising programs. But programs are not enough. It takes a greater sensitivity, love, care, and understanding for programs to be implemented effectively.
It's time to re-think our responsible sexual reproductive campaigns and programs. There are many available studies that explored the factors that help point out the reasons behind early teenage pregnancies. But we need more understanding on the reasons behind why young males, and not only females, engages on risky sexual behaviors at an early age.
We may have exerted effort to advance women's empowerment to attain a gender sensitive society and for a gender developed nation, but we still have a long way to go and what we need is a more nurturing, safe, and humane world for all genders and sexes.
Darlene Joy Defensor – Calsado is a community development worker and an advocate for the protection of women and children. She is from University of the Philippines Visayas.