Coca-Cola Davao del Sur manufacturing line was inaugurated, a move that support Mindanao's journey to economic growth.
Coca-Cola Beverages Philippines, Inc. (CCBPI)—the bottling arm of Coca-Cola in the country– recently unveiled at its Davao del Sur plant its most advanced manufacturing line for returnable glass bottles (RGB) in the country. Employing the most advanced technologies, the new RGB line has a greater production capacity—further improving on the Company's service to its customers and contributing to the bid to spur local and national economic recovery.
"Our investments in 2020 went into ensuring that we can continue to care for our people, secure jobs, and expand our operations, particularly in the Mindanao region," said Gareth McGeown, CEO and President of CCBPI during the inauguration. He added, "With this new line, we celebrate a milestone not just for the company, but for the region and the country. Today is a testament of the better days that lie ahead of all of us."
Previously: Coca-Cola Beverages Philippines, Inc. continues to invest in local operations with additional $22M
The inauguration ceremony of Coca-Cola Davao del Sur was held February 4, 2021 and it was attended by Sta. Cruz, Davao del Sur Mayor Jaime G. Lao Jr., who was also given a tour by plant officials. The event, spearheaded by the plant leadership team led by Plant Manager Joy Beleno, observed strict health protocols. Adapting to the new normal, Coca-Cola executives based in Manila joined the ceremony virtually.
"We continue to remain strong as a business. We at Coca-Cola know that it hasn't been easy, but with the support of the IATF, the DTI, and local government partners such as Mayor Lao, and, of course, our people—we've been able to emerge stronger from 2020," said Atty. Juan Lorenzo Tañada, Corporate and Regulatory Affairs Director of CCBPI.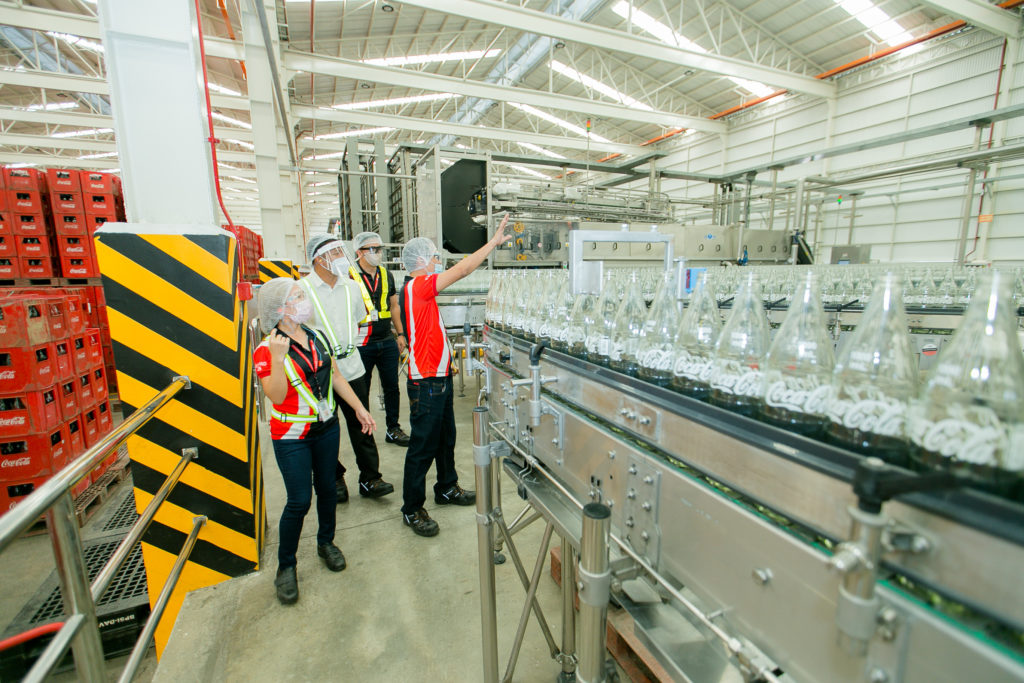 Accelerating Mindanao's growth journey
Paving the way toward a better future through its investments, Coca-Cola is determined to support Mindanao's growth journey and continue serving its 25M-strong population. Coca-Cola's presence in the region is powered by four plants—in Davao City, Davao del Sur, Misamis Oriental, and Zamboanga—alongside nine distribution and sales offices, and supported by 3,200 partners and wholesalers.
"Our footprint in Mindanao is expansive, with some of our most advanced plants operating in the region. The products we manufacture here in Davao Del Sur reach as far as Luzon and Visayas, and this is why we are committed to continue strengthening Mindanao's manufacturing infrastructure," said Frank Garcia, Manufacturing Director of CCBPI.
Read: Coca-Cola produced your drink from clean energy; each sip helps reduce carbon footprint
Coca-Cola Davao del Sur's newest manufacturing line joins the ranks of the lines in Zamboanga and Misamis Oriental in employing world-class technologies—among them, in-line monitoring systems for real-time data capture and analytics, toward improved efficiency, productivity, safety, and quality. Together, these advanced lines are projected to boost the Mindanao manufacturing capacity by 30%.
"You've seen how our dream of expanding operations in Mindanao came to life through our great people and the great support of our partners and the national and local government," said CCBPI Supply Chain Vice President Matthias Von Oelhafen. "It took us months, from planning to commissioning, to commercial run. This has a ripple effect—job generation and more opportunities for the people in Mindanao. We will do our best to keep [our Davao del Sur plant] not just one of our best plants in the country, but world-class."
The video of the new manufacturing line's first operational run last September 2020 and the first Coca-Cola bottle it produced was also presented during the inauguration event.
Thriving with Mindanaoans
The Company has always strived to forge meaningful partnerships and develop sustainable initiatives for local communities. Working together with the local government units of Davao City and Siargao— Coca-Cola has been able to pilot programs that advance its global World Without Waste commitment which aims to collect and recycle every single bottle and can the company sells by 2030.
As part of its COVID response for the region, the Company has provided over 300,000 liters of beverage support worth over PHP46M. To help ensure a resilient value chain, the Company has instituted various commercial initiatives to aid partners and customers in the region, including special credit policies and incentives for partners so they can continue operations and secure local jobs.
Coca-Cola has likewise opened opportunities for OFWs nationwide through the Balik Pinas project; provided livelihood and a P10,000 loan to over 3,000 micro-retailers in the region through the reSTART program; as well as assisted partners operating in the new normal through the Safe Stores program.
Also read: Coca-Cola's Balik Pinas program helps OFWs to restart back home
CCBPI has always been committed to its putting people first—always prioritizing the total well-being of its associates and their families. For instance, the Company allotted PHP2B for its employee assistance fund to secure the jobs of all of its 10,000 employees across the country during the height of the community quarantine.
With notable investments and huge growth potential within and beyond Mindanao, Coca-Cola continues to remind Filipinos that the best days are truly ahead of them. CCBPI's commitment to the Philippines has never wavered, and as McGeown noted, it has only, in fact, strengthened the company's resolve to do much, much better.