Climate Reality PH inks two new partnerships on Earth Day and that will ramp up its climate education and literacy program in the country.
The climate communications and advocacy group's partnership with the Climate Change Commission (CCC) will focus on Stories for a Better Reality, a climate webcast series that will reframe urgent climate conversations from the vantage point of the Filipino youth, underscoring the intergenerational responsibility and the much higher stakes that the youth have in the climate crisis.
"Too often, the youth has been insulated or perhaps relegated only at the sidelines of the most difficult and important conversations of our present times, but the ones deciding at the table tend to forget that their decision will most certainly affect the youth's future more than theirs," Nazrin Castro, Branch Manager of Climate Reality Philippines, said. "We want Stories for a Better Reality to be a platform that could change how we approach and tackle these hard and complex conversations," Castro added.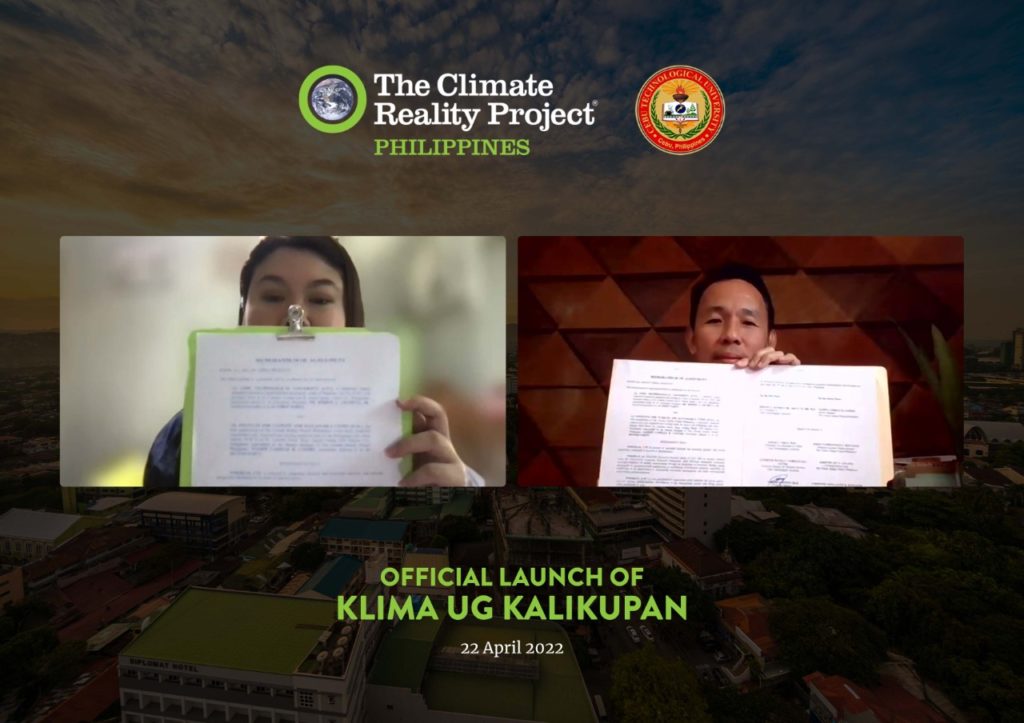 Secretary Robert Borje, CCC Vice Chairperson and Executive Director, on the other hand, said that the webcast series will feature "real-life tales that bring fresh perspectives to the climate change discourse by showcasing best practices, innovations, and lessons learned in adaptation and mitigation, as well as in increasing resilience."
"We need to change the narrative, from frustration and desperation to one of hope, action, and inspiration. But to do this, we need to inform, educate, and advocate," Secretary Borje said.
Episodes of Stories for a Better Reality will be designed by youth Climate Reality Leaders with the CCC in partnership with government agencies, the Department of Education, the Department of Environment and Natural Resources, the National Youth Commission; and youth groups Kids for Kids and Wavefarers.
Climate Reality Philippines has also signed today an agreement with Cebu Technological University (CTU) to help produce Klima ug Kalikupan (Climate and Environment), a series of talks and lectures on climate change and environmental issues in Cebu and the Visayas and Mindanao regions.
Highlighting the need to localize climate change conversations and solutions, Castro said that Klima ug Kalikupan will serve as a platform for sharing climate information and decision support tools that will support climate-resilient development in Southern Philippines.
"With the help of Climate Reality Philippines, we hope to jumpstart a more robust dialogue about the environmental and development issues affecting the Visayas and even the Mindanao region," Dr. Mydah Kabingue of CTU's Department of Communication said.
Dr. Lynnette Matea Camello, University Director for Extension, added that the lecture series has the full support of the university and that her office has allotted a budget to fund this initiative. "We would like to share knowledge and later on spur people into action to address the climate crisis," she said.
Congratulating Castro, Kabingue, and other project proponents for devising this initiative "to provide suitable solutions to developmental issues in these contemporary times," Dr. Jose Pepito, CTU Campus Director, reiterated that the university is committed to build a long-term and strategic partnership with Climate Reality Philippines.
Stories for a Better Reality and Klima ug Kalikupan will premiere next month. Both will air on the Facebook page of Climate Reality Philippines and its respective partners.