Being a citizen journalist comes with a very big responsibility. After attending a journalism class conducted by Stage Institute for Communications, we learned several journalism tools that improved our understanding of the work journalists do.
Our mentor, Ted Aldwin Ong, one of the lead movers for Rappler MovePH in Iloilo, gave us an orientation and lecture on the basics of journalism and shared how Rappler Movers do the reporting by providing home assignments and fieldwork. It was an awesome summer experience for we learned so many things and developed new skills.
Here are the 4 major things that we learned from the class.
Anyone can become a citizen journalist
Yes, believe it or not, we can all develop the ability to become citizen journalists. In fact, many of us are doing it already. During family gatherings, we take photos of the occasion and write a little about what it's all about. That becomes news for the family.
Being a citizen journalist comes with a very big responsibility. As our community's storyteller, the way we present information should always abide by the ethical standards of journalism. We should be mindful of how we present our story in a way that we respect both our subject's rights and our readers' right to information.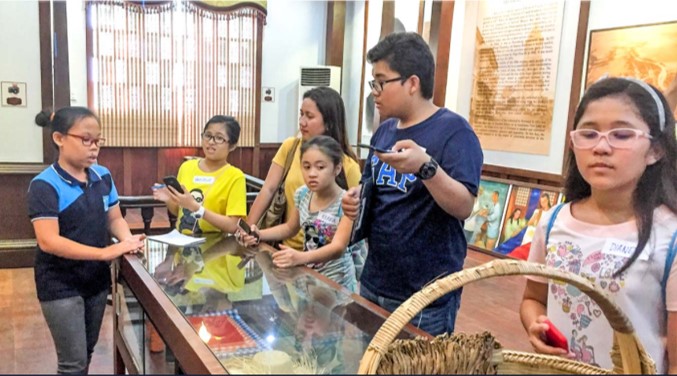 Facts matter
Facts are essential to news reporting. If it's not based on facts, then it is not news.
Writing a news story may be hard but it would be much easier for neophytes like us when we organize the story according to the 5 W's and 1 H or the What, When, Where, Who, Why, and How. By defining the 5 W's and 1 H, we can start to write and expound on our story to make it both interesting and relevant.
Aside from facts, we should also look at the information's newsworthiness. We don't write what our readers want to hear; instead, we write what they need to know. Reports should always be based on information backed by credible sources. If we present a false story, we don't just betray the trust of our readers but also our hard-earned credibility.
Be mindful
Digging for information is challenging for us because it was our first time to do an interview. But we were able to pull it off during our field work at Casa Gamboa Jaro Museum.
In our interview with Ma Christine Calibara, marketing associate of Tinukib Foundation, Incorporated, we learned that being courteous to sources is important. We also have to respect the wishes of our sources, especially if they ask that a discussion be "off the record."
For young writers like us, always be ready with your notebook, pen, recorder, and mobile phone so that you won't miss important details that are vital to your news story. Think of the opportunity as the first and only time that you will visit the place.
Being courteous, as a general rule of thumb, should always be in every journalist's mind, regardless of their source's ethnicity, nationality, beliefs, and principles.

Visual storytelling
We learned that citizens journalists are not all "pros" when it comes to snapping photos. They get better at taking photos by learning the basics of photography.
One of the basics is The Rule of Thirds. It is an imaginary grid line which you can use in taking photos of your desired subject. We have tried it and it produced a good one for beginners like us.
But visual storytelling is more than just taking pictures. It's a cliché, but pictures indeed tell a thousand words and it is our duty to let our readers understand what we're trying to convey.
In our school, we are also being invited to write about events and take photos for school publications. We bring news by sharing information among friends about latest events or on developments on in our community. By learning citizen journalism, you can become instrumental in sharing information for social good and help create an informed community.
(The story is written by Nico Galaraga, Kiel Clark Grande, Dianne Gale Almerol, Mitch Leony Marquez, Geozelle Sotomil and Kierra Mareneth Pabalinas who completed the Citizen Journalism Class of the Stage Institute for Communications in Iloilo City. The story is posted June 2, 2018 at Rappler – https://www.rappler.com/views/imho/203943-opinion-4-things-kids-learned-journalism-class)