The 3rd Integrated STEM Leadership Summit and launch of MIT Global Opportunity Initiative in Southeast Asia happening on November 3-5, 2022 in Mandaluyong City, Philippines.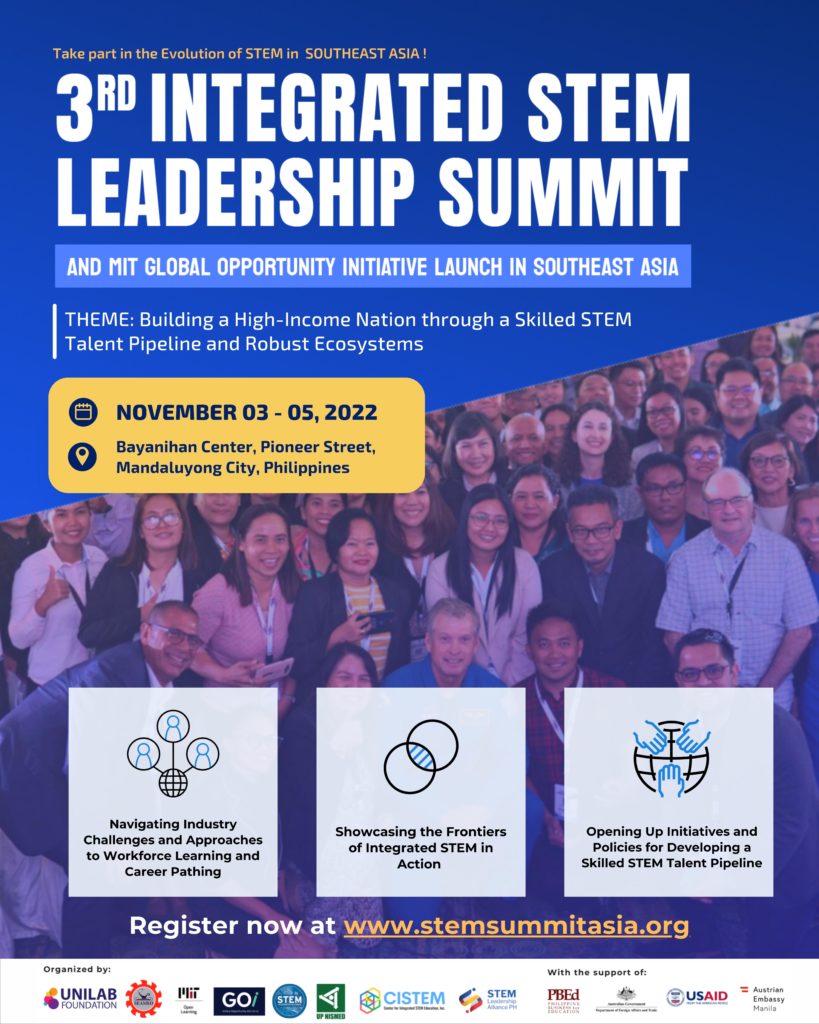 The three-day event is co-organized by Unilab Foundation and undertaken in collaboration with the Southeast Asian Ministers of Education Organization (SEAMEO), the Massachusetts Institute of Technology – Open Learning and Global Opportunity Initiative (MIT-GOI), and the United States STEM Leadership Alliance.
An annual event since 2019, leaders from the government, academe, industry and the Science, Technology, Engineering, and Mathematics (STEM) community will converge for its third year with the theme: Building a High-Income Nation through a skilled STEM talent pipeline and Robust Ecosystem.
ALSO READ: STEM Education to get boost through #smarterPH
The summit will provide a platform for industry and education leaders, and policymakers to build robust ecosystems and empower the learners and workforce, converge sectors to develop holistic and innovative solutions, and catalyze trans-disciplinary dialogues among organizations to formulate transformative policies.
Some 100 in-person participants and over 2,000 virtual attendees from the Philippines and overseas are expected to participate in discussions on various topics including research, initiatives, curriculum models, case studies, education frameworks during the various sessions of the Summit.
Notable speakers include Dr. George, a senior lecturer at the MIT Sloan School of Management and founder of the Global Opportunity Initiative; and Kelli List Wells, the Founder and CEO of the STEM Leadership Alliance, which includes major STEM organizations, NASA, and the White House Office.
In a report on the Philippine Jobs and Workforce into the Future by the Makati Business Club, there is a growing jobs mismatch. Studies point to three factors as the main causes: (1) weak labour market information system; (2) inadequate training; and (3) weak support for science and technology. To be competitive, the Philippines needs policies that recognize new forms of work and patterns of employment. There is a need to equip current and future workforce with next-generation skillset, and it is critical to have policies and regulations that support next-generation work environments in terms of technology, automation, and work flexibility.
And as evidenced by a study commissioned by the Unilab Foundation Inc. and conducted by the Asian Institute of Management in 2022, in the constantly evolving job market, companies have seen evident changes in the minimum skills and capabilities required to accommodate, or at the minimum, pace with the rapid advancement of technologies and business models. Jobs involving the Science, Technology, and Engineering (STEM) strand are projected to play a large part in this advancement and are believed to be where the greatest need for intervention exists. However, the lack thereof or the infancy of current Labor Market Intelligence systems within the country have yet to measure this skill gap between educational offerings and commercial demands while some legacy systems refuse to transform or evolve to accommodate these changes.
The Summit will serve as a venue to respond to the recommendations of the study which includes reevaluating the current curriculum to reflect the emerging needs of the market, and honing the skills required by evolving jobs. It is expected to create a collaborative learning space where leaders of different sectors of society and policymakers come together and engage in trans-disciplinary dialogues to formulate holistic, sustainable, and systemic solutions at the nexus of education, health, economy, environment, arts, and culture.
The events are co-organized with the University of the Philippines National Institute for Science and Mathematics Education Development (UP NISMED), the Center for Integrated STEM Education (CISTEM), and the STEM Leadership Alliance PH. It is supported by the Philippine Business for Education (PBED), Department of Foreign Affairs and Trade (DFAT), United States Agency for International Development (USAID), and Austrian Embassy. Corporate sponsors include C&E Publishing, Inc.
Details of the 3rd Integrated STEM Leadership Summit
The first day of the Summit will focus on Navigating Industry Challenges and Approaches to Workforce Learning and Career Pathing. The second day will shift to Illuminating the Frontiers of Integrated STEM in Action. The third day will concentrate on Opening Up Initiatives and Policies for Developing a Skilled STEM Talent Pipeline.
The STEM Summit also highlights the MIT Global Opportunity Initiative Launch in Southeast Asia. This launch will provide the workforce with learning opportunities that will help them prosper in a rapidly changing economy. These integrated efforts among Southeast Asian and global leaders intend to develop and embody a more holistic approach to improving the quality of education and workforce and building a STEM-skilled talent pipeline in a high-income nation.
To know more about the event, please visit stemsummitasia.org. To find out about our distinguished speakers from the USA, Austria, and the Philippines, please visit stemsummitasia.org/3rd-summit-speakers. For references and video materials, please visit stemsummitasia.org/resources.
For more information, please contact Melvin Magsayo, Deputy Director, Center for Integrated STEM Education, e-mail mtmagsayo@cistem.ph.