COVID-19 Vaccines: Naiinip Ka Na Ba? The webinar series will be on March 19, 2021 (Friday) 12:00 P.M.
The University of the Philippines in partnership with UP Manila NIH National Telehealth Center and in cooperation with UP Philippine General Hospital would like to invite you to join the Fight Against COVID-19!
Registration slots are limited to this SPECIAL EDITION of the STOP COVID DEATHS Webinar Series, so sign up NOW: bit.ly/StopCOVIDDeathsWebinar45
This is Webinar #45 and the presenter is Dr. Enrique Tayag, Epidemiologist and Public Health Expert Director IV, DOH-KMITS.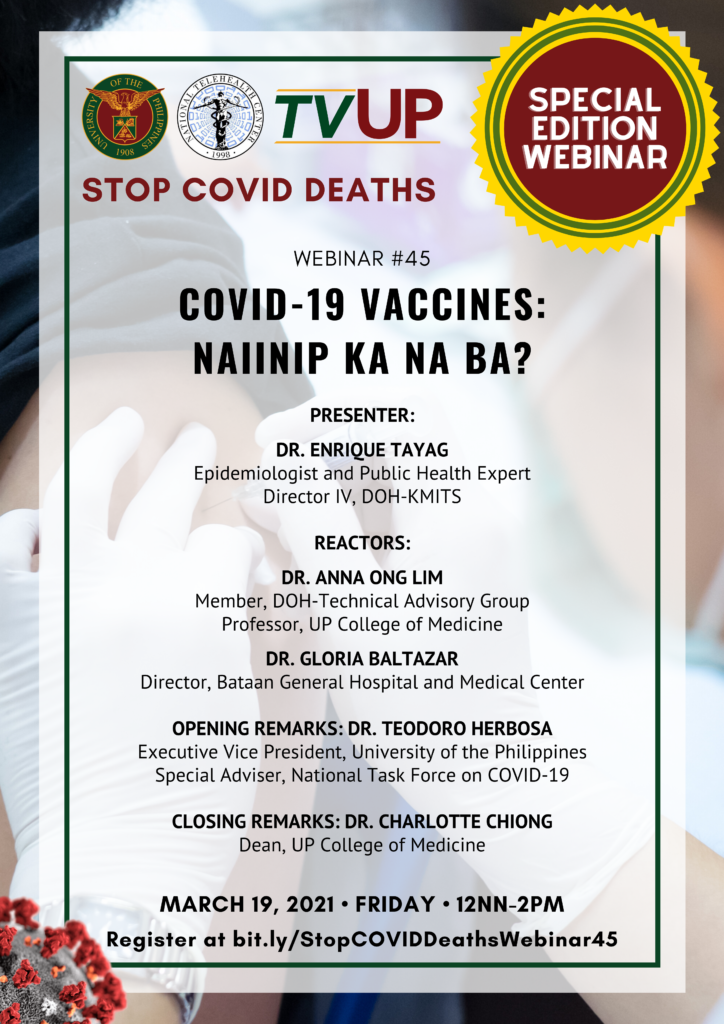 Among reactors are the following:
Dr. Anna Ong Lim, Member, DOH-Technical Advisory Group, Professor, UP College of Medicine
Dr. Gloria Baltazar, Director, Bataan General Hospital and Medical Center
Opening remarks by Dr. Teodoro J. Herbosa, Executive Vice President, University of the Philippines Special Adviser, National Rask Force for COVID-19. Closing remarks by Dr. Charlotte Chiong, Dean, College of Medicine, University of the Philippines Manila
About the Webinar Series
Exactly a year ago, numbers of cases of persons testing positive for SARSCov2 increased exponentially, resulting in a series of non-pharmacologic interventions to stop the spread of the virus. These included restriction of movement, closure of establishments where close contact among individuals was unavoidable, curfews, social distancing in public places — later on wearing of face coverings and masks were mandated. Seniors were restricted from leaving their homes. Classes were suspended. Travel bans were put in place. Thousands of Filipinos lost their work and were repatriated. This led to loss of jobs and devastation to the national economy.
The past year has been marked by tragedy, frustration, anxiety and mental suffering for many due to the virus, and due to non-pharmacological interventions that had to be put in place to control transmission.
It has been a challenging year, and there is a light at the end of the tunnel. Finally, a pharmacological solution: vaccines that were under development – are now available for us. There are more than 130 different vaccines that are being studied and it is certain that the technology for vaccine production will improve in the coming months and years.
Unfortunately, the Philippines, as a country that has not invested in vaccine manufacturing — is part of the majority of countries in the world that have to "wait for their turn" to buy /receive a sufficient number of vaccines to prevent serious illness and death and slowly restore economic activity.
How many Filipinos can be expected to be vaccinated this year? What is the projected time of vaccination for health workers and seniors. When will the general public start receiving vaccines? When will vaccines become commercially available? What is the role of the local government unit? What is the role of the private sector? What countries are into vaccine production and seem to be willing to collaborate with us to get more vaccines in place at the earliest possible time? These and other questions about what would be reasonable expectations for vaccine roll-out will be tackled in our Webinar entitled:
COVID-19 Vaccines: Naiinip Ka Na Ba? Stay Safe. Stay Healthy. Stay Connected! Together we can STOP COVID DEATHS!
Previous Webinar topic: "IS THERE A SURGE? May COVID-19 Vaccine Na, May Maiiba Ba?"